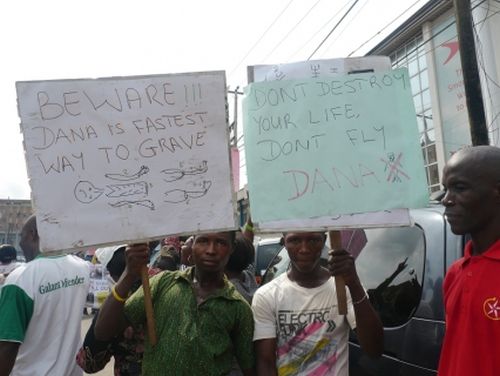 Few weeks after DANA Airline resumed flight operations after the June 3rd 2012 crash that claimed the lives of over 150 people, aggrieved families affected by the crash converged at the Ikeja office of the Dana Airline to protest non-payment of their claims.
The protesters told SaharaReporters that theyare determined to continue seizing the office of Dana Airline until it responds appropriately to the damages caused by the crash.
One of the protesters, a warehouse owner whose warehouse was destroyed by the crash said he had submitted relevant documents to request a claim of N500million to the management of Dana Airline, but that after series communications, Dana Airline has not replied to a single correspondence.
DANA Airline resumed normal flight operations on January 4th this year after it got back its operating license which was temporarily suspended.
Photo Credit: SaharaReporters