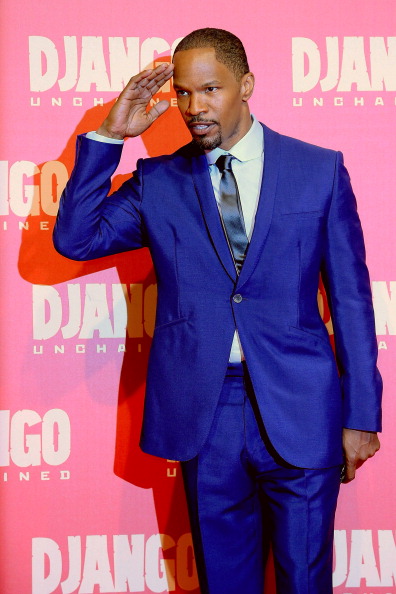 Hollywood actor and recording artiste, Jamie Foxx attended the Rome premiere of Quentin Tarantino's new film, Django Unchained on Friday 5th January 2013 in a tailored blue suit by British-Ghanaian designer, Ozwald Boateng.
The 45 year old actor, who plays a slave-turned bounty hunter set out to rescue his wife (Kerry Washington) from a brutal Mississippi plantation owner (Leonardo DiCaprio), paired this rich blue single button suit by his designer friend with a pale-blue shirt, a grey-blue tie and black shoes.
The single button suit, which includes a trim shawl lapel and slash inset side pockets, is seen prominently in both fall 2012 and spring 2013 collections of the designer.
This is not the first time the top actor and designer are collaborating together. At the 2004 Academy Awards (Oscars), Jamie Foxx accepted his best actor award  for his role in Ray in a blue striped suit from Ozwald Boateng's design label.
Just before the Rome premiere at the Cinema Adriano, Italy, the two friends were spotted sightseeing at the famous Vatican. Check out some snapshots.
Photo Credit: Ozwald Boateng | Zimbio