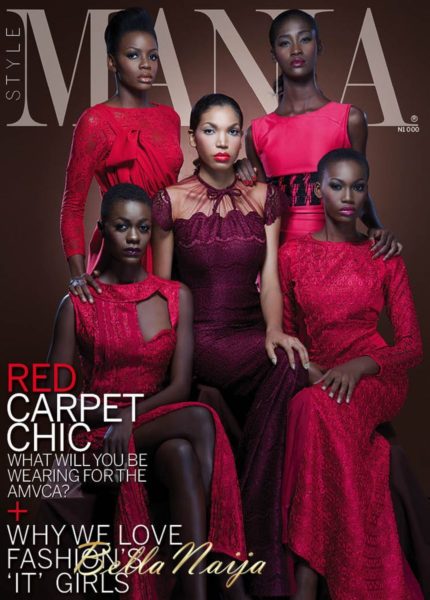 All our Nigerian magazine are feeling the Valentine's fever this month! StyleMania Magazine presents their take on this season of love.
The magazine decided to celebrate five fashion models (Binta Sani, Oiza Atoyebi, Emilia Faturoti, Moyin Arowosola and Ngozi Ugo) who have become endeared faces both on the runway and on numerous fashion editorials.
In the February 2013 Issue of StyleMania, you will also find advice on what to wear on a romantic date and to this season's award events.
There are 4 fashion editorials with accompanying love stories and a profile of an exemplary young couple who express the bliss of early marriage. Also look out for a fashion editorial "Days of our Lives" featuring Uti Nwachukwu and Beverly Naya.
This edition is all things lovely.
Credits
Cover
Photographer: Kelechi Amadi-Obi
Stylist: Dimeji Alara
Make-up: Bimpe Onakoya
Models: Binta Sani, Oiza Atoyebi, Ngozi Ugo, Emilia Faturoti, Moyin Arowosola
StyleMania
Photographer: Gbenga Akindele- Nelly
Stylist: Godson Ukaegbu
Make-up: Dorcas Otobo @Elite Make-up
Model: Shalom Obi
BeautyMania
Photographer: Kelechi Amadi-Obi
Make-up: Dorcas Otobo @Elite Make-up
Model: Ify @ Hues & Shades
FashionMania – Wanderlust
Photographer: Kelechi Amadi-Obi
Stylist: Godson Ukaegbu
Make-up & Hair: Bayo Haastrup
Models: Kemi @ Erigks Models & David @ Isis Models
Days Of Our Lives
Photographer: Kelechi Amadi-Obi
Stylist: Godson Ukaegbu
Make-up: Kazeem Akinpelu
Hair: Ugo Igbokwe
Models: Beverly Naya and Uti Nwachukwu
Two Can Play
Photographer: Gbenga Akindele-Nelly
Stylist: Godson Ukaegbu
Make-up: Joyce Jacob
Models: Shalom Obi & Kwen @ Hues & Shades
Wild Romance
Photographer: Ade Spade
Stylist: Veronica Odeka
Make-up: Oriton Faloughi
Hair: Ola
Model: Ndidi Odogwu