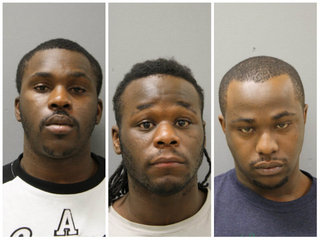 Three Nigerian born brothers have been accused of abducting a 15-year-old girl at gunpoint and sexually assaulting her. The brothers Aziz Animashaun, 22 (left), Isiaka Animashaun, 25 (centre), and Taiwo Animashaun, 26 (right) were among a total of five to six attackers who took the girl to a home and sexually assaulted her on 21st December 2012.
Chicago Tribune reports that the girl was taking care of her brother and throwing out the trash when an SUV with five to six men inside drove up.
Prosecutors say Aziz Animashaun, 22, jumped out of a black SUV at 8:30 p.m. on Dec. 21 and told the girl, who was taking out the trash, to get in the vehicle. When the girl refused, Animashaun allegedly knocked her unconscious by striking her with a handgun and then carried her to the SUV.
While searching the home where she was raped, the police found a used condom and a shiny antique handgun that matched the description of the one Animashaun is accused of using. DNA results from the condom were traced to one of the brothers, Taiwo Animashaun. Also, the 15 year-old girl identified Aziz Animashaun and Isiaka Animashaun as two of her attackers.
According to DNA Info.com, the girl heard the men speaking a language other than English while she was being forced to have sex with them. Based on her experience with a teacher who speaks a language spoken in Nigeria, she was able to identify that the men who attacked her spoke a similar language.
The victim managed to escape once the men were no longer in the room, Hamelly said. She ran from the location and and noticed the black SUV in a driveway, Hamelly said. Cops said that the victim made it home, and her sister called police.
The three Animashaun brothers are citizens of Nigeria but are longtime residents of the Chicago who live in the same neighborhood with the victim. Each brother faces one count of aggravated criminal sexual assault with a firearm and one count of kidnapping while armed with a firearm. No one else has been charged. The Judge ordered bail for Taiwo Animashaun set at $500,000, Aziz Animashaun set at $400,000 and Isiaka Animashaun set at $250,000.
The girl must have gone through a terrible ordeal in the hands of these young men and we pray she finds healing.