Hey people I know you missed me last week. I apologize; but truth is I was planning some thing special for this Valentine season. So this is the Valentine Special from me to you. It's a season of love and I'm going to show you some love with a full course meal recipe.
You see, because valentine's day was on a week day, a lot of people saw it as a cop out from doing something special but the weekend is upon us and there's nothing that says the grand gesture for your special love can't be a nicely prepared meal at home. Who says you can't have the full classy restaurant experience in the comfort of your home?
My concept for this edition was quick easy but unbelievably classy and faux expensive. I imagined a post that would get guys to impress their significant halves without too much stress but the plate would like they hired me "insert arrogant look here"
This menu requires you spending quite a bit but trust me its worth every dime! The pricey stuff include the Duck breast and Saffron spice. Everything else is pretty affordable. However I recommend you get nice white plates to help with the final look of your dish.
Menu
Starter: Pumpkin Soup with Prawns Crispy Bacon and Toasted Pumpkin Seeds |  Main course: Peppercorn Crusted Duck with Saffron Rice Roast Tomato and Harrisa Sauce and Vegetables | Dessert: Warm Carrot Cake with Gingerbread Biscuit Ice cream and Passion Fruit Coulis.
The Starter
This starter is what I like to call "elegance with a soul". To me pumpkin soup would express your warmth for your other half and the value you place on him or her with the addition of good quality prawns and the time you put in to crisp up the bacon. This a simple but yet stunning dish to make but you need to make sure you buy prawns with shells and head on so you can make a small stock and use the head for garnish at the end as well.
What You Need
(Serves 2)
200-300 grams Pumpkin to Butternut Sqaush peeled and cut into small pieces and a small handful of the seeds picked and reserved. (Remember you'd need a small part cut into cubes and boiled in salted water till done.)
1 small onion finely sliced
1/2 teaspoon grating of fresh cinnamon
2 cloves garlic bashed
1 teaspoon dried chilli flakes (2 if you want more heat)
1 teaspoon corinader seeds
Enough water to cover to chicken or vegetable stock
Seasoning cube like Knorr Chicken or Classic
Black pepper to taste
1 cup milk or 1/2 cup cream
7 Medium-Large prawns with Head and Shell on
4 rashers of streaky bacon
Parsley leaves to garnish
How To
Steam the prawns with some water for about 5mins and transfer the liquid to the saucepan of the pumpkin. Place the pumpkin, onion, cinnamon, garlic cloves, chilli flakes, coriander seeds, seasoning cube and the water or stock if you have in a saucepan and set on medium heat to simmer for about 15 minutes till the pumpkin is soft and breaks at the touch of a fork or a spoon.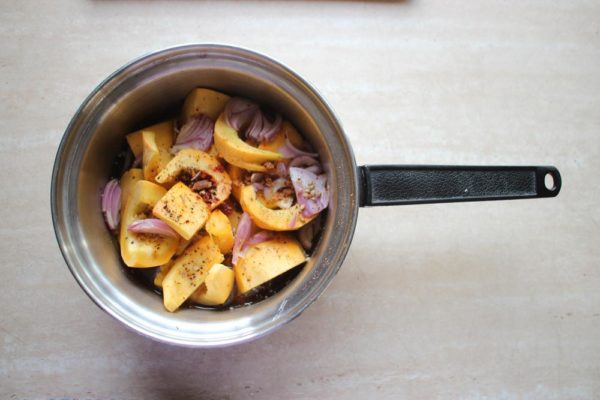 I had a hand blender so my soup got its puree-ing from that but you could do yours in a blender. You can add the cream as you blend it and more water to get the consistency you like. Check for seasoning in case you need to add more salt or black pepper.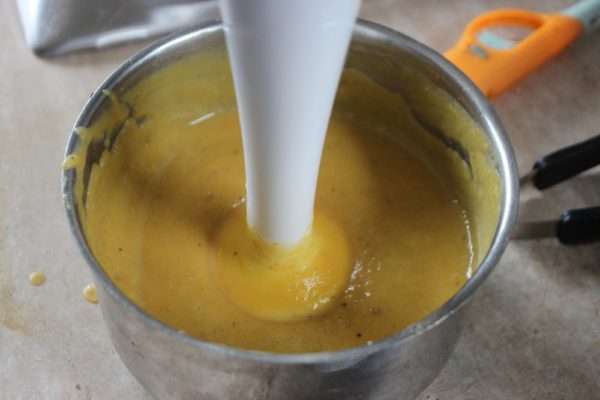 I'm sure you'll find the seeds of the pumpkin too familiar especially if you're Nigerian! Everyone I showed called it EGUSI! well they were not too wrong. The seeds are actually in the same family. I remembered from a while ago Jamie Oliver toasted them in a dry pan and added to a salad for some added crunch and I thought I could use that same technique to play with the textures more on this dish. So, in a dry pan place the seeds and keep string on a medium heat still it starts to crackle and brown on it sides. You have to watch it so it does not burn on you.
Crisping The Bacon
Crisping Bacon is one of favourite things to do in my kitchen. The trick to crisping up bacon without it disappearing is to cook it low and slow. However, my shortcut is to pour some hot water over it first or place the bacon in a pan and bring the temperature up then pour some cold water over it and allow it "boil" quickly then transfer to the smallest burner and allow it to gently release its fat and after 10 minutes or so it starts to harden. At that point turn it of and leave on rack or in the pan to cool. As it cools it still kind of crisps up. You can add this to salads as well.
Plating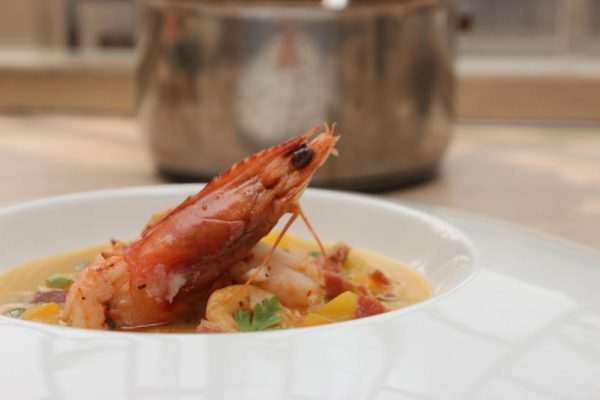 The plating of this dish is very crucial. What you want to do is place some cubes of pumpkin on the plate and some prawns in whatever fashion you desire and they should deb cut into bit size pieces then the soup ladled into the dish.
Finish off by placing bits of crispy bacon the toasted pumpkin seeds. I had some basil oil I made earlier so I used a few drops around but you could just leave it at the parsley leaves and that's great too. Make sure you place one prawn with the head on at the end. Add some cubes at the top of the soup to show like a preview of what's happening beneath.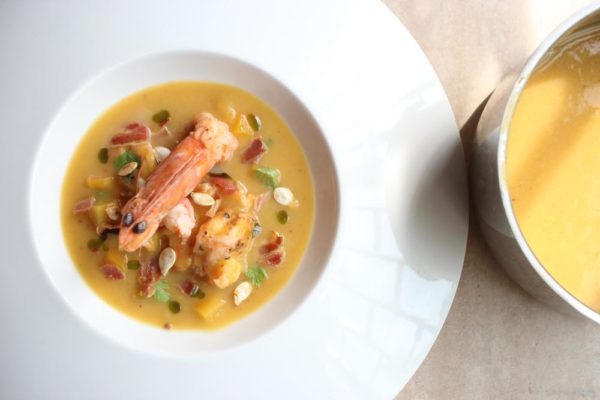 MAIN COURSE
Peppercorn Crusted Duck with Saffron Rice
When I thought of this dish I envisioned something that had an "expensive" protein but very easy to cook and serve. I wanted to elevate rice and stew if you may. This dish has no complexity from the prep to the cooking in my view.
The sauce is the easiest thing in the world. Just placing some tomatoes in the oven with garlic and spices and pureeing it with shop bought Harrisa (a Tunisan/North African pepper sauce) to give the stew a new look and flavour. You could pick it up from Goodies (If you live in Lagos). They even have a fresh one they make where the hummus is. One duck breast is enough for two people in my view but if you want go ahead and make two it's fine.  You don't necessarily have to use the spices I used. However, it's very essential you use coarse ground black pepper but mixed mixed peppercorns are the real heroes here to be frank. I made a spice rub by mixing the coarsely ground peppercorns with some seasoning powder, dried rosemary and some dried chilli from a grinder and pinch of salt. Please have some fresh rosemary and thyme sprigs on hand to help flavour the oil as you cook the breast.
The rice is what I  call easy elegance. The saffron brings an extra layer of near musky flavour to the rice. It also turns the rice a nice bright yellow. It is the most expensive spice in the world at Park n Shop. It costs N1,400 for 0.5 grams but it's worth every penny and you don't need so much because it's pretty strong. Just boil the rice with some saffron salt and a knob of butter at the end to make everything rich and awesome! The vegetables take no time at all and add freshness to the dish.
You'll Need
Duck
One Duck breast (Magaret Du Canard)
2 1/2 tablespoons coarsely ground mixed peppercorns
2 tablespoons seasoning powder/cube I recommend Knorr Original or a good poultry or steak seasoning mix.
1 tablespoon dried rosemary
A pinch of salt
2-3 garlic cloves bashed open
Small Rosemary and Thyme sprigs
The Rice
1 cup Basmati Rice
1/2 teaspoon saffron
salt to taste
25g butter
The Sauce
4 fairly large tomatoes cut in half
1 tablespoon olive oil
salt and black pepper
seasoning powder
1 teaspoon thyme fresh or dried
2 1/2 teaspoons of Harrisa sauce
How To
Start by boiling the rice with all the ingredients except for the butter you throw in at the end. Leave covered when done so it stays warm.
Then take the duck breast and score it an angle in one way and the opposite direction to create a diamond cut style. Mix the spices and place the skiing side of the duck on the spice. Be quite firm with regards your pressing. Shake off the excess but make sure it's covered.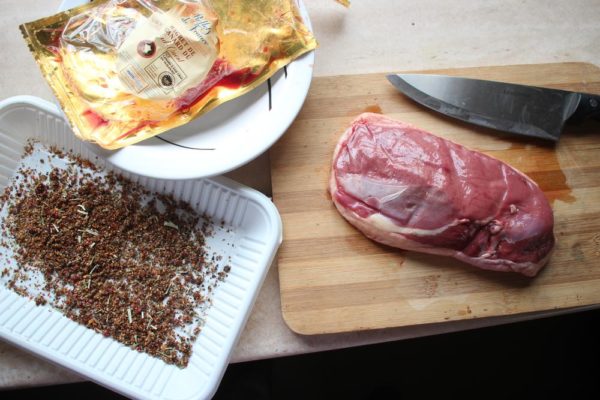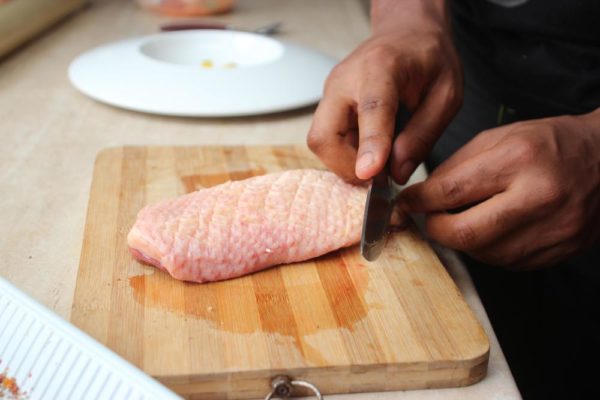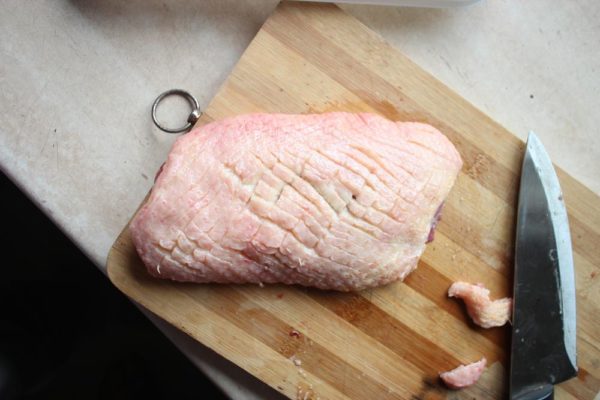 If you noticed I didn't write oil in my recipe. Why? because you won't need it. The duck breast has too much fat already so all you need to do is heat up your pan to a medium heat and lay it skin side down and the duck will release its own fat and that would be your cooking oil.
I recommend you crust the duck when it's cool because the fat tends to give off easily and the grease on your hands is plain annoying.
Cook it skin side down for about 2 mins making sure its not too charred. Then flip to the other side and reduce to a lower flame and cook for say 6 minutes and transfer to the oven for another 5 minutes to finish cooking.
If you don't have an oven or plain don't want to use an oven just leave on the lowest flame for another 7 minutes and cover with foil once done.
The juices will retain well ensuring the juiciest breast ever! To know that your duck is right when you touch it it should be soft like the middle of your lower arm. The more it rests it would cook slightly and be pink and perfect. If you cook your duck all the way you'll end up with a dry breast and frankly aint nobody got time for that!
To serve cut the rested duck at and angle and plate on the sauce.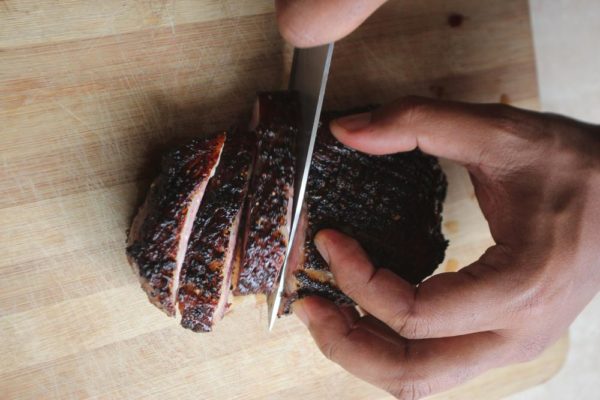 The Sauce
The tomatoes should go into a hot oven for about 10 minutes till they have roasted and have shrivelled up slightly. Sprinkle the spices on each half and a dash of olive oil on each before placing in the oven. When done, add the harrisa to the tomatoes and blender till it becomes a thick but not so smooth sauce. Heat through before serving.
Vegetables
Frankly, whatever vegetables you have are fine. I used carrots I cut into small fine strips and some green greens. I put them in boiling water for a few seconds then stir fried them for about 2 minutes with some bacon fat. You could olive oil if you like. Season with salt and white pepper. The radishes  are added to the dish for extra freshness.
The Plating
I used a square mould but you can use whatever you have or buy some. If you don't have you can open up a tin of tomato puree on both sides and use as your ring mould. Oil the insides of whatever mould you're using and place on the plate and use a spoon and pile the rice and press firmly as you go then lift up carefully to reveal the nicely plated rice.
On the other side of the plate put a dollop of sauce and with the back of the spoon spread it a little and place the duck slices on top. Add the vegetables the other side.
My basil oil featured here again but you can use some flavoured oil or just some chopped herbs sprinkled all over the plate or both.
Dessert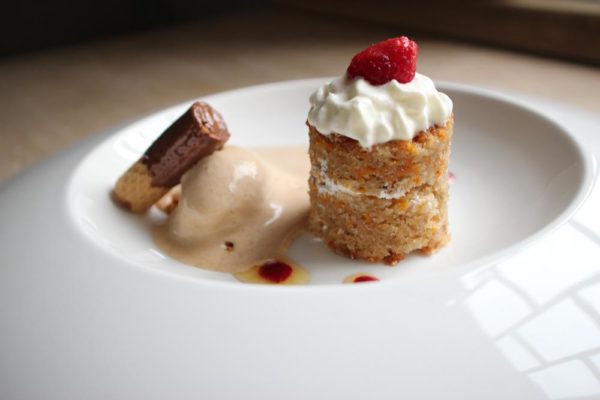 Carrot Cake with Gingerbread Biscuit Ice-cream Raspberry and Passion Fruit Coulis
This dessert rides on plating it well because it's me cheating to make it look like it was made by a world class pastry chef. I made the gingerbread ice-cream by using some gingerbread biscuits I got from Ikea. However, whatever gingerbread biscuit you have is fine. If you don't have an ice-cream maker and cannot be bothered to make the ice cream that's no problem either.  I recommend you get a few scoops of good french vanilla ice-cream from Ice cream Factory (if you live in Lagos) or a Blue Bunny and serve on some crushed gingerbread biscuits to recreate a similar flavour.
The sauce was just raspberries that got pureed with my hand blender. Add a few teaspoons of sugar and cook till it is reduced and was syrup like and thick. The Passion fruit sauce was from a can I got at Shoprite (you'll find it in the section of tinned fruits as granidilla) a few drops on the plate with some dots of the raspberry coulis and you're laughing!
I got the carrot cake from my friend, Motunrayo Akinseye from her outfit Licious Dessert on Allen Avenue, Lagos. I think she makes one of the best carrot cakes ever! So I just out a cylinder piece from the block of cake I got from her.
Below is the recipe for the ice-cream. The rest is pretty easy, just remember it's up to you to play with the presentation.
You'll Need
400g gingerbread biscuit
5 egg yolks
1.5 cup milk
1.5 heavy cream
2 tablespoons honey
1 tablespoon sugar
1 teaspoon caramel essence
1/2 vanilla pod seeds scraped out or 1 full teaspoon good vanilla essence.
1teaspoon condensed milk essence
How To
In a pan heat up the milk and add the biscuits and stir with a whisk. Add the flavourings and vanilla. Mix well so the biscuits don't burn at the bottom and turn off when it's all mixed in. In another bowl mix the yolks with the sugar and put some of the hot mixture into the eggs and whisk briskly and pour everything back into the saucepan and heat through again till it thickens slightly. Leave to cool and place in the fridge to cool overnight.
Then place in an ice-cream maker and churn till it's ready to serve.
To Plate
Place the cake and put some whipped cream from a can. spray a little on the top and place a raspberry on top and dot some sauce round the plate and place some crushed biscuit at the base your point of serving the ice-cream.
That's all guys. I hope you try this spread out make sure you take pictures.  Speaking of pictures, these were taking by my special friend Ari. He is an amazing photographer in Lagos. Currently building an awesome portfolio, he is carving a niche in food photography. Awesome stuff. www.ari.shutterchance.com || www.thisandthatbyari.tumblr.com. Special shout out to Ari's photography.
Have a flavour filled weekend!
Ciao!
___________________________________________________________________________________________________
Chef Fregz loves to cook! He is a graduate of Le Cordon Bleu Paris Culinary Arts School in France and hosts monthly "Chef Fregz Specials" where he whips up a yummy menu with a different theme each time then everyone enjoys a taste.He also caters special events and private dinners. To find out more, HERE