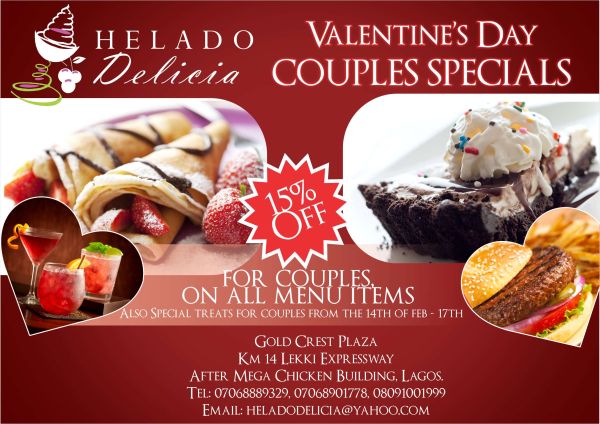 Looking for a special place to have a delicious meal with your loved one in the season of love? Look no further than Helado Delicia, an exclusive dessert restaurant and café.
This Valentine, Helado Delicia is offering couples 15% percent off any item on the menu. There would be special valentine themed plated desserts for couples to enjoy together from Thursday 14th to Sunday 17th February 2013.
This package is for just N10,000 per couple!
Here is a message from Helado Delicia on what to expect at the restaurant:
"The restaurant's atmosphere is very comfortable and festive in order to reinforce our customers' sense of luxury and indulgence when they treat themselves to our offerings. There are over 21 flavours of our creamy luscious gourmet ice cream, which are made with the freshest of ingredients. Our mouth-watering chicken wings and grilled burgers are to die for. We also have exotic and refreshing smoothies, milkshakes and cocktails".
Helado Delicia is located at 3rd Floor Gold Crest Plaza, KM 23 Lekki Expressway, Beside Mega Chicken Building, Ikota, Lagos.
Contact: For more information and general enquiries, please call 07068889329 | 07068901778 | 08091001999
__________________________________________________________________________________________
Sponsored Content