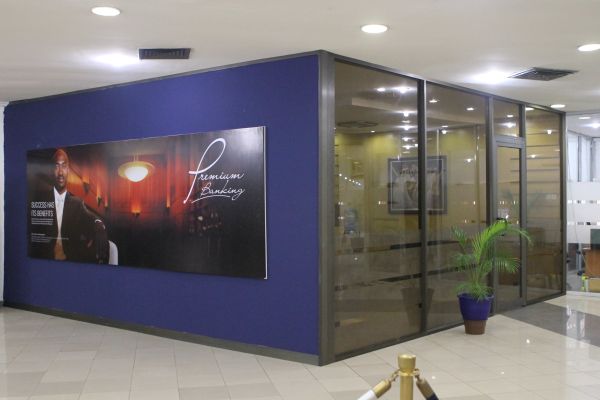 FirstBank Nigeria recently launched its Premium Lounge, an exclusive location within some of its branches that offers ultimate customer experience, priority services, comfort, security, luxury as well as access to financial advisory services to customers.
Carved out of select existing branches in Lagos and Abuja, FirstBank's Premium Lounge is an exclusive location for privileged banking.
The lounge services are extended to customers by invitation only. Qualified customers will be invited by their relationship managers and then a premium card with which the customer can gain access to the Lounge will be issued to them.
In Lagos, the Premium Lounge is available in three branches – Niger House Branch, Ikeja Industrial Estate and Lekki Phase 1 Branch. In Abuja, it is available in the Abuja Main Branch in Coomasie House, Asokoro and Maitama Branch. Other locations will be opened soon.
The launch kicked off at the same time in all the 6 branches mentioned above.
According to the Head Marketing and Corporate Communications, FirstBank, Folake Ani-Mumuney, "At the FirstBank Premium Lounge, each premium customer receives a personalized financial service that comes from understanding the customer's personal needs. The lounges are specially designed to include online banking facilities which ensure that customers have private and uninterrupted access to their bank accounts within the bank's premises."
"The lounge comprises a large seating area with leather sofas, private meeting room/office with Wi-Fi hotspot for premium customers to stay connected to other businesses while enjoying the ease of priority service. A designated relationship manager is always available to attend to queries, resolve complaints and provide services required at all times. Premium customers also receive priority in branch cash deposits and withdrawals, instant issuance of ATM cards, provision of account statements as well as other value-added services provided by the Bank. When in branches that do not have the premium lounges, privileged customers can enjoy these services by simply showing their Premium Access Cards- the power of the card."
View photos from the launch in different branches:
Niger House Branch Lagos Island
Lekki Phase 1 Branch
Ikeja Industrial Estate Branch
Abuja Main Branch

_____________________________________________________________________________________________
Sponsored Content