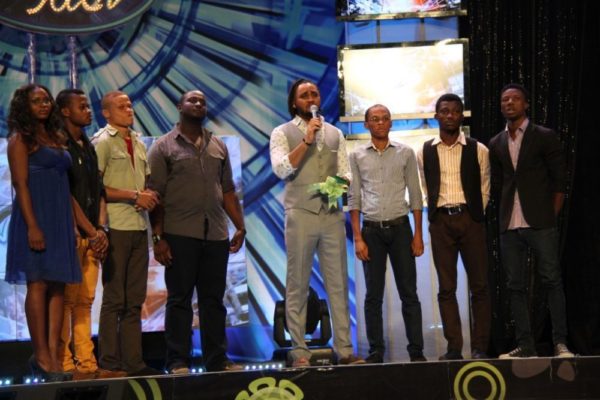 Its more than enough love for Nigerian Idols as Lynxx, Tiwa Savage and Naeto C celebrate Valentine's with the Reality show as they begin the Top 12 stage.
The exclusive invite-only show is set for Saturday and the amazing musicians are set to rock the stage with the Idol's top 12 rocking with them. It will be a night of "Golden Love Songs" as the contestants will be performing some of the worlds greatest tributes to passion; love songs whose roots are right here in Nigeria.
According to the Project manager of the hit show, "Season three has been the best yet. These contestants have worked hard to get where they are in the top 12, and they are the cream of the crop when it comes to vocal talent in this country. It is going to be an exclusive night of food, love, and music that is sure to make you smile, dance and fall in love again. I cannot wait to see what they have in store. What I'm sure of is that it will be an unparalleled night of entertainment".
Watch Nigerian Idol on Saturday on NTA at 3:00pm, Sound City and ONTV at 7:00pm, Silverbird at7:30pm, Superscreen at 6:30pm and TVC at 9:30pm, to watch the results show. Then, catch all-new performances on Sunday on NTA at 3:30pm, Sound City and ONTV at 7:00pm, Silverbird at 8:00 pm,TVC at  8:30pm and Superscreen at 9:30pm  to see the wild card contestants have their shot at the grand prize.
The power to decide the fate of one of the contestant lies in your hands, so vote by texting the number of your favourite contestant to 33680, from any network. You can also vote for a contestant by dialling his/her number using an Etisalat line.
The top prize for this season is worth $100,000, in which the lucky winner will get: 7.5 million Naira in cash, a recording contract also worth 7.5 million Naira, and a brand new SUV while runners-up will be given prizes to the tune of 10 million Naira.
Visit http://www.Nigerianidol.com/ for compelling back story videos, juicy behind the scene news, and get a taste of what is to come. For the latest information, Like the Nigerian Idol Facebook page www.facebook.com/NigIdol, and follow Nigeria Idol on Twitter at www.twitter.com/NigerianIdol and you could be eligible to win some fantastic prizes including the opportunity to be in the studio for a live recording.
Nigerian Idol is the biggest music show across Africa and is brought to you by Etisalat, in association with Pepsi and supported by Beat FM.
Date: Saturday February 16th 2013.
Venue: Civic Centre, Victoria Island, Lagos
Time: 3:00 PM | Performances begin at 5:00PM