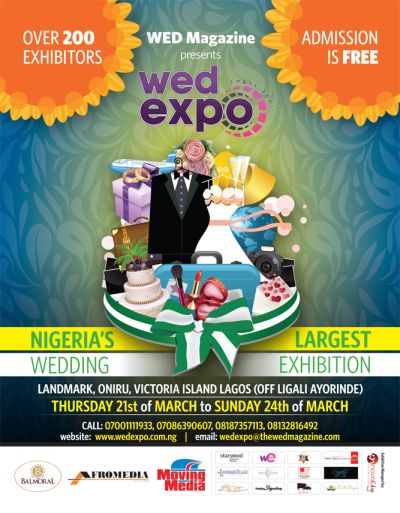 With less than 30 days to go for WED Expo 2013, Nigeria's largest Wedding Exhibition, preparations are in top gear to make this year's exhibition the largest ever wedding exhibition in West Africa!
It promises to be a rewarding one for visiting guests who stand a chance to win several gifts.
The grand price this year is an airline ticket and a getaway to Sheraton Hotel Gambia and Le Meridein Ibom and Golf Resort in Nigeria. There will be other prices including A Weekend Stay in 4 Points by Sheraton, Lagos; Sheraton Lagos; Le Meridien Ogeyi Place and Sheraton Abuja.
All hotel accommodations are being provided by WED Expo Lagos 2013 Official Hotel Partner Starwood Hotels and Resorts.
Other prices to be won include IPads, Blackberrys, Wedding Gowns and make-up packages etc. All vendors will be offering great discounts on their products and services.
Premium Sponsors: The Balmoral, Afromedia & Moving Media
Sponsors/Partners: Starwood Hotels and Resorts, WE Magazine, BellaNaija, Mobile Screens and Sounds, Naphtali Rentals, Nigerian Wedding, Wedding Digest Naija, Golden Events Solution, Stagemakerz Company, Swift Networks, Sights and Sounds & The Landmark Village Event Center.
Exhibition Dome: To be built by The Balmoral – Premium Sponsor
You cannot afford to miss this exhibition! Admission is FREE.
Date: Thursday 21st– Sunday 24th March 2013
Venue: Landmark Event Center, Oniru, Off Ligali Ayorinde, Victoria Island.
Contact: For Booth and Sponsorship Enquiries call 07001111933 | Follow @wedexpo for updates.
WED Expo 2013 Exhibition is managed by InnovoEdge Exhibitions.
Some Exhibitors at the exhibition include:
Cakes by Andy Clark | B Signature | Jacynthe Cards | Gift Shack | Caleb Videography | Grooms Place @ Wardrobe | Newton and David | Perfect Occassions | Adeplumtre | Molbaks AsoOke | Concepteur De Fruitee | Imani Swank | BM-Pro | Balmoral Halls | Creative Studio4 Pro | TAP Studios | Magic Brush Photography | Torge Events & Décor | Cakes by Tosan | Bottom up… Honey | Distinct Crown Events | K.lala Films/Photography | House of Teedees | The Elect AsoOke | Churchills Integrated/Belle Signature | Green Ice Events | Kalhari Ltd | 360 Eventee | Abiola Aso-Oke | DB Formal Wear | Gazelle Designs | LA Viva Bridal | Yes I Do Bridal | Giftys Daughter Beauty | Renee Resford Services Ltd | Magna Events | Geronimo Business Ventures | Enthyst Bridal/Events | Dobam's Homewares | Jodot Events | I Luv Desserts | Zarahlinda | Switch Cosmetics | Ruban Rouge | Tsoule Events | Blueberry Cakes | Nwandos Signatures | KanQ Ventures | Soiree Stationery | Lush Petit Deserts | Avantgarde Safaris | Open Hands | Sweet Indulgence | Oyeog Fabrics | Verche L'Art Cessoire | Crystal Styles | Renis Aso Oke & Beads | Planification Events | Peculiar Designs | Hunt Couture | Mo-De (UK) | Bridal Gallery | Ceremonial Accent | Kingsize Bespoke Catering | Ecotrends (uk) | Piece Of Cake | Delightful Edibles | Rings et al | Lasting Memories Events Managers | Arike Alaso-Oke | Awelewa Makeovers | Moxif by Daisy | Insignia Global Limited | Melting Moments | Cake n Candy | Finesse Event Services | h2f drinks | Larrie Penel | Celebration by Tosan | Bakers World | Photonimi | Goldielux Services | I Do Weddings | Add-Ons Accessories | Interieurs Etc | Exotic Cakes | Fascination Bespoke Accessories | Mac Ohlarb | Omote Jewely | Flori Roberts Cosmetics | Ayorinde Abiodun | Bridely | Home Royale | Beauty Zeal and Five Studios | All Thingz Girlie | Brides and More | Crafties Hobby Craft Ltd | SayCheese Cakes | Jidalights Events and Décor
WIN