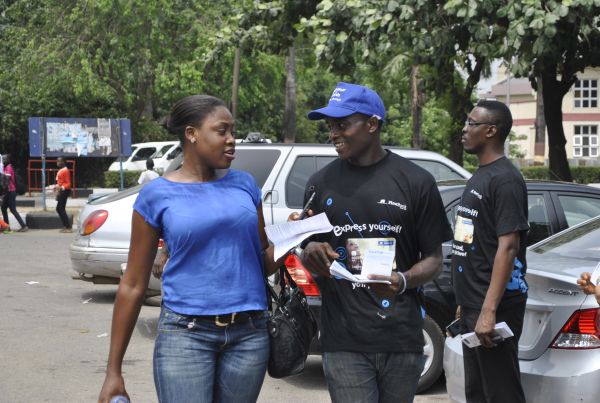 On Thursday 14th and Friday 15th February 2013, First Bank of Nigeria Limited organized a Campus Storm at the University of Lagos, Akoka to create awareness and inform students of the availability of the Expressions On Card.
The visit to University of Lagos is the first in the series of visits to university campuses. Other university campuses such as University of Ibadan, Benin, Port Harcourt, Calabar, Jos, Enugu State University of Technology, Federal University of Technology Owerri and Ahmadu Bello University Zaria will also be visited.
Members of the 'Expressions On Card' team visited the student hostels such as Newest Hall, Amina Hall, Elkanemi/Henry Carr Halls, New Hall – Moremi/Mariere, Jaja Hall and Erastus hall. Other places visited were the Amphitheatre and the Sports Center. There was an 'Expressions' stand to support students in completing actual photo uploads and applications.
About the Expressions on Naira MasterCard
That freedom to capture your individuality, design images or use pictures of your child's first steps, your wedding day or that moment you cherish on your debit Naira MasterCard Card is what First Bank of Nigeria Ltd. is offering customers through "Expressions On Cards".
With 'Expressions', the Bank's customers assume control of the look and design of their Naira MasterCard by exercising the freedom to print images of their loved ones and favorite moments of their lives on their cards.
The process for requesting for the product/designing the card is initiated on the Bank's website www.firstbankNigeria.com where the customer is at liberty to select a picture (from an existing bank-managed gallery or from a personal collection), which would serve as the artwork on the front of his/her card. Following submission of the selected design, the personalized card would be delivered in 72 hours for Lagos locations and 5 business days for upcountry locations.
_______________________________________________________________________________
Sponsored Content