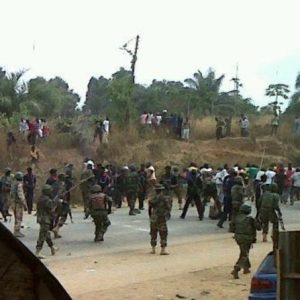 A deadly protest around the vicinity of Nasarawa State University, Keffi on Monday has claimed the lives of four students.
The students were reportedly protesting over the scarcity of water and power on the campus for several days. The students of the institution were said to have blocked the Abuja/Keffi road during the protest.
The Police Public Relations Officer in the Nasarawa State Police Command, Michael Ada confirmed the killing of the students and told Punch that seven others received gunshot injuries. About 17 other students were arrested by security agents, including the institution's President of the Students Union.
During the protests, policemen and soldiers were dispatched to the area to restore normalcy. However, both the Police and Soliders are denying their involvement in the killing of the students.
Ada told Punch that the Police were not involved in the shootings and that they only cleared the highway blocked by the protesting students. He said that any question relating to the incident should be directed to the Army.
Similarly denying their involvement, the Director of Army Public Relations, Brig. Gen Ibrahim Attahiru, denied the claim that soldiers did the shooting. He told Punch that soldiers were on patrol duty during the demonstration at Keffi but did not have any altercation with the students whatsoever.
"What these people are writing is not correct, Soldiers were not deployed and couldn't have carried out the shooting. Our men were on patrol duty at Keffi. The students, who were protesting, had blocked the road but soldiers did not have any altercation with them. There were the police and other security agencies, who were on the ground to handle the situation. There is also this information we have that the police even recovered some arms from the students who were protesting."
The institution has now been shut down till further notice.
***
The death of the students over such protests is really saddening. Why should an institution go without water and electricity for days, resulting in students' protests? The web of corruption that has denied Nigerians such basic amenities is not only annoying, but is causing the lives of our youth.
The Police deny shooting the students. The Soldiers deny too. So who killed them? Their deaths would most likely join the bandwagon of unsolved murder cases. What a waste.
May their souls Rest In Peace.