We are so happy and excited about the start of the new week on BellaNaija Weddings.
We kick off the festivities with Oluwatosin Obasa and Abolade Kehinde's bright and beautiful wedding! The story about how Tosin and Bolade met is definitely unique and we love the role a very special person played in getting this lovely couple together.
Read on to find out more and experience Oluwatosin and Abolade's special day!

****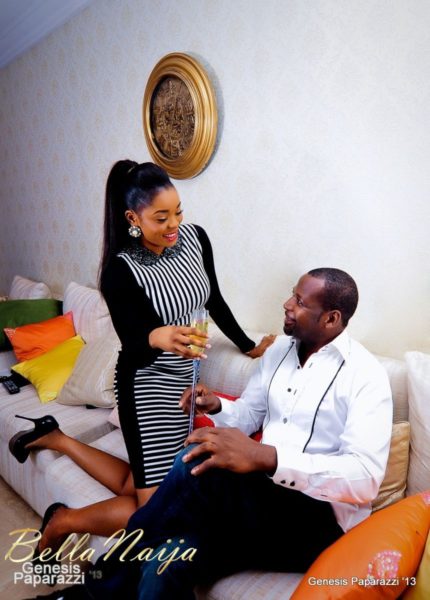 How Oluwatosin & Abolade Met
by Tosin
We met in September 2011 through Bolade's mum whilst I was working at the bank.
His mum and I fell in love with each other from the first day we met and we had developed a mum and daughter relationship. Unknown to me, she had made her findings about me and wanted me to meet her son who just relocated back to the country that same year after being away for almost 30 years. She called me up one day and said "I want you to go open an account for a senior staff of 'so so and so company' and I have spoken highly of your bank. So, please go there today and the client will be waiting."
I got there a bit late and apologised for coming late. At this point, I had started calling his mum "mummy' and I said to him, "I'm sorry I came late (liking him already lol), mum asked me to get here before 4pm" and he said, "You mean my mum?"
I was shocked because she didn't say anything of such to me! I am sure you might be wondering why I didn't know from their last names….I mistook her last name for her first name and her first name for her last name; therefore it didn't click! I called her immediately from his office and said, "Mummy, where did you send me to?" and she laughed at the other end of the phone saying, "Just finish, we will talk later"
That was it!
The Proposal

It was during one of the long public holiday breaks and we were both stressed out from the previous week wahala at our different jobs. He called me and said "Let's get away from the madness of Lagos, Let us go to La Campagne Tropicana (he had booked a chalet and prepared for our trip).
While we were there, we walked on the beach, played table tennis and did loads of fun stuff but I didn't have a clue of what he was about to do!
While we were in our chalet, it was quite dark and he kept asking me "Tosin, can you help pass this…Tosin, can you help pass that…". Obviously, I had to turn on the light each time I got up and I was getting frustrated. The final time he asked me again and I turned on the light.
I was so shocked when I saw the ring "staring" in my face! He had opened the ring box and left it on the table. The moment I saw it, I screamed and grabbed it. He asked me, "Will you marry me?" and my answer was YES! I can never forget that day – August 20 2012!
***
Oluwatosin Obasa and Abolade Kehinde's wedding journey started with a Valentine's themed traditional engagement on the 14th of February 2013. The venue which was filled with everything "Valentine" was truly a delightful sight to behold.  Tosin and Bolade completed all their traditional engagement rites with their families and friends in attendance. With that important step completed, everyone congregated once again for Tosin and Bolade's white wedding just a few days later.
Crystals and pearls adorned Tosin's white lace wedding dress which she designed herself while the rest of her bridal look maintained the classic theme. Elegent diamond earrings, an all-white-rose bouquet and a lace-edged veil. Bolade's black suit with satin lapels was accessorized with an ivory silk cravat and pocket square set. The final element of his groom look was an antique gold and pearl tie pin. Tosin and Bolade's church blessing was monumental for the couple, as they committed their relationship to God. Tosin cried tears of joy as she said her vows while her groom encouraged her with a loving glance. In the end, it was all smiles as the couple, their bridal train, families and friends transitioned to the "Back to Eden" themed reception with bright shades of yellow, sunflowers and nature-inspired decor adorning the space.
It was time to enjoy the moment and have a great time! Each and everyone at Tosin and Bolade's wedding did just that! Dancing, singing, mingling while enjoying an amazing array of food, drinks and desserts. It was a lovely day!
BN wishes Oluwatosin and Abolade a blessed and wonderful life together!
***
~ Photography by Genesis Paparazzi
***
~ Photography: Temitope Valentine for Genesis Paparazzi – [email protected] – 07039685623
Wedding Details
Wedding Dates
Traditional Engagement: 14th February 2013
White Wedding: 16th February 2013
Wedding Venues
Traditional Engagement: Coral Reef Hall, Ikoyi
White Wedding: Ruby Gardens, Lekki
Wedding Colours
Traditional Engagement: White & Red | White & Pink
White Wedding: White & Shades of Blue | Yellow & Ivory
Wedding Theme
Traditional Engagement: Valentine's
White Wedding: Sunflower – Back to Eden
Wedding Attire
Wedding Dress: Designed by the Bride – Ebony Berry
Bride's Makeup: Banke Meshida-Lawal for BM|Pro
Bridesmaids' Dresses: Ebony Berry
Groom's Suit: Oliver Benjamin Clothier
Aso Oke: Mrs Duro-Emmanuel – 08075747750
Vendor List
Wedding Planners: Mrs Dara Odubogun and Mrs Aderenle Kehinde
White Wedding & Traditional Engagement Cake: Delibakes Cake & Pastries – 08020550113
Decor – Traditional Engagement: Party Perfect
Decor – White Wedding: Floral Expression
Bouquet & Fresh Flowers: Florals and You
Food, Small Chops, Drinks & Dessert: Kemabom Catering | Kaffi Catering | Chief Cook Caterers | Jade Cuisine | Cyllaps | Adedaas | Princess Catering | Kravin Cakes and Desserts | Larry Spice | Coca-Cola | Gaterie Frozen Yoghurt | The Bakery Co
Programmes: Bubapps Printing International
______________________________________________________________________________________
We love weddings as much as you do! Get in touch…
weddings (at) bellanaija.com
www.bellanaija.com/weddings
www.twitter.com/BellaNaijaWed
www.facebook.com/BellaNaijaWeddings
www.instagram.com/BellaNaijaWeddings