Hey Nigerians, where's the love?
American reality TV Star Kim Kardashian has responded to a "fake tweet" which has been making the rounds for the past 24 hours. Kim Kardashian reportedly tweeted the following message – "Nigeria is such a disgusting country. I couldn't wait to leave. lol Scott said their women look like apes and I agree"
This tweet kept the Nigerian Twittosphere abuzz last night as it made the rounds with lots of retweets and replies.
The "Scott" in the tweet is Kourtney Kardashian's partner.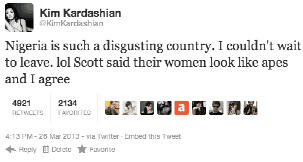 Today, 32 year old Keeping Up with the Kardashians star responded to the social media scandal. She said "I see there's a photo shopped tweet floating around, supposedly something I said about Nigeria. That was NOT me or my feelings".
Kim who is currently promoting Tyler Perry's new movie "Temptation: Confessions of a Marriage Counselor" in New York City followed up with another tweet. 'That fake tweet is very disturbing and I would NEVER EVER tweet something like that."

This will not be the first time Kim Kardashian has come under fire by Nigerian social media. In February 2013, she was criticized for her short stay in Nigeria while hosting Darey Art-Alade's Love Like a Movie concert at the Eko Hotel & Suites, Victoria Island, Lagos.