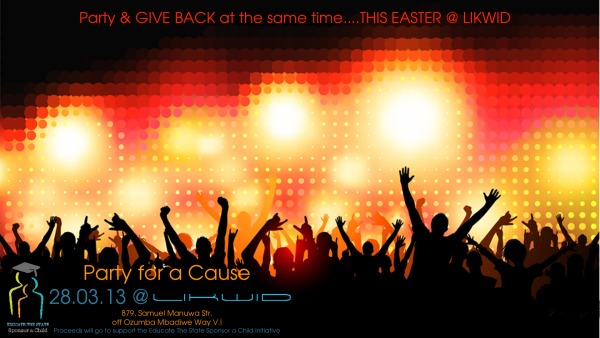 It's Easter and another season to celebrate and give back!
Do some good, stop by for a drink or party all night in the endeavour to Educate the State. Bring your friends, co-workers and any one else that wants to have a good time.
Proceeds from the party will go towards the Educate the State Sponsor a Child scholarship programme that gives full scholarships to less privileged children in Lagos State Special Correctional Centres.
Educate the State Sponsor a Child Scholarship Initiative is a joint initiative of Bake for Change & AIPA that was launched in September 2012 and currently facilitates 10 children at different levels to go to private schools until their completion of their Secondary School Education.
So, kick off the Easter weekend with a blast and give back at the same time!
Date: Thursday 28th March 2013
Venue: LIKWID – 879 Samuel Manuwa Street, Victoria Island, Lagos.
Contact: If you won't be able to make it, but still want to support the cause, please Email [email protected] or [email protected] or send your donation to Bank: Guaranty Trust Bank | Acc. Name: Foundation for the Alleviation of Illiteracy, Poverty and AIDS | Acc. No.: 0119417662