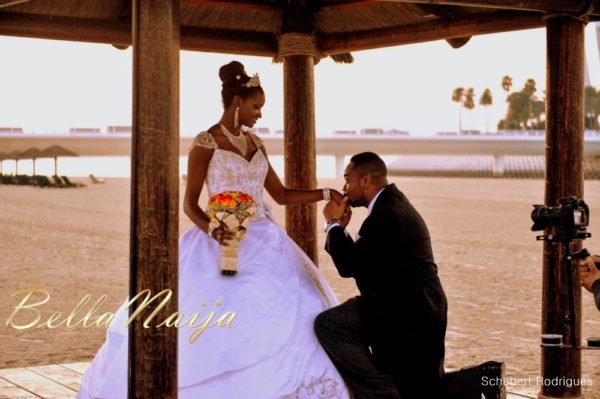 Today on BN Our Wedding Story, we are travelling to Dubai!
With the amazing sights, world class hospitality and hotels, it is no surprise that the Middle Eastern hub is now a popular location for destination wedding! Fashion retail entrepreneur Prisca Amaihe of www.fabpieces.com and Technology and construction entrepreneur Emeka Okwara of Nxtin Global Services tied the knot in fabulous Dubai on the 27th of January 2013.
Prisca and Emeka's wedding had a dreamy old-world royal wedding theme.
Enjoy!
***
How Prisca & Emeka Met
by Prisca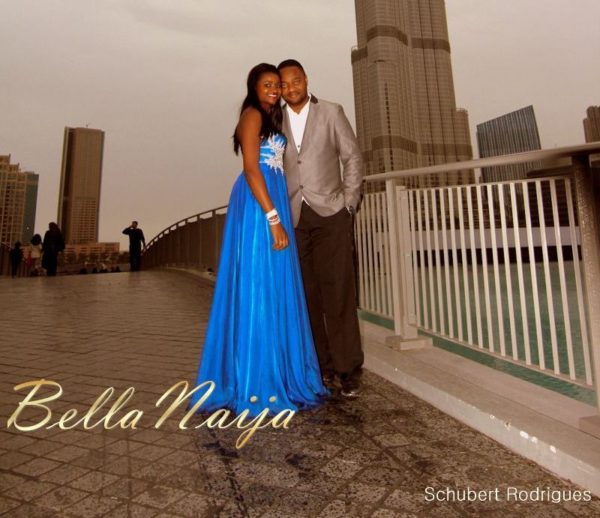 Meeting Emeka on the 21st of April 2011 was no mishap, it was most definitely God's will! The connection we had was very compelling – it was as if somehow, we were meant to know each other.
A few days after talking on the phone, he took me out on our first of many, many dates at the Intercontinental Buckhead in Atlanta, GA. Though, after our very first date, I needed to sort a few things out independently so I decided to take our get-to-know each other expedition very, very slow aka the 'Friend Zone'.
I figured – If it's meant to be, it will be – I know what I'm worth so I didn't make him endearing my heart very easy. Nonetheless, it was worth it at the very end!
As a friend, Emeka always listened and continually encouraged me to keep pursuing my dreams. He was beyond cheerful and kind to me which I thought was a little too good to be true.
I speculated it was only a matter of time and he'll show his true side. Little did I know he was plainly being himself. The Emeka I knew then never changed till this day. I always tell him he's the prime example of the saying: Action Speaks Louder than Words.
After about a year of friendship, he appealed that I let him into my heart. I knew the kind of man I had and I didn't want to lose him, so I told him the next day that I was ready to take our friendship to the next level. Without wasting time that evening, he took me to The Sun Dial restaurant in Atlanta and gave me a promise ring, thus, we became official.
Approximately two months later, he asked me to be his wife :)! Emeka is a perfect gentleman, Props to Mom and Paps. I thank God everyday for conveying us together. He treats me like a queen and I am excited to spend the rest of eternity with this astonishing handsome man!
Emeka's Version
The 21st of April will always be a special day for the rest of my life. That was the day I met my wife, Prisca and that was the day I proposed to her one year later. April 21st 2011 was a day my life changed forever.
Prisca has the purest and most beautiful heart I have ever seen on any human being and so starting that first conversation with such a gorgeous lady on the day we first met was easy for me. I invited her to dinner at the InterContinental in Buckhead, Atlanta. At dinner, I was captivated by her beauty, intelligence and purity.
I knew I met my soulmate that day because I had never felt happy and calm in my life before. But I didn't realize that I was about to go a long and tough journey to win her heart. I can't wait to tell our kids how hard daddy had to work to win mummy's heart. The journey to winning her heart was long, bruising (lol), and beautiful. That makes me appreciate her every time I hear her voice.
I never believed in soulmates until I met Prisca. She is my heart, my life, and my soulmate.
Journey to the Proposal
by Emeka
Keeping the engagement secret was one of the toughest tasks of my life. It wasn't made easier to keep the secret after I gave her the promise ring because the promise ring was an indicator that I would be proposing to her soon. I always told her I will propose on a very special day that had a significant meaning. She felt the next significant day was my upcoming birthday and since we had planned a trip to the Carribean, she suspected that I would propose on my birthday.
She felt so confident about it that she told me she will keep her camcorder on standby to catch the moment. One thing I made sure she forgot was that our 1 year anniversary was coming up before my birthday and that was the day I planned to propose to her.
On the day of our anniversary, I picked up the ring from my jeweler. I worked with the manager of our favorite jazz spot at the Mandarin Oriental in Buckhead, Atlanta and the leader of the jazz band that played that night to strategize on making a grand proposal that fits my princess. I told them to play our favorite song (Unbelievable by Craig David) at 10:15PM with the jazz band playing live in the background.
10:15 was my proposal time.
It wasn't easy coordinating all these tasks and keeping the secret. Prisca noticed my strange behaviour that day but luckily I managed to change topics when she became suspicious.
Well, the night came fast. I took her to the jazz lounge. I picked up the mic at 10:15PM, made a speech that came from my heart, then walked up to her, and proposed.
She was surprised. She cried. Most of all, she was happy. This was one of the happiest day of my life (next to our wedding). It was a magical moment.

***
It was a day filled with beautiful moments as Prisca Amaihe and Emeka Okwara said "I Do"! With their fairytale theme in mind, the bride chose a dress that was reminiscent of Disney princesses. With a grand ballgown silhouette, exquisite lace beading and embroidery, this was her dream dress. The groom, Emeka chose a cutaway tuxedo which  complemented his beautiful bride's attire.
At their wedding ceremony at the St. Francis of Assisi Parish, Prisca and Emeka were joined together as one. After that important step, the couple along with their parents, family and friends returned to the luxurious  Jumeirah Beach Hotel where they enjoyed their lovely outdoor reception. With tasty food on the menu and a fabulous 3 tiered traditional pillow cake with a plethora of flavours including banana, strawberry, lemon, coconut, pineapple and mango, it was a yummy treat for all guests!
Prisca and Emeka's first dance was just one of the many amazing highlights of their wedding day. After all the traditional wedding reception boxes were ticked, it was time to relax and enjoy the rest of the night with lots of smiles, dancing and joyous moments.
BN wishes Prisca and Emeka a blessed and wonderful life together!
~ Schubert Rodrigues – Dubai Cinematography | schubertrodrigues.com
The Wedding Video

Wedding Details
Wedding Date: 27th January 2013
Wedding Venue
Wedding Ceremony: St. Francis of Assisi Parish, Jebel Ali, United Arab Emirates
Wedding Reception: Jumeirah Beach Hotel – Dubai, United Arab Emirates | Website
Wedding Theme: Royal Wedding – Fantasy fairytale destination wedding
Wedding Dresscode: Classic Traditional or Beach Formal
Wedding Colours
Wedding Party: Women – Royal Turquoise Blue & Gold | Men – Black & Gold
Venue Decor: Rich Silver & Purple
Wedding Attire
Bride's Dress: Eve of Milady via Brides by Lori
Groom's Tuxedo: Joseph & Feiss
Bride's Makeup: Aqeel Mohamed AL Nasser
Bridesmaids' Make-up: Jumoke Onifade
Wedding Vendors
Wedding Planner: Nazpari Azari for the Jumeirah Beach Hotel
Wedding Cake: Karen Carvalho
Wedding Decor: Jumeirah Beach Hotel
Catering/Food/Drinks: Jumeirah Beach Hotel
______________________________________________________________________________________
We love weddings as much as you do! Get in touch…
weddings (at) bellanaija.com
www.bellanaija.com/weddings
www.twitter.com/BellaNaijaWed
www.facebook.com/BellaNaijaWeddings
www.instagram.com/BellaNaijaWeddings