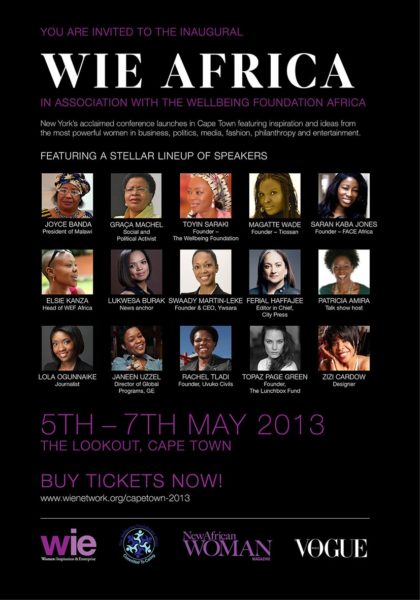 Today 6th of May 2013, the inaugural edition of WIE Africa will launch in Cape Town, South Africa.
Africa is currently experiencing some of the fastest economic growth in the world. The common image of a continent mired in war, corruption and poverty, fails to reflect the complete picture.
Women, Inspire and Enterprise (WIE) is a platform established for women in this generation to inspire and empower the next generation. The organization held its first symposium in New York City in 2010 and over the years it has been a platform for notable women across the globe.
Described as "an ambitious and innovative event that brings together smart, engaged, forward thinking women interested in meeting likeminded individuals, expanding their knowledge and making a difference.", this year's event is in Cape Town, South Africa.
The two-day event which commences today aims to contribute to changing the global perception of Africa by showing the successful and innovative African women. WIE Africa is partnering with Toyin Saraki's organization, the Wellbeing Foundation. There will also be an exclusive gala dinner to honor humanitarian Graça Machel and the WIE Power Influencer list.
The lineup of speakers at WIE Africa 2013 is amazing!
Bola Adesola – STANDARD CHARTERED / MANAGING DIRECTOR, CEO
Patricia Amira – TALK SHOW HOST
Zahira Asmal – FOUNDER AND MANAGING DIRECTOR / DESIGNING SOUTHAFRICA
Moipone Buda-Ramatlo – CEO / NELSON MANDELA CHILDREN'S FUND
Lukwesa Burak – NEWS ANCHOR
Zizi Cardow – DESIGNER
Robin Curnow – Correspondent for CNN
Komla Dumor – BBC WORLD SERVICE
Rebecca Enonchong – FOUNDER AND CEO / APPSTECH
Folake Folarin-Coker – FOUNDER / TIFFANY AMBER
Julie Gichuru – JOURNALIST AND BROADCASTER
Mojanku Gumbi – POLITICAL STRATEGIST
Ferial Haffajee – EDITOR IN CHIEF / CITY PRESS
Jill Hamilton – REGIONAL DIRECTOR / WEBER SHANDWICK AFRICA
Hadeel Ibrahim – FOUNDING EXECUTIVE DIRECTOR / THE MO IBRAHIM FOUNDATION
Thebe Ikalafeng – BRANDING GURU
Angel Jones – FOUNDER / HOMECOMING REVOLUTION
Saran Kaba Jones – FOUNDER AND EXECUTIVE DIRECTOR / FACE AFRICA
Elsie Kanza – DIRECTOR, HEAD OF AFRICA / WORLD ECONOMIC FORUM
Aspasia Karras – EDITOR / MARIA CLAIRE SOUTH AFRICA
Andy Kawa – STOP RAPE CAMPAIGN
Felicia Mabuza-Suttle – TALK SHOW HOST AND BUSINESSWOMAN
Graça Machel – FOUNDER / GRACA MACHEL TRUST
Swaady Martin-Leke – FOUNDER AND CEO / YSWARA
Lindiwe Mazibuko – PARLIAMENTARY LEADER / DEMOCRATIC PARTY, SA (OPPOSITION)
Naima – POET, VOCALIST
Ndidi Nwuneli – CO-FOUNDER / AACE FOODS
Isis Nyong'o – TECH INVESTOR AND ENTREPRENEUR
Lola Ogunnaike – JOURNALIST AND BROADCASTER
Topaz Page Green – FOUNDER / THE LUNCHBOX FUND
Joy Phumaphi – EXECUTIVE SECRETARY / ALMA
Dee Poku – CO-FOUNDER AND CEO / WIE NETWORK
Jane Raphaely – MANAGING DIRECTOR / ASSOC MEDIA
Toyin Saraki – FOUNDER / THE WELLBEING FOUNDATION
Rachel Tladi – FOUNDER / UVUKO CIVILS
Janeen Uzzell -DIRECTOR OF GLOBAL PROGRAMS / GE
Magatte Wade – FOUNDER AND CEO / TIOSSAN
Jane Wales – PRESIDENT AND CEO / WORLD AFFAIRS COUNCIL AND GLOBAL PHILANTHROPY FORUM
Debrework Zewdie