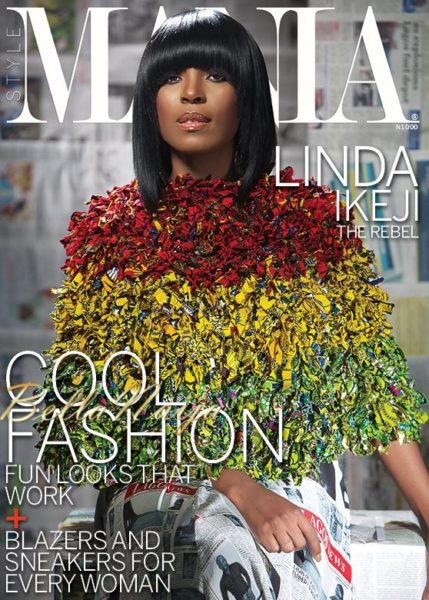 Ace Nigerian blogger Linda Ikeji is the muse for StyleMania Magazine's "The New Generation" May 2013 Issue.
Sporting bangs on the cover and an Ituen Basi outfit, she reveals to the fashion publication her journey to stardom and her immense relevance in Nigeria today.
Inside the issue, Linda also rocks two different outfits by Ituen Basi; a multi-coloured print blouse and newspaper skirt as well as a flirty black dress.
Also featured in the issue are profiles of a few remarkable young individuals including Tunde Aladese (Head Writer, Tinsel), Ehizogie Okoeguale (Winner MTV Base VJ Search), Shalom Obi (Budding Supermodel), DJ Obi (Official DJ, Syndik8 Records), Akanimoh Umoh (Sensational Artist), Anniette James Ekiko (AJE Filmworks) and Aderonke Adebanjo (On Air Personality, Smooth FM).
This issue's fashion spread centers on muted colours with a sporty feel. Another remarkable perspective is StyleMania's tribute to literary icon Chinua Achebe in form of a fashion editorial.
For back issues, subscription and comments on current and past issues, email [email protected] | Call 07058109821
Credits
Cover
Photographer: Kelechi Amadi-Obi
Stylist: Dimeji Alara
Make-up: Bayo Haastrup @Khuraira Cosmetics
Hair: Ugo Igbokwe
Cover Dress: All from Ituen Basi
BeautyMania
Photographer: Williamanuel @Imageye Studios
Stylist: Alice Ty
Make-up: Carla Tersini
Models: Shaila Stigger & Elie Rose
Things Fall Apart
Photographer: Kelechi Amadi-Obi
Stylist: Godson Ukaegbu
Make-up: Bayo Haastrup @Khuraira Cosmetics
Hair: Make Me
Models: Doyin Haastrup-Olatokunbo and Simeon @ Hues & Shades
Opposites Attract
Photographer: Kelechi Amadi-Obi
Stylist: Dimeji Alara
Make-up: Funmi Olurinola @Abeke Makeovers
Model: Binta Sani @Isis Models Africa