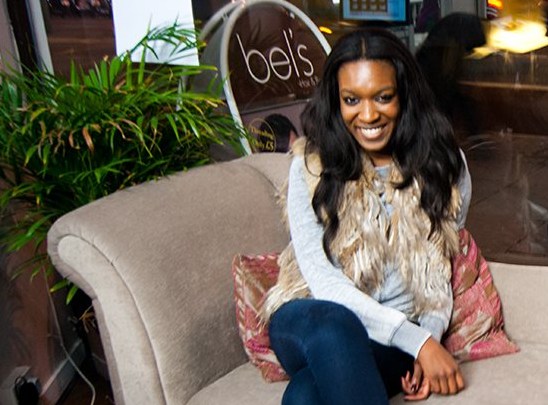 When the name Banke Kuku is mentioned, it rings the bell of professionalism, dedication and creativity in woven and print textile. Banke uses the art of textile production and her degree from Central St Martins and Chelsea Art College, London to create stunning fashion and interior pieces to beautify both body and home.
Banke lived in Lagos till she was 8 years old, and after her primary education at Grange primary school she moved to England to complete her education. Her love for textiles didn't begin until she went on to study Textile Design at Central St Martins and was given the award of 'Queen of Color'.
It's safe to say that she is taking her title very seriously and her designs have since then been featured on catwalks in Milan, New York, Paris and been showcased in Vogue.com and other publications.
BellaNaija Style caught up with the talented textile maker to get the scoop on the name behind the brand , what she's been up to and what to expect next from her.
What influenced your career choice?
My mum was an influence in my career from when I was very young. She taught me how to knit when I was 5. We used to sew and paint a lot as well.
Can you share your most outstanding time at Central St. Martins?
Central St Martins was one of the hardest experiences I went through in my career. The most significant day must have been the day I was selected to specialize in textiles. Even at that beginning stage when you are still trying to find where you fit into the creative industry, competition is still extremely high and the air is very tense, but I loved every moment of it. It was a challenge. Attending Central Saint Martins had a huge impact on my life especially coming from my secondary school where things were smooth sailing. It shaped me well and it prepared me for the real industry. It was extremely competitive and the tutors were very tough.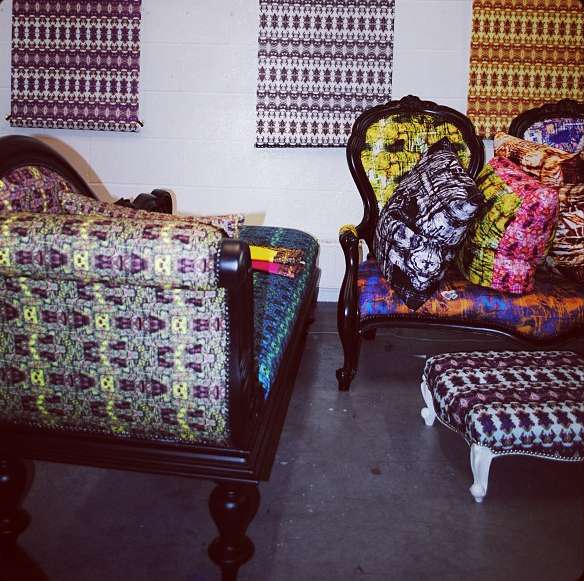 After Central St Martins, what was your next career move?
I started working as a free lance textile designer. I produced a collection of scarves with Duro Olowu amongst other things and I started working for a fashion house called Jasmine Di Milo. Well let's just say I have a studio now, which I moved into almost 2 years ago and it's one of my joys.
How long have you been in the business of designing textiles?
I've been designing textiles for 4 and a half years and I thank God for every moment.
What motivated you to expanding your craft to interior furnishing?
The interior industry is a completely different environment from the fashion industry. It requires a different skill set. Fashion moves extremely fast. The time spent creating is a lot shorter. Interiors is a lot slower which gives you a lot of creative flexibility. It's nice to mix things up a bit. I really enjoy working with interiors and alongside interior designers.
Who is the average Banke Kuku client?
My typical fashion clients are usually fashion designers. I work with a lot of African designers as my work is inspired by Africa which has an attractive quality to them and is an inspiration to me. I see it as my way of giving back to the African fashion industry. As for my interior textile clients the are usually interior decorators and designers and of course those shopping for their homes.
We know you have worked with both Nigerian and international brands like Burberry, Duro Olowu and Jewel By Lisa. What was the experience like?
I worked for Burberry whilst I was still in Art College. I wasn't so involved in the textiles department but I worked more with menswear casual fashion. I absolutely loved it. Burberry is one of the best fashion houses in the world; not just the best because they create fantastic products, but they have a really great team of people who work well together. It was a great environment and I actually found an even deeper love for textiles whilst working in the men's wear department.
My experience working with Jewel by Lisa was good. I had a lot of creative flexibility as when I started working with them; at that time it was really the start of the bespoke print age in Africa. They gave me my space to create and for any designer that is a luxury. JBL and I worked well together and we understood each other well creatively. I am thankful for that experience. Working with Duro Olowu was again another influential experience where I found my identity as a designer.
How did you merge your creativity?
With Duro Olowu and Jewel by Lisa we had one common vision which was Africa; so creating with them was not hard at all.
With your Experiences being documented wherever you go, what message do you think it sends to others who want to walk in your shoes?
I believe the message my story relays is to do what you are truly passionate about and stick to it.
If you could describe the Banke Kuku Aesthetic in 5 words, what would they be?
Modern, African, Western, Vibrant, Intense.
For some It's a cup of tea, for others It's bright lights. Do you have any ritual to get your Creative juices flowing?
For me I just open my eyes and I feel inspired; I am so inspired by what's around me. I don't have to be in a specific place. Different environments trigger different forms of creativity so generally I can get inspiration from anywhere.
What have you been up to lately?
I have been taking part in a lot of shows and exhibitions in London which has been really good. The prints I created for Virgos Lounge just came out in April. I'm expanding my distribution and working on really cool projects in Africa and in Europe. I've been really busy.
What can we expect from Banke Kuku Next?
I'm writing another book about textiles. My first was published in 2010, it is about the textile industry in Nigeria and it's called ' The unwoven threads of Nigeria'.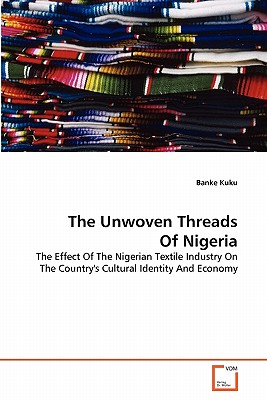 Speaking of working Internationally, does that ever put pressure on you knowing different people are expecting a lot from you?
Not really, I don't think of it like that at all and I wouldn't say that's where the pressure comes from. I'm used to that part of the business.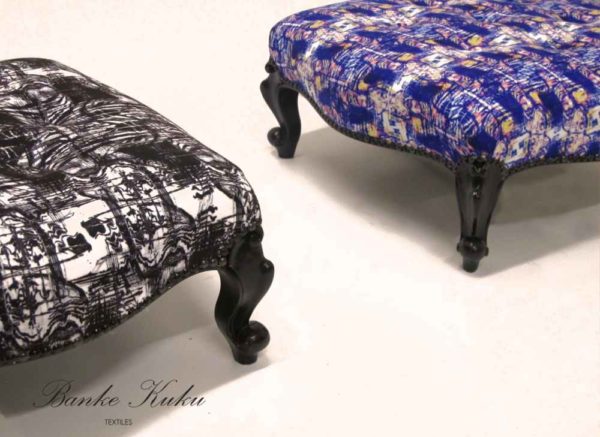 With other textile designers like Nike Davies and Shabby Chic offering similar services, what makes your brand stand out?
Although we are all textiles designers, our design aesthetics and processes are very different so I couldn't even compare us. Banke Kuku Textiles stands out for its own design appeal.
It was great chatting with Banke Kuku and from BellaNaija we wish you all the best!
Photo Credit: mymzone.com | styleincblog.files.wordpress.com |instagram.com/Bankekukutextiles