Believe it or not, there is no business like Showbiz!
We love our Nigerian superstars and how they constantly keep us entertained 365 days 24/7. Of course, through their many skills either in movies, music, TV and radio, the stars cash in some big bucks.
So if you have the money, is it okay to flaunt it?
Today we profile how some stars spend their hard earned cash!
Wizkid
Recently Star Boy Wizkid shared on Instagram, images of his newly acquired sleek Porsche Panamera S. Posing next to the sleek car with a price ranging from $75,000 to $175,000 depending on the spec, the music star said I am "Thankful"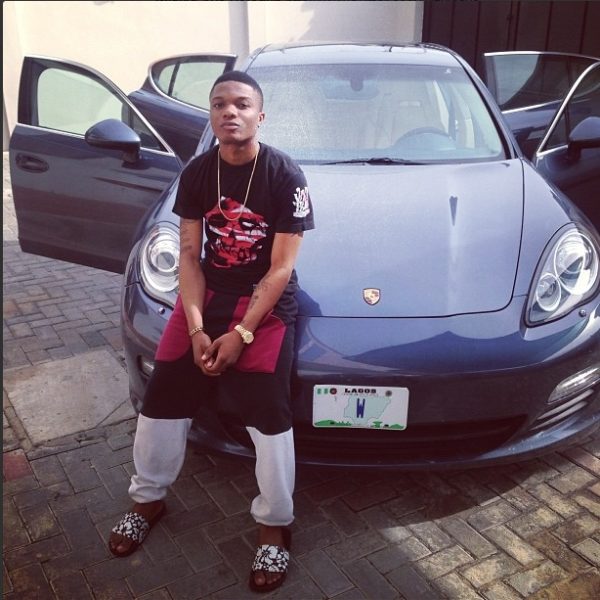 In March, after a "boring afternoon" in South Africa, he went shopping and bought items from Nike, Lacoste and Gap.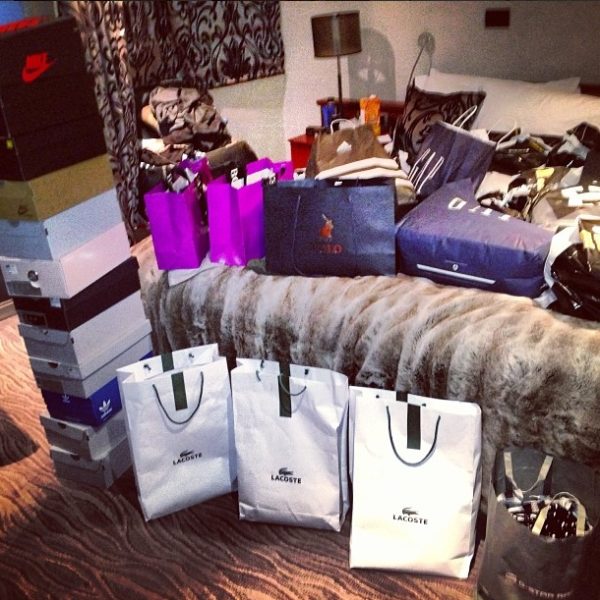 Toke Makinwa
While in London for a short vacation in April, Nigerian media personality Toke Makinwa went shopping. She shared the below photo on Instagram asking which of these Gucci Spring/Summer 2013 Collection shoes, to buy at Selfridges. A pair retails for $ 916 on Rafaello Network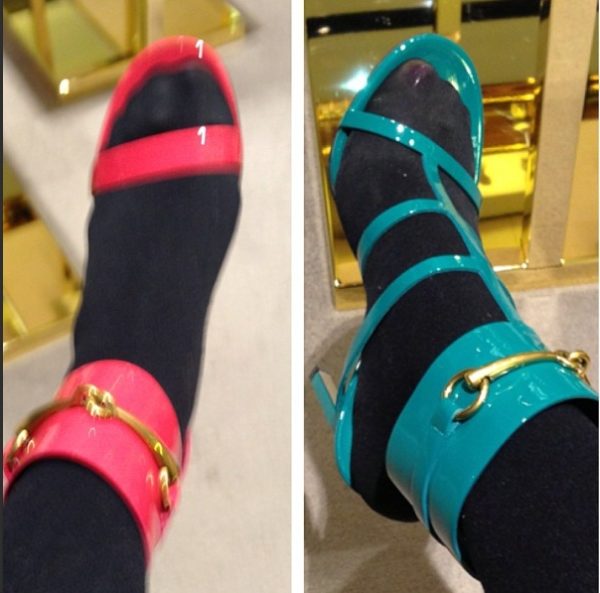 Dr Sid
With his latest singles including Talented topping charts, Mavin Records' Dr Sid is definitely a happy man. Last week, Don Jazzy shared an image of the star's house (currently under construction) in Lekki, Lagos. Houses and lands in Lekki sell for millions of Naira.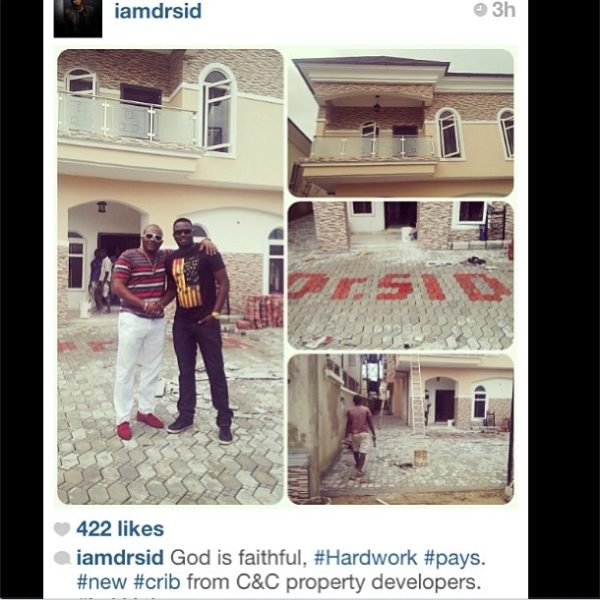 Tiwa Savage
Tiwa Savage is one of Nigeria's highest paid female musicians. With her Pepsi ambassadorship, the music chanteuse can afford to buy some of the priciest things of life.
On her way to London for a video shoot and of course some shopping, Tiwa rocked a pair of black Louis Vuitton. They retail for $ 400 on Louis Vuitton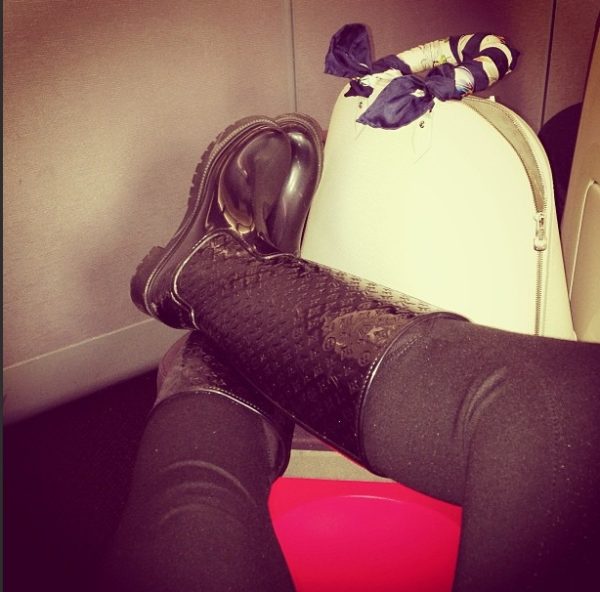 Coco Chanel once said 'The best things in life are free. The second best are very expensive". Well she was right!
In London, Tiwa hit the stores and bought a range of luxury items from Chanel, Céline, Gucci, YSL, Louis Vuitton and Hermès. These top brands retail from $$$- $$$$$$$.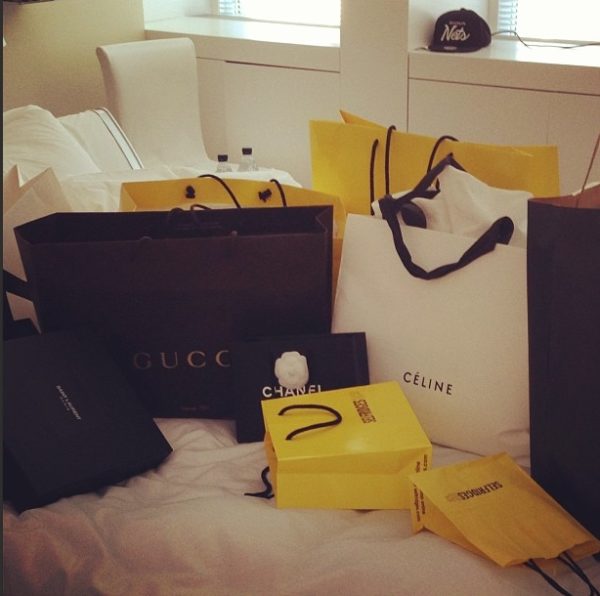 Davido
They don't call him "Omo Baba Olowo" – Son of a Wealthy Man, for nothing. Since 2010, the Gobe star has carved a niche for himself in the music industry by selling lots of albums and booking numerous shows. In February, the star took to Twitter to share his white Chevrolet fleet, tagging the image "I ain't got no worries."
Well from where we stand, you certainly don't have any worries, Davido. Chevrolet cars retail for millions of Naira.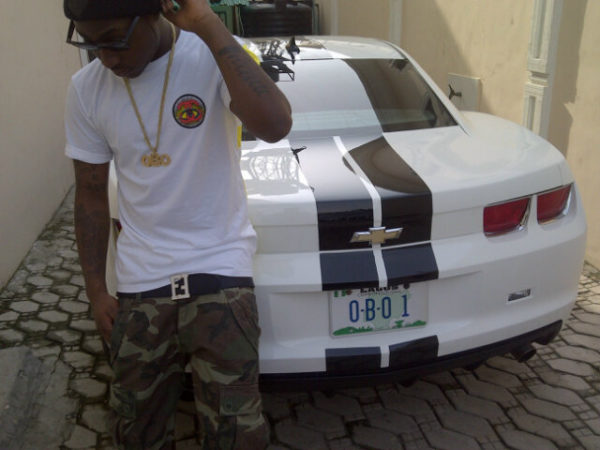 Oluchi Orlandi
Supermodel Oluchi Orlandi has access to numerous designers. The once Victoria Secrets runway queen has worn high tag pieces from Roberto Cavalli and Tom Ford. In January 2013, she shared an image of a limited Louis Vuitton sequined clutch.
Louis Vuitton bags retail for $$$$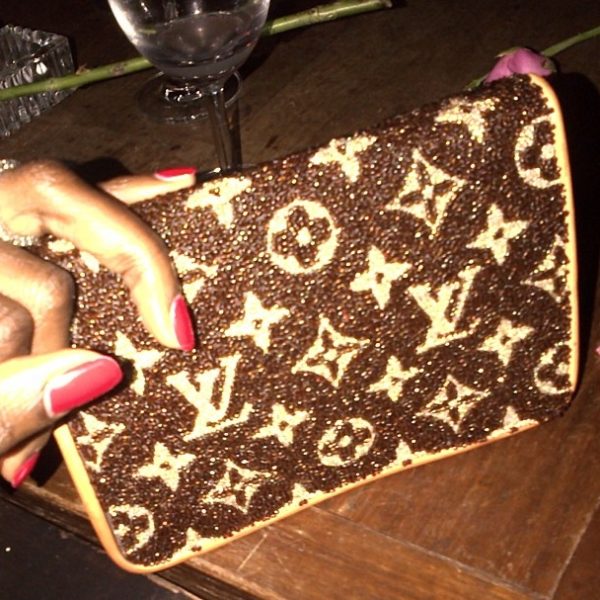 Lynxxx
When you are a celeb, you sometimes get a pricey goodie bag. On Instagram, Lynxxx made a shout out to Nike for inviting as well as giving him a few of their products including 3 pairs of  Nike Jordan shoes.
Later he showed us what he had in the boxes. Nike Jordan 4 cost between $ 104 and $200.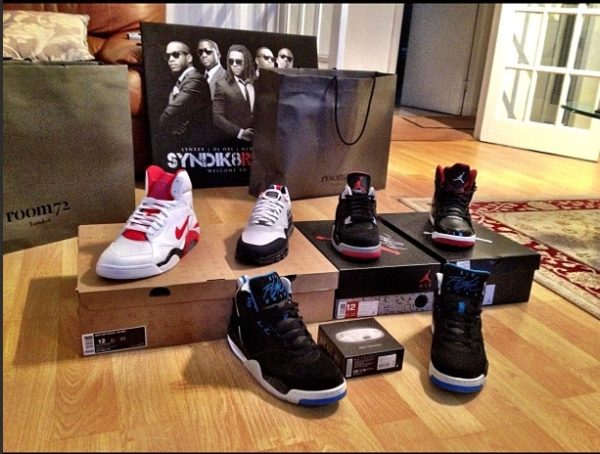 Yvonne Nelson
Ghollywood sensation Yvonne Nelson has also flaunted a few of her fashionable items in recent times. Last week, she showed us her Cartier watch, Louis Vuitton bracelet and gold Rolex rings.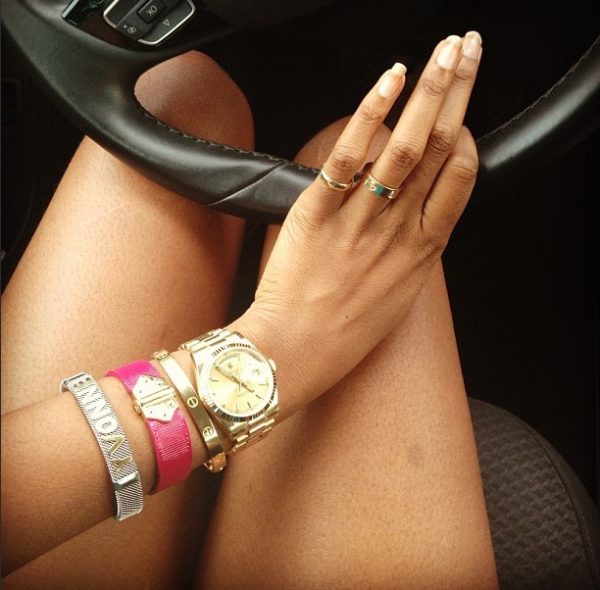 Mercy Aigbe
Yoruba actress Mercy Aigbe always gives her fans day-to-day analysis of her looks. Check out some of the images of brands she has worn recently.
Hermès Bracelet
On Saturday, Mercy Aigbe shared an image of her "favourite bracelet" – a red Hermès bracelet.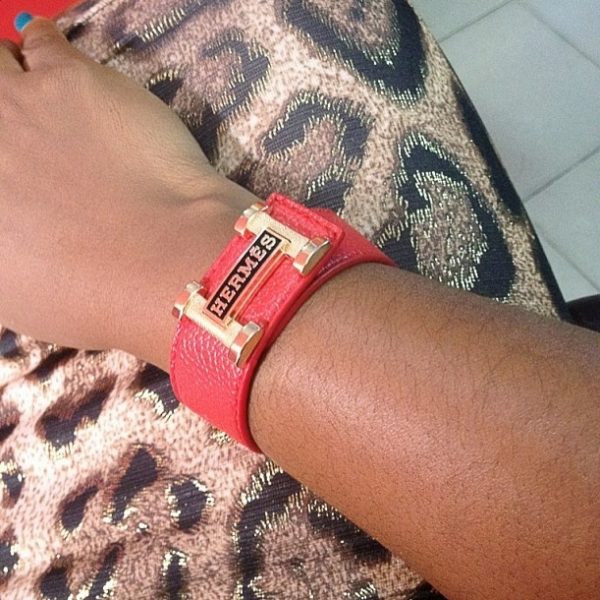 Hermès Birkin bags
Hermès Birkin bags retail for $ 15,000 and above but can be bought at a discounted price from vintage retailers or a higher price from resellers.
On her way to church, Mercy rocked a black chiffon shirts, Ankara patched skirt, Cartier sunglasses, purple pumps and purple Hermès Birkin bag.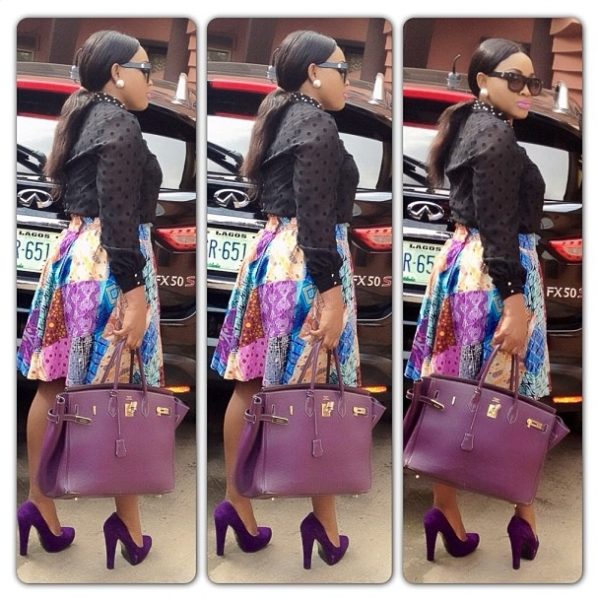 While out and about, she is seen rocking a black lace blouse and yellow skirt with a multi-coloured (yellow, green and pink) Hermès Birkin bag.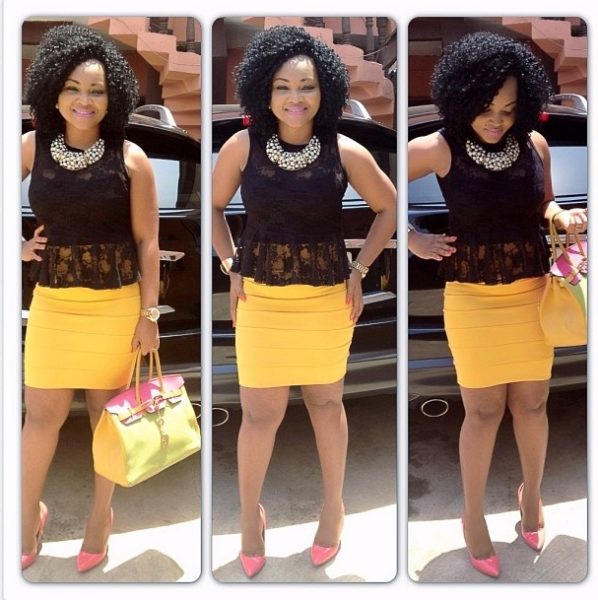 Here she is again in a yellow Hermès Birkin bag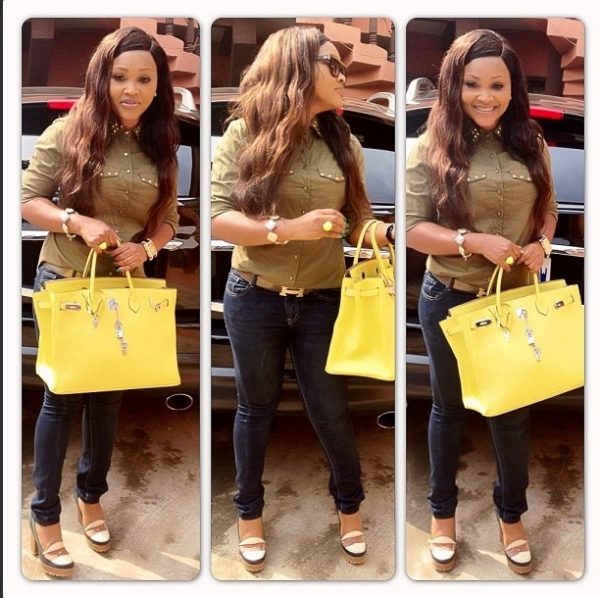 This time she is seen in a lush pink crocodile skin Hermès Birkin bag.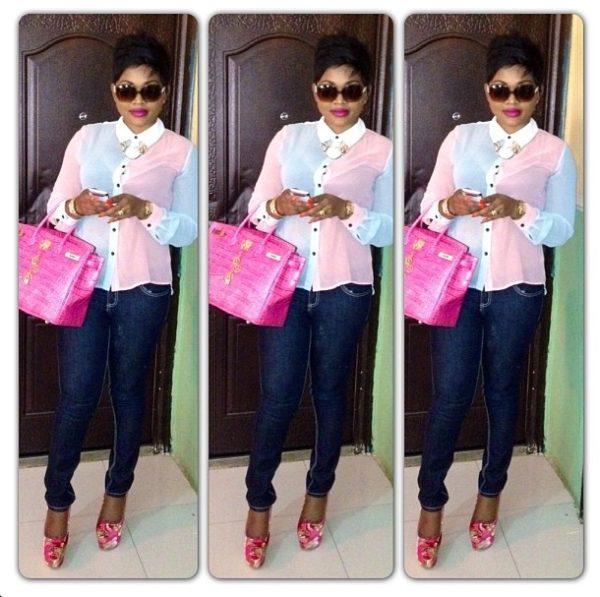 With a black Hermès Birkin bag.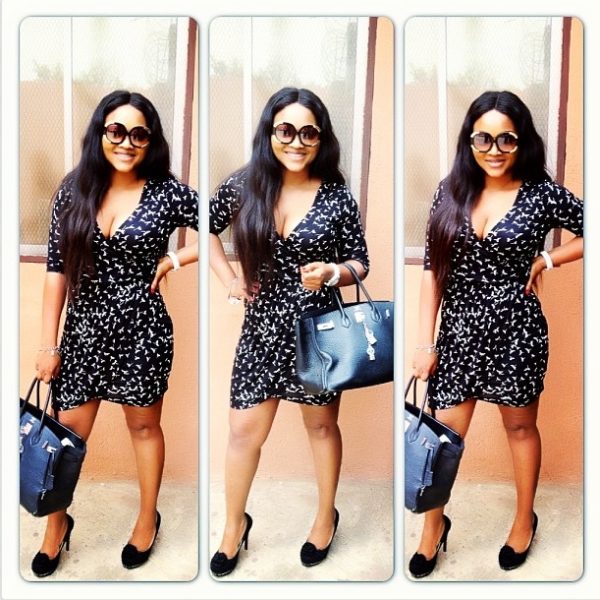 More Pricey Items
Roberto Cavalli black bag.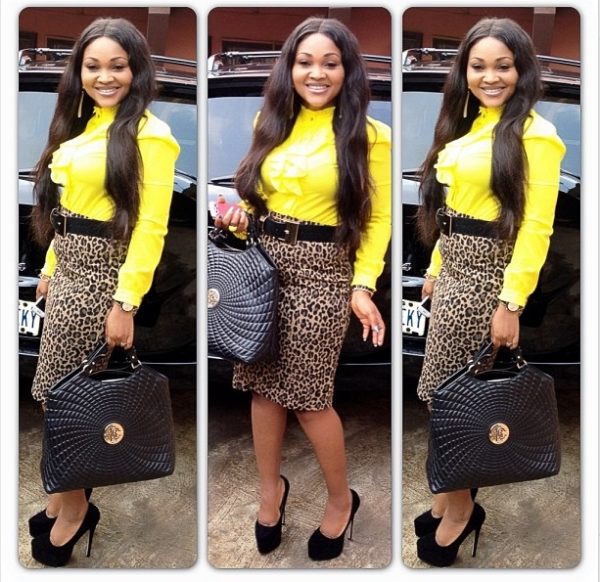 Balenciaga sunglasses and Alexander McQueen loafers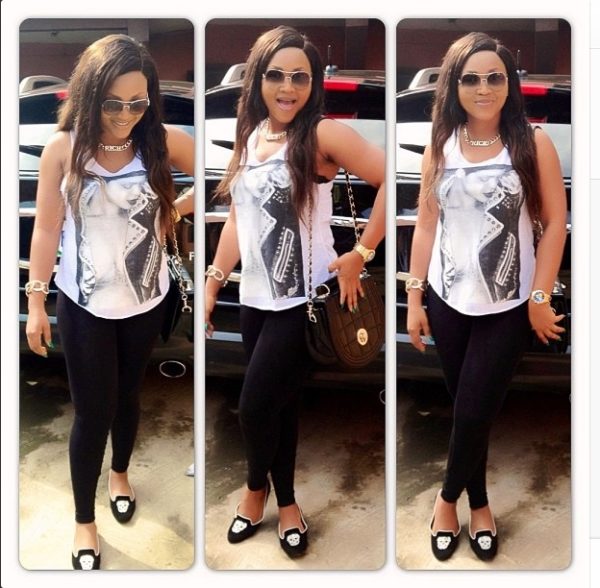 Louis Vuitton bag, Chopard sunglasses.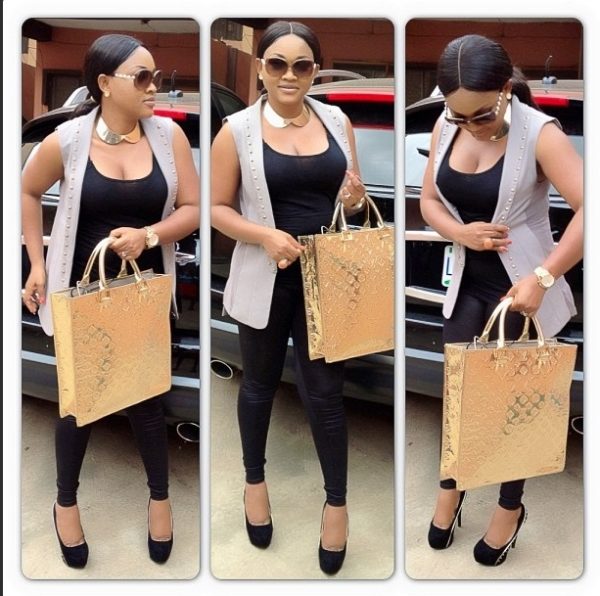 Fendi bag.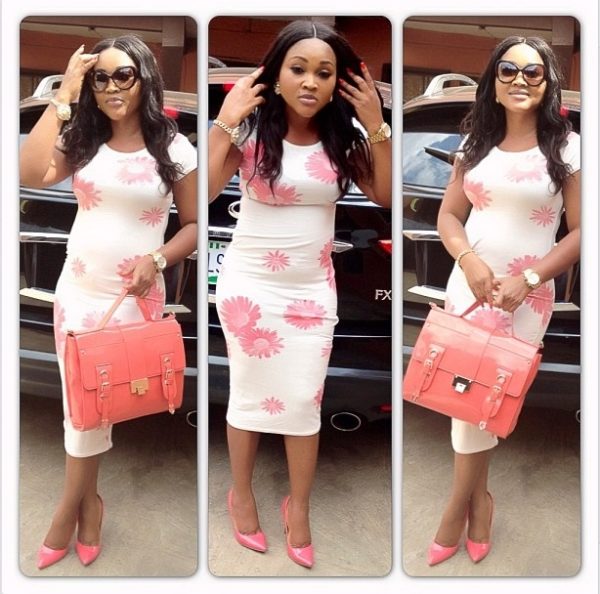 Céline bag, Versace jewelry, Balenciaga sunglasses.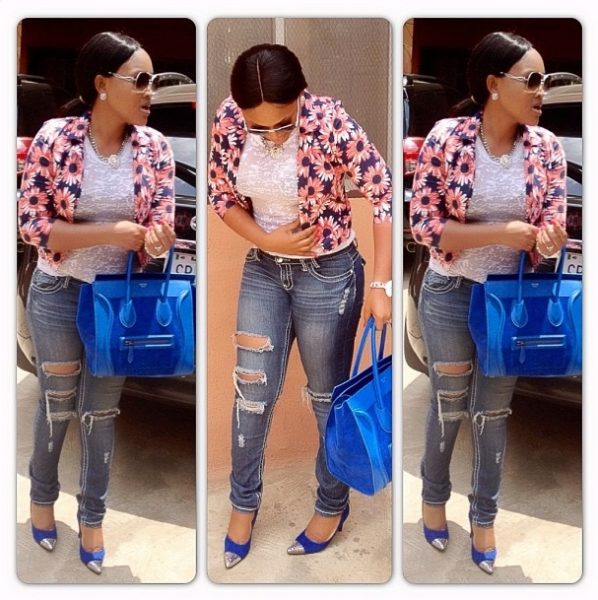 Daniella Okeke
Rising Nigerian actress Daniella Okeke shared images of her vacation in Paris with her boyfriend. The starlet went shopping at Louis Vuitton.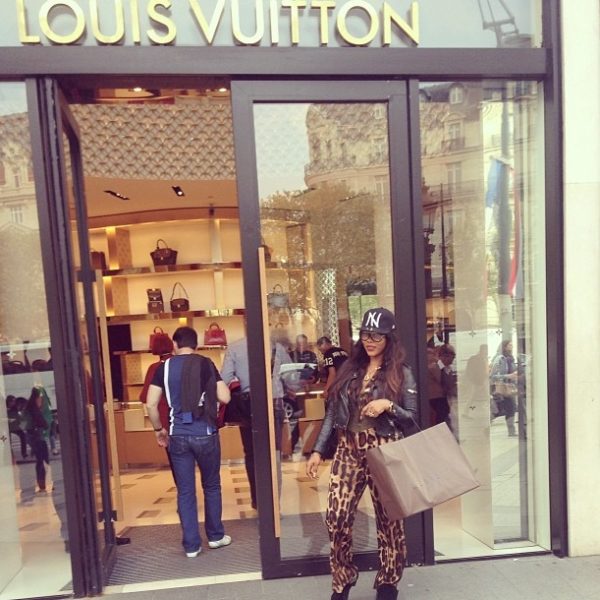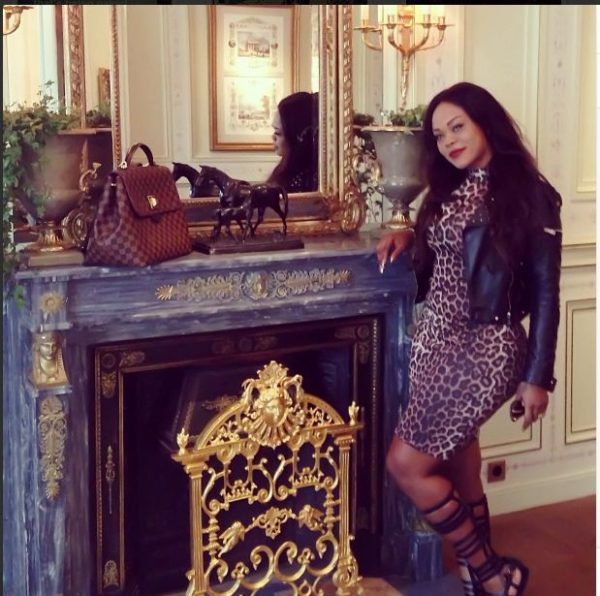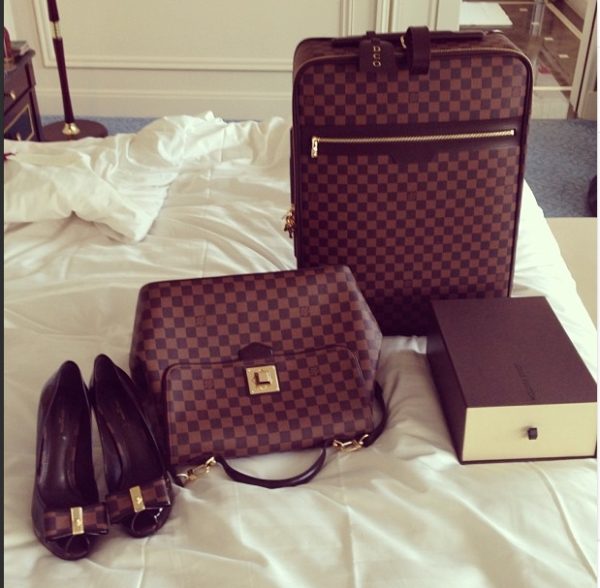 Check out more of her designer shots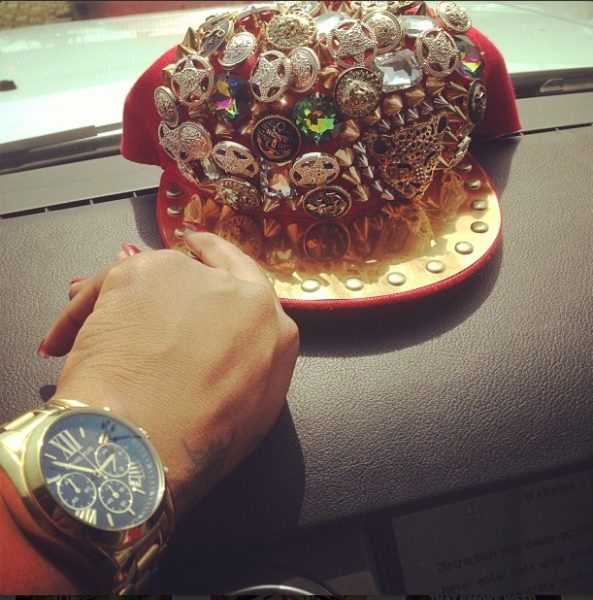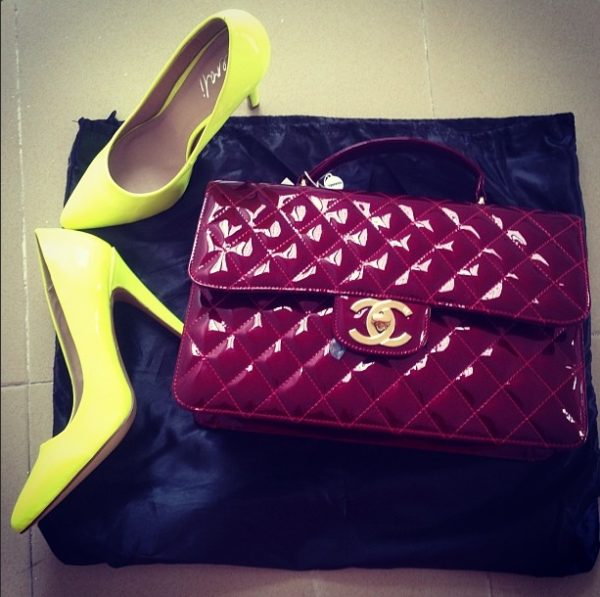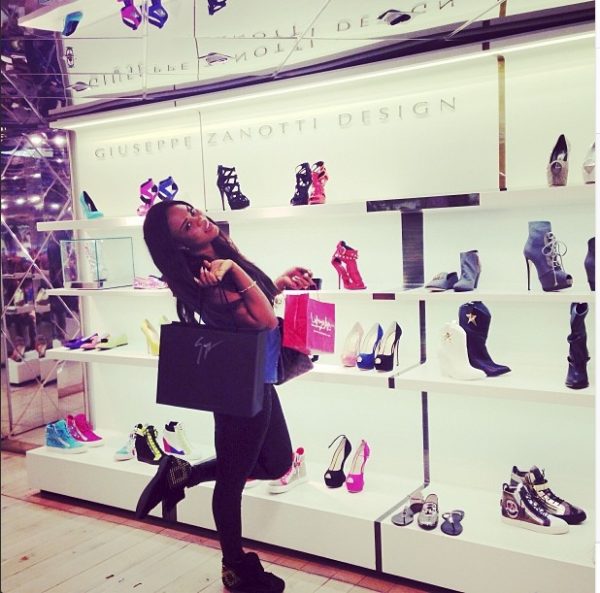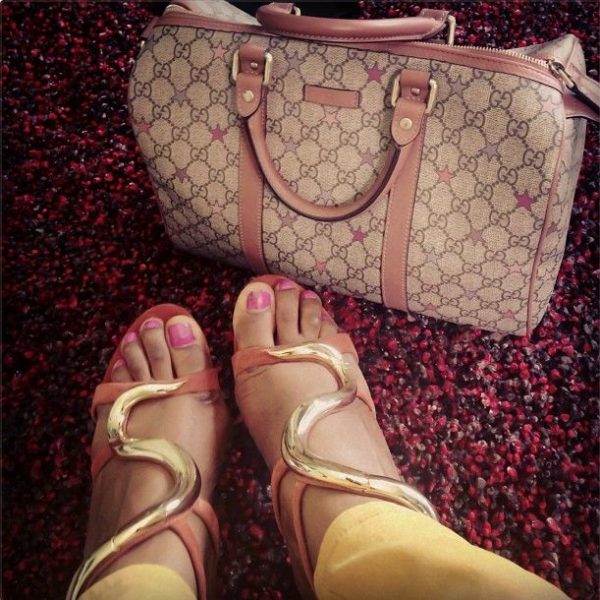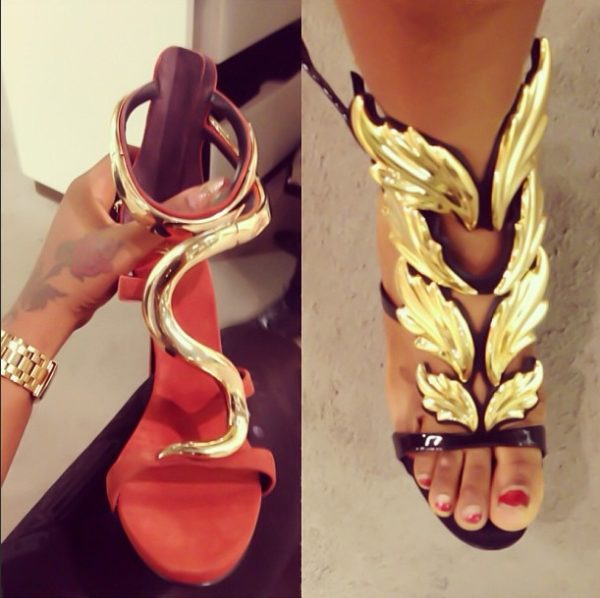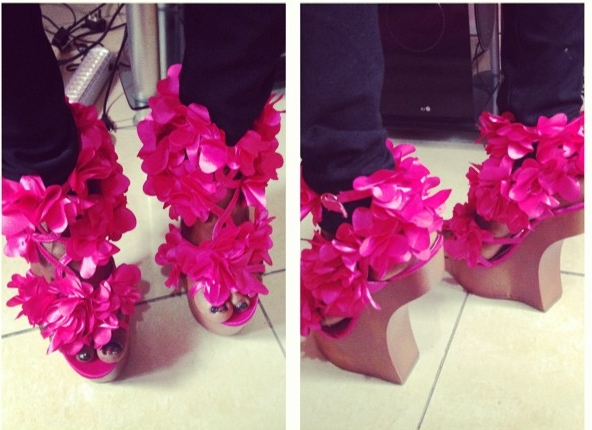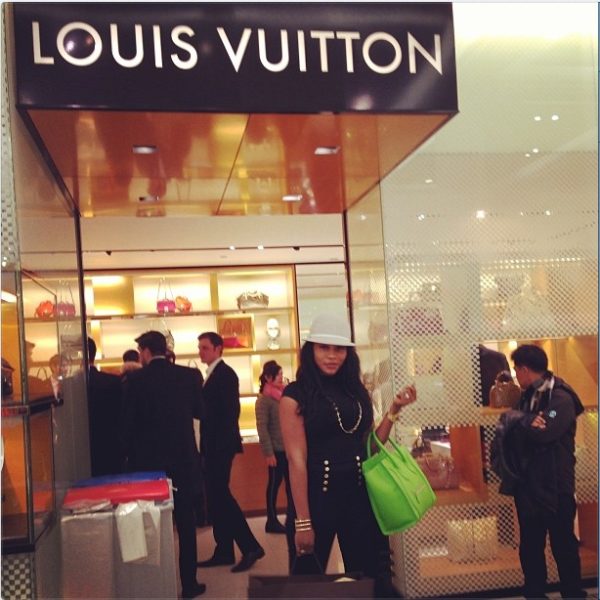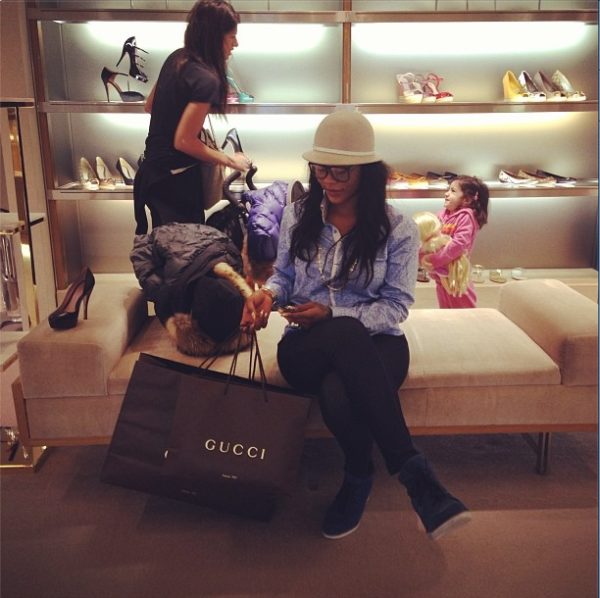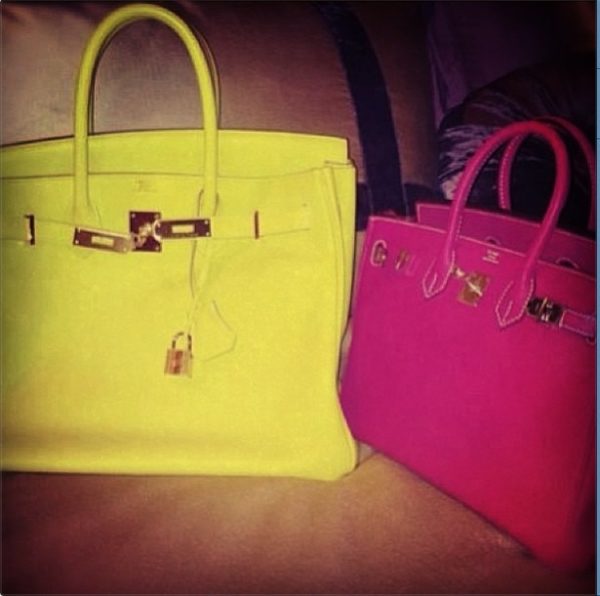 Her Lexus RC 330 and Land Rover LR3 HSE V8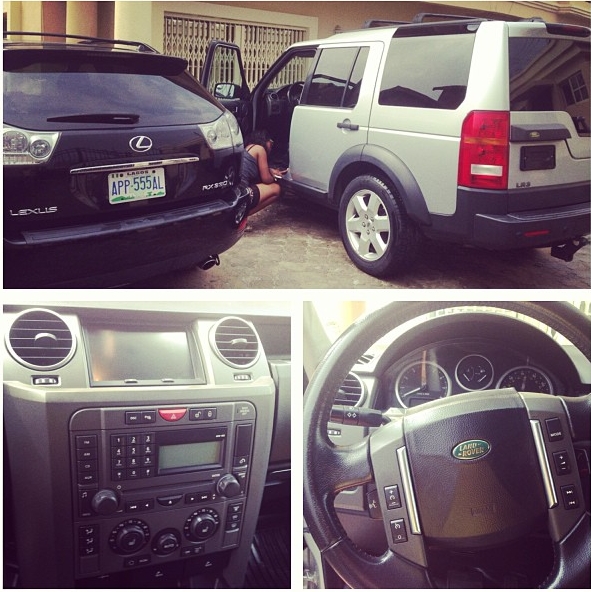 Let us know your thoughts! Are Nigerian stars too boastful or are you loving the display of their hard earned wealth and possessions?