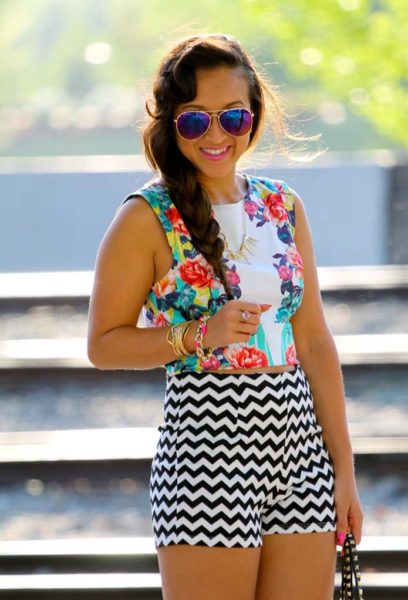 Prints are massive this season and they are trending from runways to catalogues. They have indeed come a long way, from laying idly on head bands to making bold statements on shirts, pant trousers, skirts etc. This season, fashionistas and regular gals boosting their style are taking the trend a step further by mixing them with none other than themselves.
Mixing prints much like mixing same or close colors or denims is possible, but must be done with caution. Just like mixing these pieces it is important to note that you cant just throw any combination together, there are methods to pulling this trend off. You could either come out looking fabulous or end up looking like Nigeria's next wacky dresser. Fear not, we won't let you join the faux pas wagon. To get you started and well on your way to mixing and matching here are a few tips to help out.
Make sure print accessories contrast the outfit:
This is print mixing 101. If you decide you want to start small by mixing printed accessories with other prints instead of going all out with the entire outfit, make sure the accessory stands out. It is possible to use a calm print like a bandanna print or stripes but to get a full effect contrast is key.
Try using a floral patterned scarf on a striped top. It's very basic and doesn't give too much hassle as you keep mixing prints and getting comfortable in them.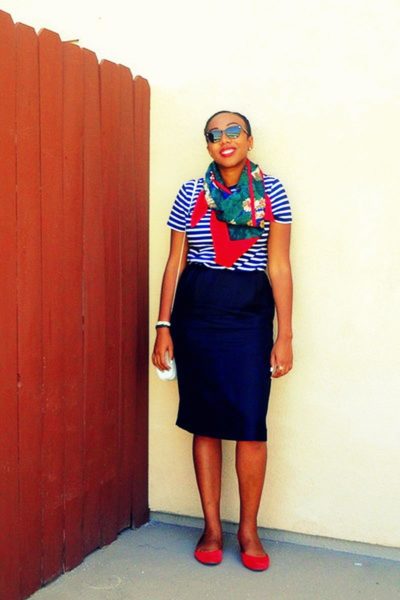 Mix larger prints with smaller ones:
A great way to remember this is to know that opposites attract. When you're mixing print using this rule you don't want to go overboard with the size of the print. Try wearing a combination of large and small print. The small print against the larger one creates a balance and gives a beautiful contrast. For example leopard print comes in different sizes; you could mix a large leopard skin print skirt or trouser with a smaller leopard skin print shirt or top. You would notice that people may not even know they are not the same because of the balancing illusion they create. A quick tip is if you decide to do this use the larger print at the bottom and the smaller print at the top. The large print tends to make parts of the body seem bigger and the smaller print makes parts look smaller.
At this event, music artist Keri Hilson mixes small & large leopard skin prints to get this seductive outfit.
Here, Ashleigh Nicole has mixed a small houndstooth printed top with a larger print yellow and black polka dotted skirt.
Another way to still incorporate animal print into your outfit is to use different animal prints that contrast drastically. On few occasions this has worked and gotten thumbs up. However you need to be careful when trying this as it could also go very wrong.
Courtney of Colormecourtney.com loves to mix prints and shows this here with a dramatic animal print on animal print ensemble.
Blend prints that have the same color characteristics:
Another great way to mix print is to make sure your prints have similar color  When they share one or two colors that are close or the same they look like they compliment each other. Vision automatically picks things that look alike and places them together. This way when someone takes a look at you, they see a well put together outfit instead of a bunch of mixing and matching. A great example is when you have a multi colored top and skirt that have basic colors in common. The common color pulls the outfit together while still leaving in some contrast.
At Coachella 2013 Katy Perry rocked this ensemble from Dolce & Gabbana. This is a perfect example of how two pieces that have similar color go together when mixing print.
Here style blogger Toun Ajiboye of Toun 'aj' shows another example of this as she mixes a turquoise blue blazer with a graphic shirt and trousers. A lot of colors but they go very well together.
Treat stripes as a neutral:
In the print universe stripes are just like one toned or white apparel; it goes with almost anything. When you are mixing print, treat the striped item you are incorporating  like a neutral toned print. Stripes are the easiest to mix with prints and go great with graphics, floral prints, polka dots, geometric prints, animal prints and much more. I understand mixing theses prints might be a little scary so you could start your mixing with a simple stripe and graphic print combination. You could do this in monochrome or ensure the stripes and the graphic print have colors in common.
In this photo shoot Solange Knowles rocks a simple green button down sweater with black stripes and pairs it with black & white polka dot shorts and a neutral colored shirt.
Here Erica aka Mz. More of theglamorousgleam.com has gone very minimal with her combination and paired a striped white & black top with lycra leopard print pants.
Use members of the same color family:
Just like having similar colors when mixing prints, you could also go all out with the same colors. Great examples of this are monochrome prints, red & black prints etc. You could wear a black & white polka dot skirt and balance that with a floral print top or a white tank and a floral print jacket. This pattern creates a great sequence that make your outfit, even though has a variation of prints, look uniform and well put together.
Beyonce shows a great example of this with her blue, black & white print outfit. The colors resonate through out the outfit bringing the outfit into one look.
The theme through out Jillian's look from Nusophisticat here is brown and white. The combination is simple and gives off the vibe of being a completely stylish outfit.
Use prints that have similar patterns:
Another great way to mix print is using similar patterned prints to your advantage. Often pieces have similar patterns  and this could present a great avenue for you to try prints without the fear of looking a hot mess.
Here, Solange is wearing a polka dot a blazer from Marni fall/winter 2013 edition, a blue and white polka dot shirt and a short sea green and white skirt. The small prints give the illusion of an organized outfit.
Here style blogger Mae Lu of thereafterish.com is wearing a striped top and the zebra print skirt show another example of how similar patterns look great together.
Sometimes major contrast is needed:
Now this is for the real daredevils. Sometimes, and I do mean sometimes, it's great to mix two totally different prints. Once in a while this works and when it doesn't its a total miss so you have to be careful when trying this out. Make sure it compliments the other clothing item you're pairing it with and always ask for another opinion. There really are no tips here, just go for it and being a BellaNaijarian I'm sure you'll come out looking fabulous.
Mimi Goodwin of Mimigoodwin.blogspot.com has mixed a floral print top with a grey and white polka dot skirt.
Fashion wasn't created for the weak-hearted but luckily for us there's always style. Add your own personal twist to mixing print and see what you come up with. Tried the print on print trend? don't forget to share your tips and how you pulled off your look, Best of Luck!
Photo Credit: ebonyville.com  | KTRstyle.com | thereafterish.com | theglamorousgleam.com |  mimigoodwin.com | colormecourtney.com | ashleigh nicole tumblr | nusophisticat.com | tounaj.blogspot.com