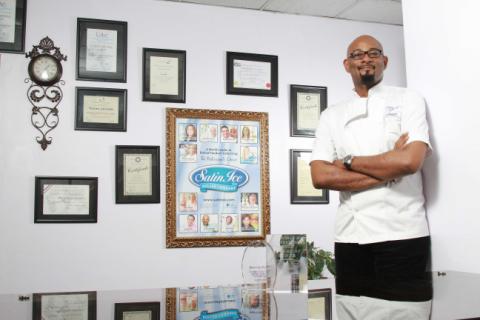 On Thursday 16th May 2013, premium sugar-craft cake maestro Tosan Jemide of Cakes by Tosan will unveil "The Tallest Cake in Africa" at the Silverbird Galleria, Victoria Island, Lagos.
According to a rep for Tosan Jemide, the cake will be ten-tiered and will stand at the proposed height of 28 feet in order to beat the current Guinness World Records, which is of about 26 feet.
At a recent press briefing, he noted that "It is time that we took on another challenge. What better challenge than to build the tallest cake in Africa". He also said that the project was tried to Africa in order to emphasize the positivity and creativity coming from the continent.
This record breaking event will run through an exciting 4 day experience which will end in the final dismantling of the cake. No Surprises Events will manage the event.
Joining as a CSR partner, LEAP Africa will work with the Cakes by Tosan team in ensuring that proceeds from the 4-day event will be used to raise funds for infrastructural development in Lagos public schools.
The Guinness Book of Records team has been notified about the event. Admission is free for all.
Date: Thursday 16th May 2013 – Sunday 19th May 2013
Venue: Silverbird Galleria, 133 Ahmadu Bello Way, Victoria Island, Lagos
Sponsors: Coca-Cola, Flour Mills of Nigeria, LEAP Africa, Genevieve Magazine, Millers Icing Sugar & Access Bank
__________________________________________________________________________________________
Sponsored Content