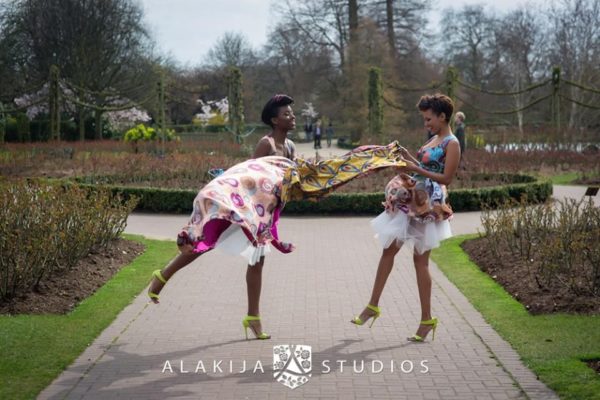 African fashion brand Eki Orleans of designer Hazel Agreey-Orleans is bringing to your screens this cute photo diary showcasing its print as bridal fabric. The shoot conducted by top photographer Jide Alakija was themed bridal and tells the tale of two bridesmaids having a great time on a sunny day while waiting for the bride.
According to the designer the brand is "promoting the fact that we design bespoke bridal print. It's not really the dresses we are highlighting – it's more of how our prints could be used for a bridal party. The story behind this photo collage is what our Eki Bridesmaids get up to before the wedding – basically, a modern take on bridesmaids. We did about 3 location shots – a couple from the Church, a garden shoot. The images have all been placed behind one of our prints, as what we are promoting here are our prints. We are telling the Eki Bridesmaids story in a documentary format."
Enjoy!
The Photo Shoot
Watch the Eki Orleans models attempt dancing Azonto.
Credits:
Photography: Jide Alakija
Models: Mulan and Elsabel
MUA: Karen Salandy
Hair: Regina Meessen
For more information Follow on Twitter @Eki_Orleans |Join their Facebook Page: Eki Orleans | Visit their website:www.ekiorleans.com