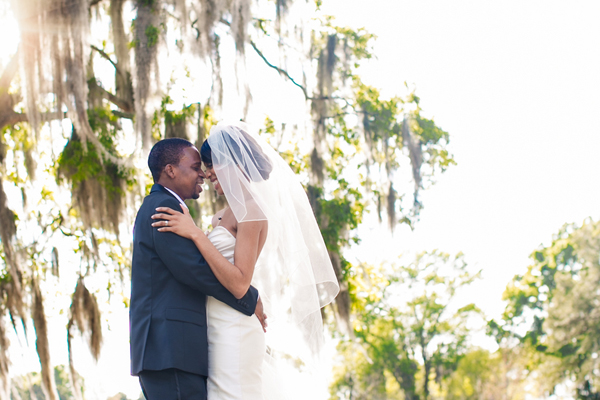 A true celebration of Love!  BellaNaija Weddings is once again joining forces with Munaluchi Bride Magazine. The BN Weddings team told you that we will have you swooning today with two wedding features and Brittany and Timi's romantic affair is a must see.
Timi Tuamokumo, a Nigerian physician based in the US and American medical consultant Brittany Dawson are literally a match made in heaven.
Timi spotted Brittany at the University of Alabama's Match Day and within 2 seconds of sighting, he fell in love with her. Later in the evening at the Match Day party, they were introduced by a mutual friend and instantly hit it off.
For the beautiful day in Alabama, Brittany Dawson was a gorgeous damsel in a strapless white frock and a chapel veil. Her princess seaming wedding dress with artistic ruffles on the skirt, was styled with black earrings and sequined silver flats. Timi complemented his wife in a sharp single button black suit.
After the cutting of the cake and the father-daughter dance which Brittany calls one of the most memorable moments of the event, the couple, the bridal party and their parents all changed into traditional Nigerian attires as they reentered the reception hall with Nigerian music playing.
Enjoy!
_______________________________________________________________________________________________________
Bride: Brittany Dawson
Groom: Timi Tuamokumo
Occupations: Bride – Internal Medicine Resident | Groom – Physician
Wedding date: April 6, 2013
Location: Montgomery, AL
Photography: elle Danielle Photography
How They Met
From the bride: My husband and I met when I was a 4th year medical student at the University of Alabama in Birmingham on the most important day for a medical student, Match Day. This is the day where all medical students across the country find out where they will be going for their residency.
Timi came to support some of his friends and find out where they had "matched" to. Somewhere in the hustle and bustle of the crowd as I crossed the street with my family, Timi noticed me without my knowledge. He said he only saw me for 2 seconds, but at that moment he got an intense feeling and he knows God created that moment for a reason.
After my family had returned home, I attended our Match Day party. A mutual friend of ours told me how his friend Timi was asking about me and essentially told me he was a great guy that I should give a chance. Timi states he had no idea he did that, but is forever grateful for him putting in a good word.
Despite being on a gruel schedule with long hours, Timi came to our Match Day party just to meet me. He approached me and we started talking. He asked me to dance and we took the floor to B.o.B.'s Nothin' on You. At the end of the song, he dipped me and that's when I decided I'm going to really give this guy a chance. We exchanged numbers and the rest is history.
Culture
After cutting the cake and the single men skirting the garter toss, we incorporated my husband's Nigerian roots. The bridal party, our parents, Timi, and I changed into traditional African outfits as we reentered the reception hall with Nigerian music playing. Our family friends joined us on the dance floor while people spraying us, which entails tossing money on the bride and groom to celebrate their union. The night was truly amazing and I still find myself reliving all the great moments.
For more of Brittany and Timi's grand affair, visit https://munaluchibridal.com/?p=26026
Vendors
Wedding Dress: Bridals by Lori
Event Planning & Event Design: Weddings by Day | Ambience  Décor
Photography: elle Danielle Photography
Venue: Wynlakes Country Club
Wedding Cake: Cake Design
DJ: DJ Talawa
Lighting: AG Lighting
Stationery: Weddings by Day
Limousine: Touch of Class
Ceremony Musicians: Clare Weil Strings
Photo Booth: Moto Events Solution
______________________________________________________________________________________
We love weddings as much as you do! Get in touch…
weddings (at) bellanaija.com
www.bellanaija.com/weddings
www.twitter.com/BellaNaijaWed
www.facebook.com/BellaNaijaWeddings
www.instagram.com/BellaNaijaWeddings