As much as shopping is a pleasurable experience for women, sometimes it's a battle to find the right clothes for your shape. We all want to look good in our clothes and feel comfortable enough to show off our figures. However, sometimes finding the right top or trousers to compliment our figures isn't easy. That's where we come in.
Today, BN Style is going to be sharing 6 tips you can use to find the right clothes for your shape. Grab your notepads ladies, because you may want to take some notes.
Streamline with Colour
Streamlining can be done with a number of things; the shape of the clothes, patterns and even accessories. However, doing this with colour can be even easier and you can be creative with it. Putting certain colours in certain areas has the ability to create the illusion of some parts being larger or smaller.
For example, in the image below, the white in the middle of the dress takes the attention off her sides making her waist seem smaller. Clothes with contrasting colours such as black and white can be used to define, shape and add character to your figure. And remember, always get clothes that are at least an inch bigger than your actual size. This way it doesn't look tight and make you seem bigger than you actually are.
Get the Right Pants
To compliment your bottom half it is important to remember that fit is everything. Get a nice tailored pair of trousers with the side seams placed a little to the front. The strategic location of the seams takes inches off your thighs therefore reducing the size. Also, make sure the legs are nice and slim for a more defined look.
Distract with the Right Top
If you're a bit busty and are looking to down play your bust, a top with vertical lines is the way to go. The direction of the line streamlines your bust, making it look leaner. Also try tops that have embellishments like beading or ruffles to take the attention off your chest.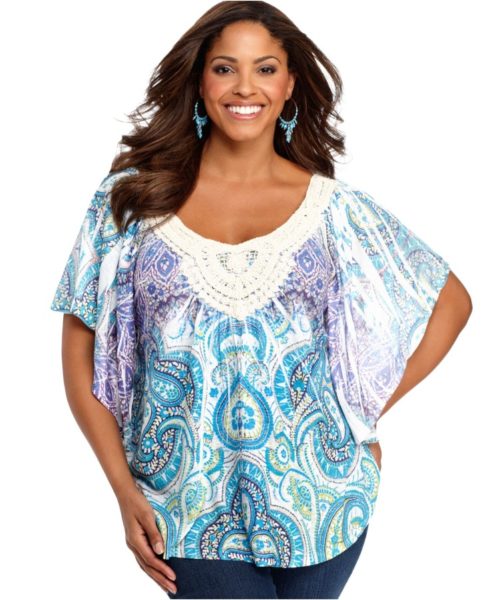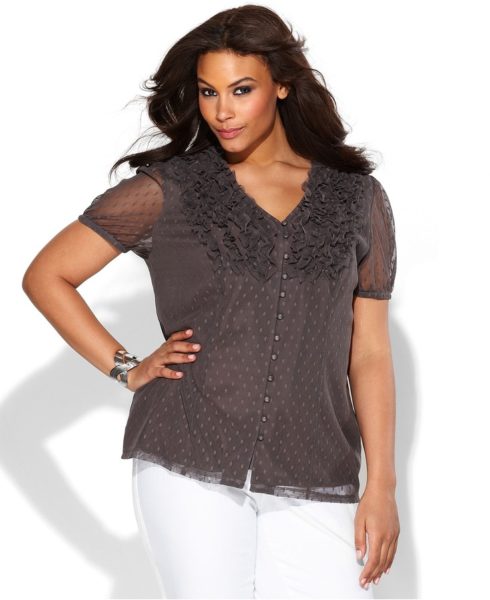 Go for a Structured Dress
Structured dresses are great for defining the body and using the right colours in the right places can make a lot of difference. If you want to compliment your mid section, ensure your dress has a bright coloured band. The band at the middle draws attention to your mid section, without making it look large.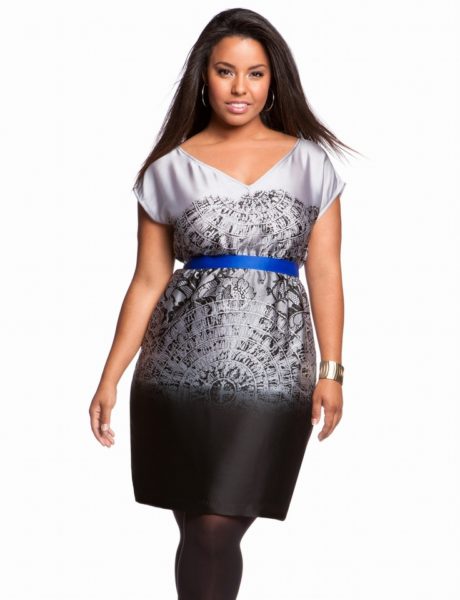 Use your Colours to Dress your Size Down
Here, you should remember that dark colours hide while bright colours accentuate. Play with a mix of colours to compliment your shape. Use bright colours to add light and shine to your face and the rest of your body. This will also accentuate the parts you want to show. Then use dark colours to hide the parts you aren't so pleased with.
Mix Similar Patters
Clothes with patterns can be used to your advantage. You can use tops, skirts or any other type of clothing with black prints to make your figure look leaner and slimmer. Always note that the patterns/prints you wear should never be the same size or colour so they don't compete. In the image below Plus size style blogger Kelly Augustine of Masquemag shows us just how fabulous prints look.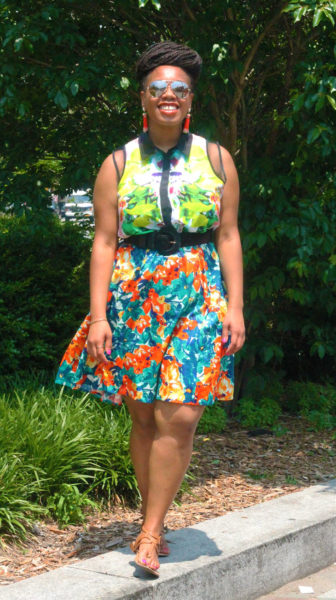 In summary remember these quick tips
Dark colours disguise and bright colours accentuate.
Use 3-part constructed clothes to divide your shape and give yourself a more structured look.
Most times, oversized or baggy clothes point out flaws and make them look worse than they actually are.
Dressing 10 pounds lighter begins from within. Exhibiting some confidence goes a long way.
There you have it. 6 tips on how you can dress 10 pounds lighter. Remember that we have only scratched the surface with these tips, so keep refreshing BN Style and your other favourite websites for more. Have you got any style advice on how to compliment different shapes and sizes? Don't forget to share them with us.
Photo Credit: Pinterest . Examiner . Pinterest . Pinterest . Masquemag . Igigi . Monifc . Ghamama . Yoursiz.blogspot . Eloqui .