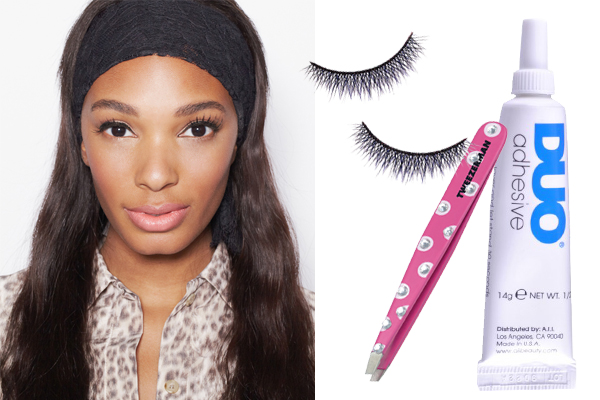 Have you ever wondered how some of your favourite celebrities get that stellar look? Well, apart from the usual pankacing, a great way to take your make up look from 'just okay' to glam is to use false lashes. Now, I understand that a lot of women are against the use of false lashes, but that is a debate for another day. Falsies have a unique way of making your eyes appear slimmer and intensifying your eye make up.
So what do you need to know before you get this debatable essential make up item in your make up bag? First of all, you should know that there are different types of lashes and ways of applying them. Keep reading to find out more on types of lashes, how you can apply them and everything in between.
Strip Lashes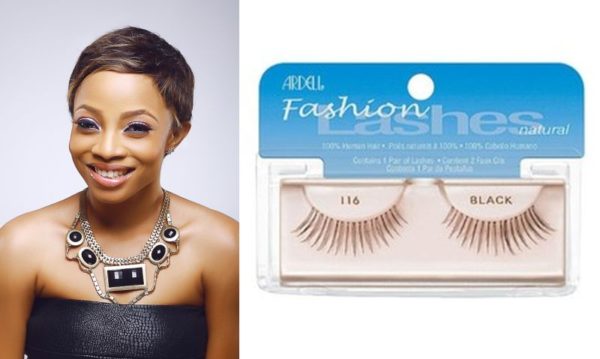 These are the most popular lashes. They usually come on thin strips which could be transparent or on a black stripe and could either be flared or narrow. They are also the most adjustable. If the length of the lash doesn't suit your eye width, then you can cut them to size.
Strip lashes are the best to try out if you are nervous or unsure about using false lashes due to their easy access and removal. They also come in a variation of colours, shapes and textures so all you have to do is pick which one you like and try it out.
This eyelash tutorial is by MakeUpDoll and is great if this is your first time applying false lashes. Keep watching.
You will need:
Tweezers
False Eyelashes
Eyelash Adhesive
Mascara
Steps
Take the false eyelash strip out of the packand use the tweezers to hold the eyelash close to the band from the direction of the eyelashes.
Apply a generous amount of eyelash adhesive on the band of the eyelash
Wait about 15-20 seconds for the adhesive to get tacky(sticky)
Apply the false lashes as close to the eyelash line as possible. Then use the tweezers to press the centre of the lashes to the eyelash then do the same to the outer corners of the eyelash
Wait for the adhesive to dry. You can then use an eyelash curler to place them closer together.
Apply your mascara to the eyelashes
Individual Lashes

These lashes have fast become a favourite of girls in Nigeria because of its full look. They're applied individually using eyelash glue, placed above the eyelash line and come in different lengths – short, medium & long. They usually take a while to apply, come in synthetic material and need a skilled professional to be applied.
They allow you the flexibility to determine how full you want your lash to look and last for a longer period of time; usually about 2 weeks or more.
Three Quarter Lashes
The three quarter eyelashes are just like the strip eyelashes, but come in a shorter length, hence the name. The lash covers only a 3/4 length of the eyelash line giving it a gradient, from scanty to full lash look.
Bottom/Lower Lashes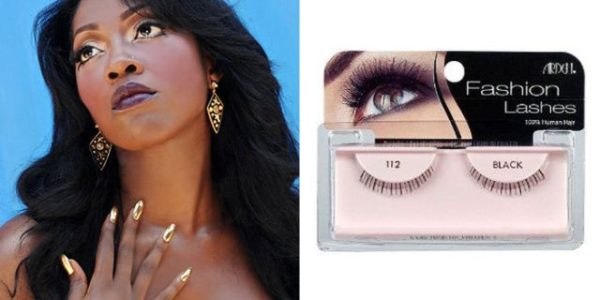 Just like the name implies these lashes are for the lower lash line. They can be paired with full top lashes to give the illusion of having full lashes at the top and bottom of your eye.
Applying bottom/lower lashes is quite easy, instead of applying at the top lash line, just apply it to the bottom. Click play for beauty blogger ColorMeCaramel to show you how its done.
You will need:
Tweezers
False Bottom/Lower Eyelashes
Eyelash Adhesive
Mascara
Eyeliner
Steps:
Take the eyelash out of the pack and use the tweezers to hold the eyelash close to the band from the direction of the eyelashes.
Apply a generous amount of eyelash adhesive on the band of the eyelash
Wait about 15-20 seconds for the adhesive to get tacky(sticky)
Place the eyelash as close to your bottom lashes as possible. Then use the tweezers to press closer
For a more natural look apply an eye-liner and you can also use a mascara for extra effects.
Human Hair Lashes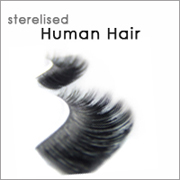 This isn't a particular type of lash, but it differs based on what it is made from. These lashes are made from human hair to add to the realness of the lash. They usually come with a strip and look like the strip lashes.
You need to understand that owning a pair of false lashes means you have to take care of them properly. This is because how well you take care of them will determine how long your lashes will last. It is not advisable for you to sleep with your false lashes on, because you could become restless during the night, rub your eyes and damage them or even worse your eyes. If you have individual lashes on, be sure to remove them with oil or eyelash adhesive dissolver, so you do not take off your natural lashes in the removal process.
After you take them off, remember to place them back in their container or somewhere clean and dry you have allocated for them. It is advisable that after you have worn them for about 2 times, soak them in a bowl of warm water and mild  shampoo to get dust and any other residue off them. After you have taken them out of the bowl, place on a lint-free towel or cloth and let them dry naturally.
Lastly always remember to keep your eyelashes in a clean and dry box so it will last longer.
Always make sure to pre-test your lashes by placing them on your eye lid without the adhesive to check if it suits you. Do you have any advice on fixing eyelashes? Don't forget to share them with us.
Photo Credit: Sera-g . Shoppingshadow . Facebook.com/Ardellashes . Biographyhome . I.ebayimg . Beauryhows . Neks2u . News.naij . Refinery29