There's big, there's bigger… and then, there's BIIG!
Yesterday, we announced the debut of the Alexander Amosu-created 'World's Most Expensive Champagne'. The champagne which was valued at a whopping 284 Million Naira surely caused a bit of a ruckus on the inter-webs. And, amongst the dissenters of the luxury champagne was certified millionaire, Peter Okoye of P-Square.
The Music star took to Twitter when he heard the news.
The most expensive champagne . £1.2million . (N250million) May dis champagnenever CHOP MY MONEY IJN.… instagram.com/p/aI9Y07SsDq/

— Peter Okoye (@PeterPsquare) June 4, 2013
So dats like N50million per glass…. Ladies are u with me? #Nawash instagram.com/p/aI_UxbysFo/

— Peter Okoye (@PeterPsquare) June 4, 2013
Shortly after, serial entrepreneur and luxury designer, Alexander Amosu responded to Peter by uploading the below snapshot of Peter's tweets on his Instagram page with the caption: "Please send Peter a bottle"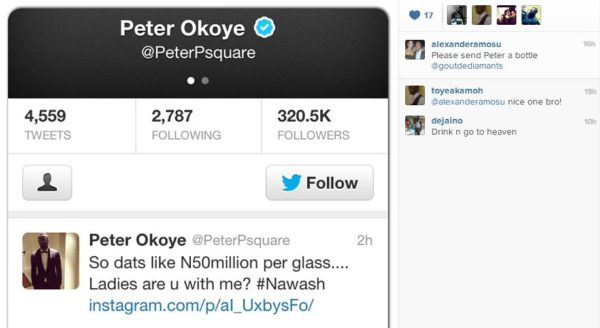 @peterpsquare A bottle on the way too you!!!

— Alexander Amosu (@alexanderamosu) June 4, 2013
Now, I'm wishing I said something too… but hold on, who am I?
Photo Credit: Instagram – AlexanderAmosu