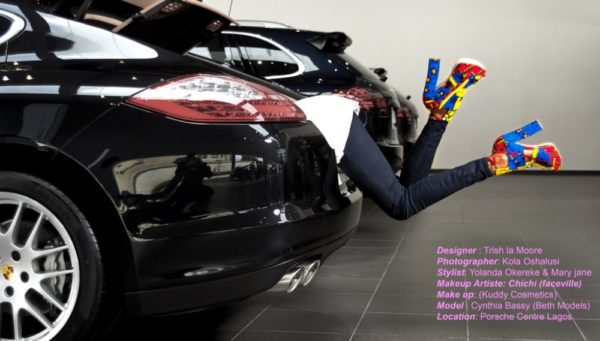 After a successful premier edition, BellaNaija Style presents another edition of The Making, a fashion and photography project initiated in 2011 to provide visibility for unknown creative designers and open up distribution and retailing channels for their brands.
For its second edition, the creative team behind the project Insigna and the BN Style team will bring you designs from 10 designers. At the end of the season, one out of the 10 designers will walk away with a cash prize as well as retail and sponsorship contracts.
Brief Bio of Trish La Moore
Patricia Nsan Otigba, a Fine and Applied Art graduate from the University of Nigeria, Nsukka majored in textile and fashion designs. Trish La moore is coined from Patricia and la mou'r (french meaning of love).
The brand is known for its unique mix of brilliant colors, shapes and cuts to produce a piece of art. The Trish La Moore woman is Afrocentric, fashion forward, bold, young at heart and playful. Currently focusing on shoes, in the pace of one year, they have released two Ankara collections.
Check it out!
Credits
Designer: Patricia Nsa Otigba
Photographer: Kola Oshalusi
Stylist: Yolanda Okere & Mary Jane
Make-up artiste: Chichi of Faceville
Model: Cynthia Bassey (BETH Models)
Location: Porsche Centre, Lagos
Contact
T: +2347066534536
E: [email protected]
Also check out;
The Making Season 2 – Shoot 1: "Edge of Fame" by Telvino Couture
The Making Season 2 – Shoot 2: "Lure of the Exotic" by Chechi Arinze
The Making Season 2 – Shoot 3: "The Gracian Collection" by Kholyns Couture
The Making Season 2 – Shoot 4: "Genesis 2" by sEKu
The Making Season 2 – Shoot 5: "The Fraternity" by J Reason
The Making Season 2 – Shoot 6: "Lace pro forma" by Èstömi 
The Making Season 2 – Shoot 7: Josh Samuels by Udiminue Joshua
For more info on The Making project, log on to their website – www.TheMaking.com.ng