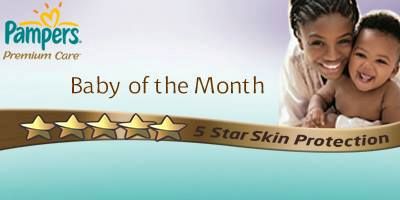 The brand that loves to care for our babies, Pampers Premium Care, presents the Pampers Baby of the Month competition. Mothers love to show off their bundles of joy to the world, and Pampers believes this is the perfect opportunity to show them off with a little added incentive.
To participate, all you have to do is upload the cutest picture of your child. The person with the photo who has the most number of likes at the end of the competition, will stand the chance to win a gift worth $1000 and other Pamper goodies.  3 runners up will also receive Pamper Mega Boxes.
Before you get all excited, there are a few things you need to keep in mind.
1. Be a fan ("Like") the http://facebook.com/Pamperspremiumcare Facebook page.
2. Submit an entry in the form of a photograph of the baby that you are the parent or legal guardian of via the Pampers Premium Facebook page or the mobile / desktop applications available on the Pampers Premium Facebook page.
3. Be over the age of 18 (Eighteen) years.
4. Be the parent or legal guardian of the baby whose picture you are submitting as an entry.
5. Be a Nigerian citizen.
6. Enter this promotional competition in your personal capacity and not as a business. For example a close corporation, partnership or any other legal entity cannot participate.
7. Enter this promotional competition only once per monthly competition cycle.
8. Competition entries open monthly on the 1st of each month and close on the 15th of that month. Monthly winners and runners up will be announced on the last day of that month.
Be sure to encourage your friends and family to vote but they also must be a fan of Pampers Premium Care on Facebook.
Entries for this month close on Friday 28th June 2013.
Click on the link to go through to the page: Facebook/PampersBabyoftheMonth
_____________________________________________________________________________
Sponsored Content