New Product Alert: Pampers launches Diaper Pants for Ease of Change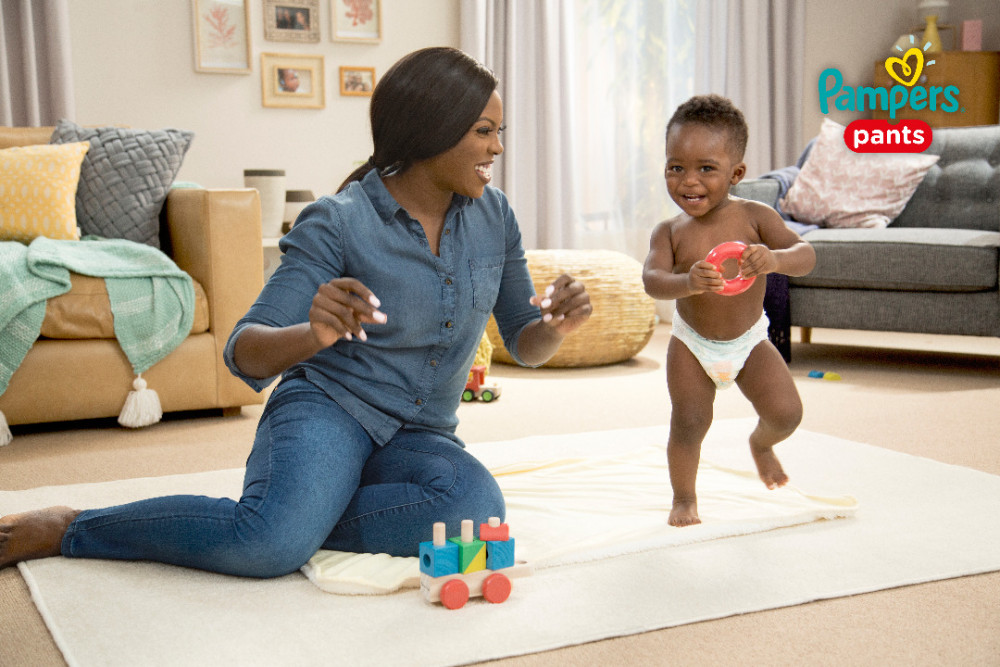 Great news guys! Baby Change time no longer needs to be a struggle with the new Pampers Pants, specially designed to offer a quick and hassle-free solution to nappy changing.
Now available in stores nationwide, the new Pampers Pants was officially launched recently with a TV Ad featuring the delectable and beautiful singer Tiwa Savage and her son Jamil.
In the 30 seconds testimonial TV Ad, Tiwa shares her experience of using Pampers Pants for Jamil when he became mobile and active and wouldn't sit still. Her words, "Hey guys, once they are mobile, they just never sit still, especially for changing time. That is when it's time for Pampers Pants; they fit all-round, they pull on easily, even when they are really lively and they are just this dry. But hey, don't take my word for it. Now that they are so active, try new Pampers Pants for yourselves."
According to Tomiwa Ajewole, Pampers Communications Manager, Procter & Gamble, Nigeria, the new Pampers Pants provides same superior dryness of up to 12 hours. "Pampers Pants come with the same assurances on trusted dryness that parents already love from Pampers. It is the first and only pants in Nigeria with extra absorb channels that help distribute wetness evenly and lock it away, helping mornings to become as dry as bedtimes," he said.
The New Pampers Pants comes in sizes 3-5 and offers the following features:
Flexible Waistband: To allow a fast and easy change for your babies. Stretchy leg cuffs adapt to baby shapes and movements for a perfect fit in all positions.
Breathable Soft Belt and Cuffs: for gentle application on your baby's skin.
Soft- like Cotton*: Crafted with soft- like cotton materials for your baby to feel comfortable in underwear- like pants
MicropearlsTM: absorb liquids up to 30 times their weight
Extra Absorb Channels: that help distribute wetness evenly and lock it away
Extra-Breathable: Pants are made of extra breathable materials containing micropores which enable air circulation at the nappy area, allowing humid air to flow from inside to outside of the diaper to help your baby stay dry.
———————————————————————————————————————
Sponsored Content