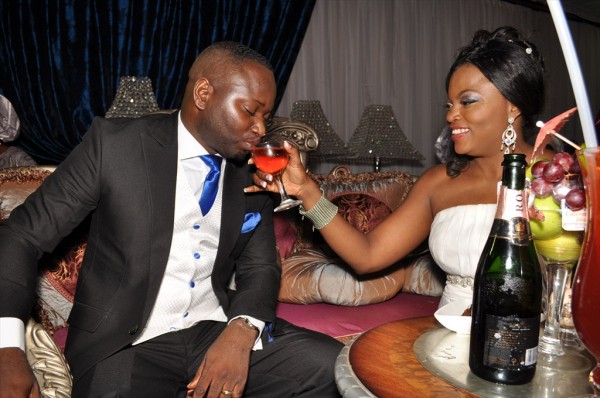 On the early hours of Monday 15th July 2013, it was widely reported that Nollywood star Funke Akindele and her property developer husband Kehinde Almaroof Oloyede have separated after 1 year and 46 days of wedded bliss.
In the wake of the rumoured separation, here's a look back at the love story of Funke and Kehinde.
She's Engaged
In May 2012, BN informed you that the Jenifa star was engaged and ready to tie the knot. Although the identity of Kehinde wasn't revealed at the time, the news was confirmed by her PR rep Big Sam Media.
Meet the Oloyedes
To announce the union, the couple made a splash with a romantic photo shoot for their wedding souvenirs. Clad in matching white shirts and jeans, Funke and Kehinde proved to the world they were ready for till-death-do-us-part.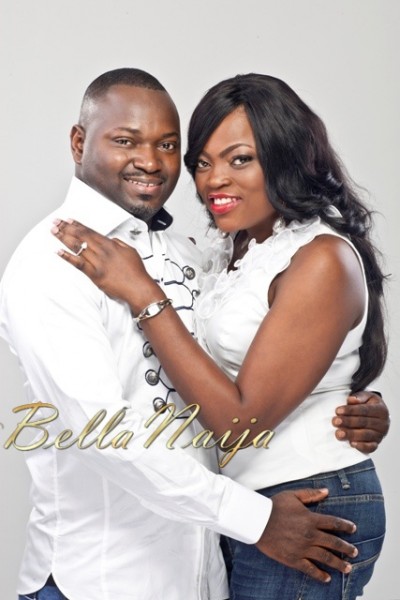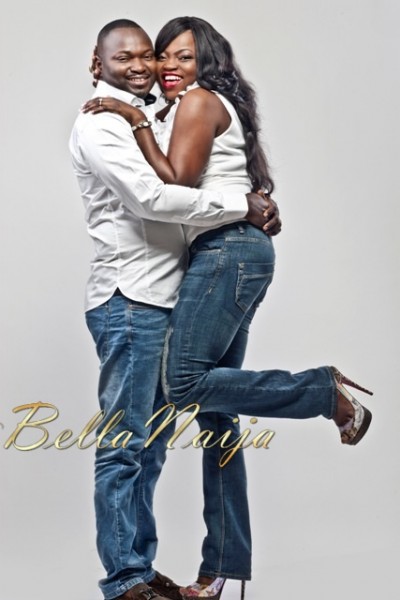 Family Introduction
The family introduction was held on Saturday 26th May 2012 at the groom's parents house.
On the day, Funke was seen in a full muslim regalia with her beau. When asked by a fan on Twitter if she was no longer a Christian (Funke's father is a Reverend and her mother is a member of MFM), she replied "I am still in Christ."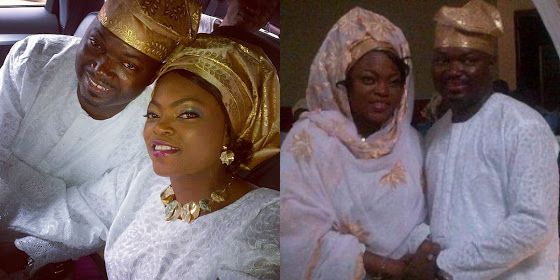 The Wedding Day
I was at the ceremony in Lagos and as a known lover for weddings,  it was such a love-filled day. The traditional ceremony and white wedding took place on Saturday 26th May 2012 at the Haven Centre, GRA, Ikeja, Lagos.
It kicked off at 12 noon with the traditional ceremony. Funke was a damsel in her special aso-ebi, as she entered the Haven Centre hall.
After the trad, guests were ushered to the hall where the white wedding was to take place. Kehinde who looked sharp in a black dinner suit, waited for Funke as she made her way to the altar with her father in a white strapless dress by Mai Atafo Inpsired.
Guests at the event included Genevieve Nnaji, Desmond Elliot, Ini Edo, Omoni Oboli, Iya Rainbow, Ariyike Akinbobola and Denrele Edun. To read about all the wedding details, click HERE

First Major Red Carpet Appearance
Funke made her first major red appearance since the May 2012 union at Davido's Omo Baba Olowo Album Launch in Lagos on Sunday 22nd July 2012.
Kehinde wasn't at the event but Funke was all smiles as she made her way into the Eko Hotel & Suites, Victoria Island, Lagos.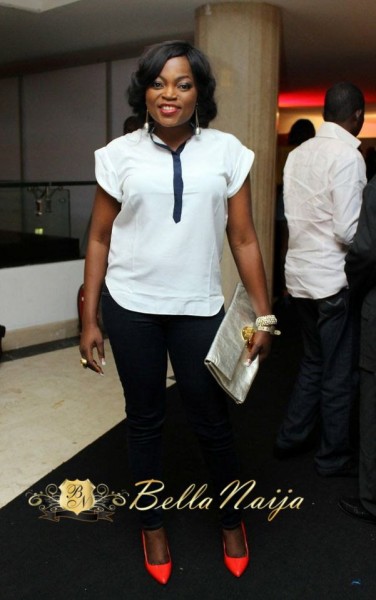 Expecting a Baby?
To host the 2012 Nigeria Entertainment Awards in New York City, USA with comedian AY Makun, Funke opted for a Grecian-inspired one-shoulder embellished blush gown. Funke appeared to be sporting a baby bump in the dress.
Reports surfaced online that the star was expecting a baby, with some BellaNaija commenters confirming the rumour. Her publicist exclusively revealed to BN that she was not expecting the couple's first child.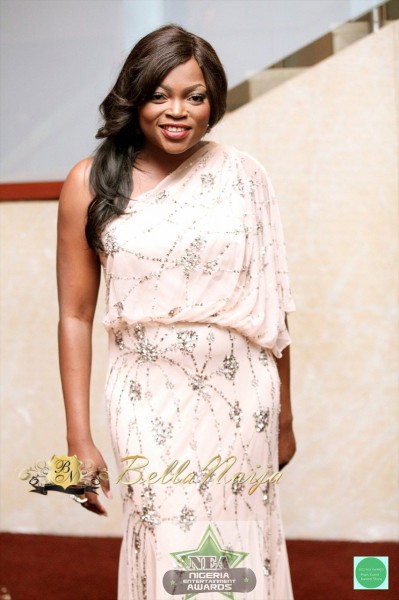 United with Kehinde
Although the very-private couple haven't been seen publicly in a while, they were happy to share intimate moments at Funke's 35th birthday in Lagos on Friday 24th August 2012.
While shooting a movie Oro Omo (For the love of a child) in Ikeja, she was about to rest at her hotel, her husband, Kehinde Almaroof Oloyede together with her siblings whisked her away to a "secret location" where her close friends and family were waiting to surprise her with a birthday party
Funke defends Marriage to Kehinde: "I am the only Woman, he got married to"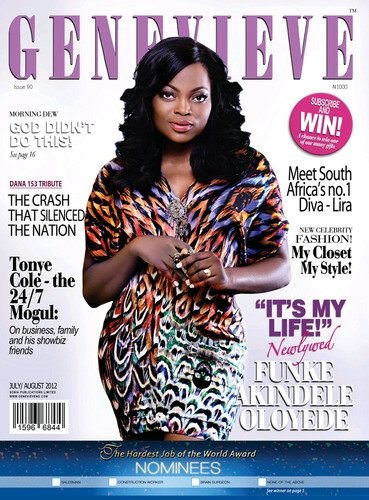 In an interview with Genevieve Magazine, Funke set the record straight about being a second wife.
Read what she said;
"My husband has never been married, I am the woman he got married to. I was married properly. A lot of negative comments came from sadists who want to run their mouths. So because I am a Youth Ambassador or Celebrity, I can't have my life?

It is my life. If I do things because people want me to, I will end up unhappy. I do what I do because I want to be happy. I would still continue to teach morals and campaign against HIV/AIDS and enlighten the youths. It doesn't make me bad; that is even if it is, because I can tell you authoritatively that my husband is not married to anyone else.

Yes, he has beautiful children, who are not mine now and we have a cordial relationship, which dates back to even before we got married. So what if he has kids? Is that a disease? That is where my heart is! I had many non-biological children even before I got married. I take them as my own children, pay their bills and help them. I have always loved children. So now that God has given me these ones, what should I do?

Will people be happier if I had married someone who didn't have children, seem so perfect, put on my make-up and fake smile on the red carpet and start weeping when I get home?

And about my in-laws, they are very wonderful and supportive and my parents and siblings as well".
A tragedy?
In November 2012, soft-sell publication City People Magazine announced that Funke had a miscarriage. She was reportedly 4 months pregnant.
The Separation?
Just like everyone else, we were shocked to hear about the rumoured split between the couple on Monday morning. Kehinde reportedly announced on his Facebook page that "It's with heavy heart , that I am announcing the separation of me and my wife Mrs Olufunke Akindele, we've both agreed to go our separate ways, because of irreconcilable differences. We are still best of friends and forever remain best of friends."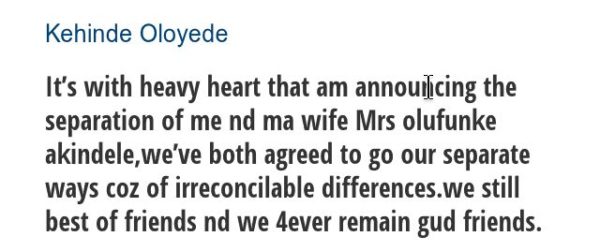 The post has since been taken down from the Facebook page and Kehinde has denied posting any details on the issue.
Where is Funke?
If you've been following all the fun photos on BellaNaija lately, you will notice that the star has since been filming movies. She is reportedly now in Warri, Delta.
Funke: "My Marriage is still Intact"
The Nation is reporting that the actress sent a text message clearly stating her marriage to Kehinde is still intact.
The message read – "I read in the newspaper yesterday that I am divorced. What proof do you have? And I am taking this to court because my marriage is intact. You guys are rumour mongers. Funke Akindele Oloyede."
BN has reached out to Funke's team and her publicist is yet to be reached for an official statement. We wish Funke all the best!