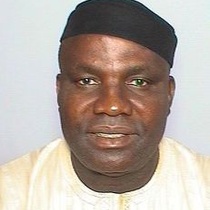 Senator Ayo Akinyelure representing Ondo Central in the Nigerian Senate has apologized and is attempting to distance himself from the "#ChildNotBride" Controversy.
Senator Akinyelure made these statements following a peaceful protest by his constituents in Akure, Ondo State.
According to the Channels TV Online report,
"Summoned by the constituents to a meeting held at the Cultural Centre Auditorium, Akure, which is also the Senatorial headquarters, Mr Akinyelure regretted the act and apologised to the people, explaining that he cast the vote in error.

He emphasised that as a true Yoruba man, he wouldn't have intentionally voted in support of child marriage.

He said there is still hope in correcting the situation as the bill will still be passed at the House of Representatives and the States Houses of Assembly."
Below is the official press release from the office of the Senator
DISTINGUISHED SENATOR Dr. AYO AKINYELURE,FCA representing Ondo Central at the upper Chamber of the National Assembly, hereby wish to make the following clarifications on the above subject- matter to correct the wrong
allegations of VOTING INFAVOUR OF 'UNDER AGE MARRIAGE' as widely reported in the PUNCH NEWSPAPER of July, 20th 2013 on Pages 9-11. Which has now been subjected to various interpretations.
What the Senate considered for determination under the review of Nigerian Constitution was RENUNCIATION OF CITIZENSHIP UNDER THE NIGERIAN CONSTITUTION.
THE QUESTION BEFORE THE SENATE FOR DETERMINATION WAS WHETHER A CLAUSE WHICH PROVIDES THAT "a married woman is deemed to be of full age to renounce her CITIZENSHIP OF FEDERAL REPUBLIC OF NIGERIA SHOULD BE RETAINED OR BE DELETED?
Section 29(1) of the Constitution of Federal Republic of Nigeria provides that "Any citizen of Nigeria of full age who wishes to renounce his Citizenship shall make a declaration in the prescribed manner for the RENUNCIATION"
The question before the SENATE FOR WHICH I VOTED I INFAVOUR WAS THAT A MARRIED WOMAN IS DEEMED TO BE OF FULL AGE TO RENOUNCE HER NIGERIAN CITIZENSHIP.
THIS IS QUITE DIFFERENT FROM VOTING IN FAVOUR OF 'UNDERAGE MARRIAGE' as now widely reported in the Media to blackmail Senators of FRN that believed in peaceful co-existence of Nigeria as a Nation.
I wish to EMPHATICALLY MAINTAINED THAT, I NEVER VOTED INFAVOUR OF UNDERAGE MARRIAGE AS WRONGLY REPORTED IN THE MEDIA. WHAT I VOTED FOR WAS THAT " a married woman is deemed to be of full age to renounced her citizenship of FEDERAL REPUBLIC OF NIGERIA as entrenched in the CONSTITUTION SINCE 1999.
This implied that RENUNCIATION OF NIGERIAN CITIZENSHIP IS QUITE DIFFERENT FROM AGE OF MARRIAGE OF
NIGERIAN CITIZENS UNDER THE CONSTITUTION OF FEDERAL REPUBLIC OF NIGERIA, I SUBMITTED THIS
CLARIFICATIONS TO THE WHOLE NIGERIA AND THE WORLD AT LARGE, THAT MY PEOPLE IN ONDO CENTRAL AND GOVERNMENT OF ONDO STATE DID NOT SUPPORT UNDER AGE MARRIAGE IN ALL RAMIFICATIONS.
LONG LIVE ONDO CENTRAL SENATORIAL DISTRICT
LONG LIVE ONDO STATE GOVERNMENT
LONG LIVE SENATE OF FEDERAL REPUBLIC OF NIGERIA
LONG LIVE FEDERAL REPUBLIC OF NIGERIA
Distinguished Senator Ayo Akinyelure,FCA
Chairman, Senate Committee On Ethics,
Privileges & Public Petitions
Ondo Central Senatorial District
***
Do you accept his apology? Perhaps these senators should invest more time reading and understanding the implications of their votes and actions.