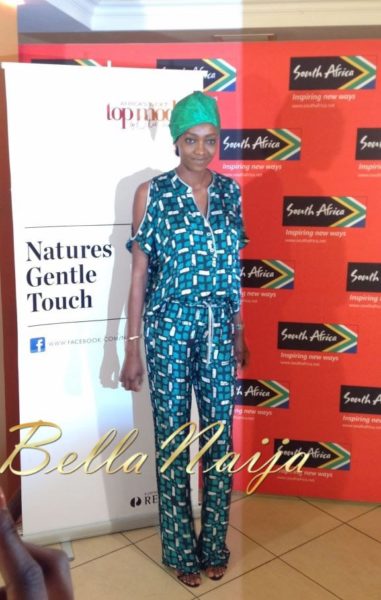 After all the buzz surrounding the premier of the Africa's Next Top Model reality TV show, I was especially happy to finally be at the press conference. After all, after the press conference comes the main event. With months of planning and preparation finally coming to a close, the gorgeous ANTM producer and host Oluchi Orlandi sat down with members of the press to talk about the biggest thing in Africa right now.
Dressed in a laid back Deola Sagoe jumpsuit with turban to match, the 6ft model arrived at the Federal Palace hotel conference room and took her seat right beside the ANTM scouting manager – Maria Arrington. From questions about the judges to expect to why she decided to shoot production in South Africa and not Nigeria, the model kept her composure while dropping little jokes to keep the conference upbeat. She explained that they cannot give too much away, but will say that we might get to see a lot of African faces like Iman, Duro Olowu and of course Tyra Banks.
On the question from the Style Mania Magazine team on her choice of production location, she simply stated that professionally she believes South Africa has more to offer in terms of modelling. They have been in the industry longer and have more grounds for fashion and modelling, so it only made sense. However, this does not mean that season 2 may not be produced in Nigeria or any other African country.
Explaining more on the kind of show to expect, Maria was quick to explain in her American accent, that the show will be just like its American counterpart, but with an African flair. The competition is open to all sizes of models but they must meet the height requirement of 5ft 7 to qualify and of course have the beauty and brains for it.
Of course yours truly (I'm talking about me) had to inquire about the fabulous photo shoots we had seen in other cycles of America's Next Top Model, and if we are to expect the same here. It turns out that not only would we get to see fabulous shoots by African photographers such as Kelechi Amadi Obi, but the models may get to travel to Egypt and New York.
On a close to final note, Oluchi stated that the main reason for the show is to boost the African image. ANTM has been to other countries like Britain & Ireland, Romania, Australia etc and she believes that African countries should not be left out.
Nigerian auditions held on Tuesday 23rd July 2013 and according to Oluchi "I dont know what to expect from Nigeria, but I am hoping at least a thousand model hopefuls show up". To end the event everyone had lunch and then called it a successful press conference.
The best of luck to the model hopefuls auditioning and keep refreshing BellaNaija.com for more information on ANTM.