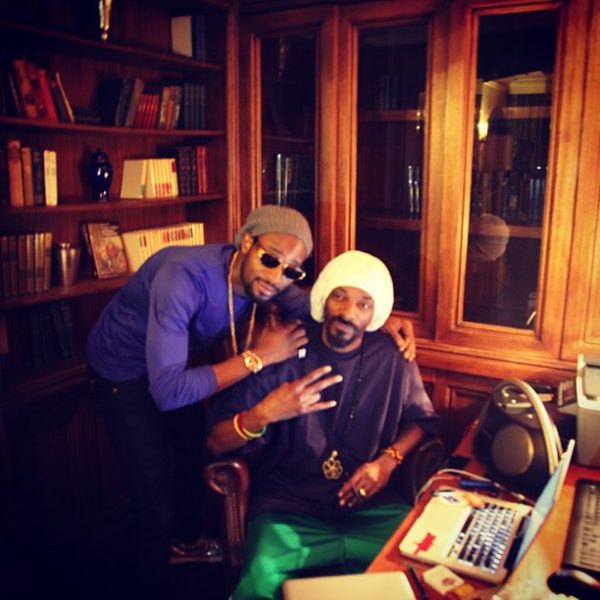 Earlier today, DB Records ensign, Kay Switch shared the above photo of his superstar brother D'Banj and Snoop Lion hanging out in the USA. He captioned it:
"@snoopdogg @iamdbanj aka Banga Lee . The making #BlameItOnTheMoney . Owo ni Koko , obe ni rodo still making my own doe. BangaLeeeeeeeee #OcoverMeNow"
As a result, a lot of word got around that a music video for their new collaboration with Big Sean, "Blame It On The Money" was already in the works. In an interview with BellaNaija Music (@bellanaijamusic) on Twitter, D'Banj confirmed the rumors to be true as he tweeted:
@bellanaijamusic there wld be many videos of the DKM album, Blame it on the money is definitely going to be one of em OooSssHhhEee!!

— D'banj kokomaster (@iamdbanj) July 25, 2013
Also, he teased that he may be working on some new collaborations with the likes of Seyi Shay, Tiwa Savage and/or Waje as he said:
@bellanaijamusic @Wajemusik @iamseyishay @TiwaSavage collaborations hmmm!!! Temple scrolls cannot be opened now!!

— D'banj kokomaster (@iamdbanj) July 25, 2013
While we await more word from the Koko Master, it seems he may be working on something big with 2Face Idibia as Kay Switch also uploaded the below photo to his Instagram page with the caption:
"Stay tuned . #tb @2faceidibia @iamdbanj#legends"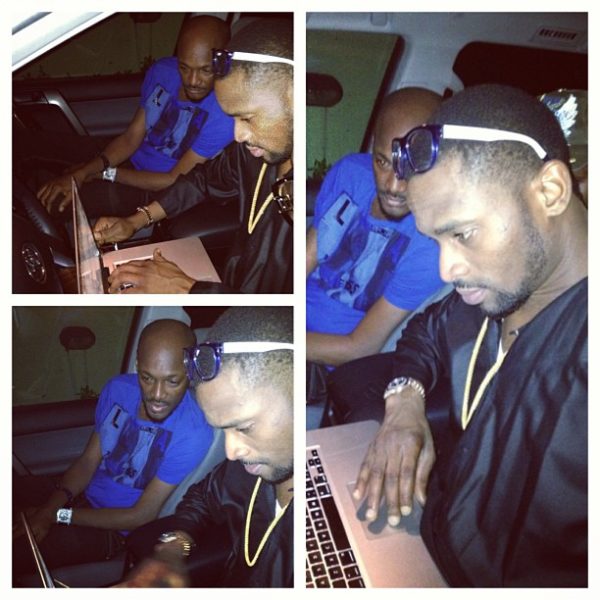 Based on his amount of collaborations lately, with both Nigerian and foreign artists, some fans have said that he may soon get a shot at the Billboard charts. But, with a lot of mixed reviews still trickling in from his DB Records' compilation album "D' King's Men", what do you think about D'Banj's new songs and collaborations? D'Banj seems perfectly happy with his new album as he tweeted:
@bellanaijamusic The DKM album is a compilation album of artistes we are working with!! It is a blend of styles … The reviews are good too

— D'banj kokomaster (@iamdbanj) July 25, 2013
To catch more of D'Banj, he'll be making a stop at the Abeokuta leg of the 'Star Trek' music concert.
Share your thoughts!
Photo Credit: Instagram – KaySwitch