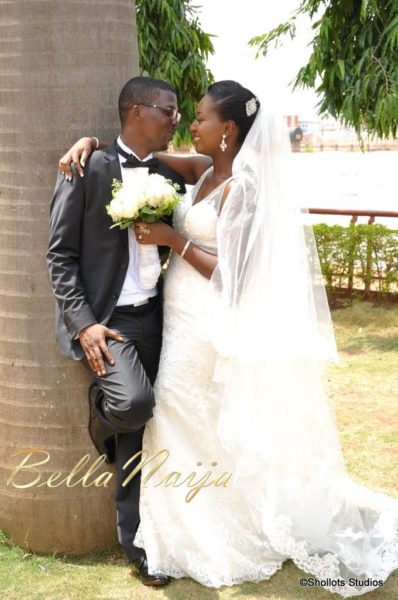 Yay! It's BN Our Wedding Story time. Accountant Fiyin Obakin and Investment Banker Kayode Aladejebi have much more than their finance based professions in common, the couple who met while at university recently tied the knot in style in Nigeria's capital city – Abuja. With Zapphaire Events at the helm of planning, their traditional engagement and white wedding was totally fab.
Enjoy.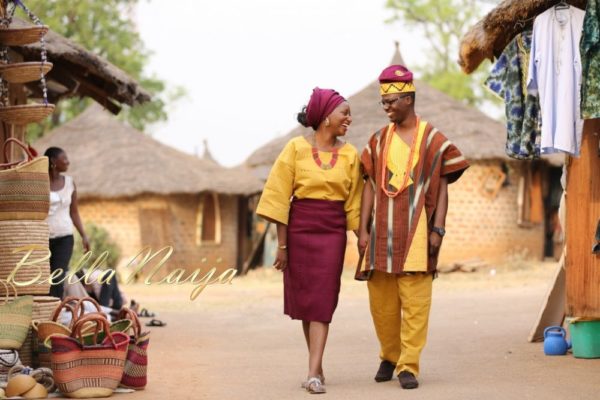 How Fiyin & Kayode Met
by Fiyin
Kayode and I met about 5 years ago while I was still at University. We attended the same Uni and even studied the same course so we kind of had mutual friends but we didn't start talking until I was in my final year. My friends and I had gone to the cinema to watch a movie and one of my friends was invited for a birthday dinner afterwards so we all tagged along…
He was one of the guys who attended the dinner and I remember him really trying to catch my attention and talk to me but I was fronting..lol. Later that night, he just walked up to me and courageously asked for my number and I willingly obliged…:)
He called me later that night and we had one of the most beautiful and interesting conversations ever and that was the beginning. Since then, no day has ever gone by without us talking. He has become my best friend, my confidante and the love of my life and I can't wait to spend the rest of my life with this amazing man.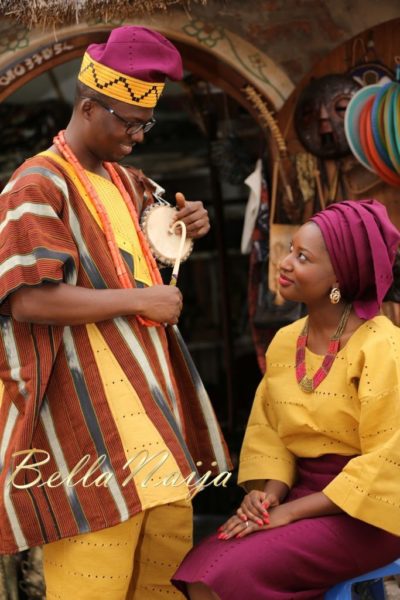 The Proposal 
It was on a beautiful Saturday evening in November 2011. I had come to Lagos to attend a friend's wedding and I even caught the bouquet!
He called me up in the evening and told me to get dressed that we were going for a dinner. He picked me up and we went to Cactus. As soon as we got inside, the waiters greeted him familiarly and I was just saying to myself that 'so this guy is their regular customer' (LOL) not knowing what had been planned. We ordered dinner and as we were having ice cream for dessert, I noticed he was studying my every scoop. As I took the fourth scoop, I noticed something shiny on my spoon and that was when Kay got on his knees and proposed…
Of course I said YES!!!
It was such a blissful day on the 5th of April 2013 as Fiyin Obakin & Kayode Aladejebi celebrated that once in a lifetime experience – their wedding! The bride Fiyin looked beautiful in her ivory lace mermaid silhouette wedding dress with a dramatic low back. The luxe lace and beaded appliqué gave her bridal look its elegant flourish. The groom Kayode looked handsome in his black Tuxedo paired with a rose boutonnière which matched his bride's bouquet. Fiyin and Kayode's marriage was blessed at the Family Worship Centre in Abuja and after the wedding formality was completed, the couple along with their family and friends transitioned to the ICC for their wedding reception.
It was a colourful turquoise yellow and blue "summer blitz" with crystals and sequins adding a dash of glamour at Fiyin and Kayode's wedding reception!  The couple thoroughly enjoyed their day including a surprise performance by Nigerian music star Davido and many more special moments. A wonderful day for a lovely couple!
BN wishes Kayode and Fiyin a blessed and favour-filled life together as husband and wife.
~ Photography – Traditional Engagement/White Wedding: Shollots Studios – www.shollots-studios.com | Facebook Link
~ Photography – Pre-Wedding/E-Session: Reel Pictures
Wedding Details
Wedding Dates
Traditional Engagement: 5th of April 2013
White Wedding: 6th of April 2013
Wedding Venues
Traditional Engagement: BMO EVents Arena, Wuse 2, Abuja
Church Ceremony: Family Worship Center, Abuja
Wedding Reception: International Conference Center, Abuja
White Wedding Theme: Summer Blitz
Wedding Colours
Traditional Engagement: Bride – Royal purple & Gold | Groom – Army Green & Silver
White Weddings: Turquoise Blue and Yellow
Wedding Attire
Wedding Dress: Venus – www.venusbridal.com
Veil: Love, Tims by I Do Weddings – www.idoweddingsng.blogspot.com
Bride's Reception Dress: House of Divas – www.houseofdivasng.com
Bride's Makeup: Anna for BMPro – www.bankemeshidalawal.blogspot.com
Groom's Suit: Bespoke
Groom's Waistcoast: MAI – Mai Atafo Inspired
Bridesmaids' Dresses: Phunk Afrique
Vendors
Event Planner/Coordinator: Zapphaire Events – www.zapphaire.com
Decor – White Wedding: The Wedding Guru – www.twguru.com
Decor – Traditional Engagement: Becky Okogwu – Renzow's Event Design
Cake: Syndys Cakes
Food and Drinks: Biobak Kitchen
Cocktails: Cocktails in and Out
MCs: Grandmaster | Jedi
_______________________________________________________________________________________
We love weddings as much as you do – get in touch for inquiries, inspiration & more!
E-mail: weddings (at) bellanaija.com
Instagram: BellaNaijaWeddings
Twitter: BellaNaijaWed
FB: BellaNaijaWeddings