BellaNaija presents "Celebrating You! Class of 2013." A couple of months ago we called for submissions of graduating students who had excelled in their course of study. We acknowledge the fact that everyone who has graduated this year is a winner. We, therefore, want to celebrate people who have gone over and above the norm. People who have gotten meritorious distinctions and awards from their institution of study. We hope that you are inspired and we look forward to receiving more entries.
Today, we're sharing Adetutu Ojo's story with you. Tutu is an incredible woman whose strength of purpose and will to live against all odds, helped her achieve achieve academic excellence. Tutu was diagnosed with an auto-immune disease called Systemic Lupus Erythematosus (SLE) or Lupus (which is currently incurable) in 2007.  Her story is so poignant and real.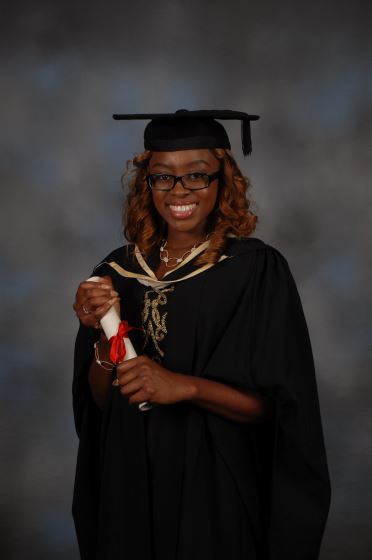 My Journey
I had relocated with my family to Lagos from London in 2001 because my Nigeria loving parents wanted my brothers and I to 'know our roots' and though it wasn't the easiest of adaptations, looking back, it was definitely worth it and I made lifelong friends. As I like to say, I may have been born and bred in England, but I definitely was buttered and jammed in Naija (dry jokes you learn in Nigeria.)
When I finished from Dowen College in July 2008, the next step was to move on to an A Level school in Lagos and carry on my education after which I would return to London to go to my dream university, Queen Mary. However, man proposes but God disposes. Over the summer I started to gradually lose weight and thin out, then came the fatigue, weakness and painful skin blisters followed by alarmingly high fevers. Being a stubborn one, I continuously refused to be taken to hospital until one day my mother begged me and said "Ma je kin sunkun omo" meaning "Don't let me cry over my child". On reaching the hospital, the doctor checked me out stating that not only was I suffering from acute malaria but severe anemia as my palms had turned completely white and that I needed a blood transfusion ASAP. My blood tests had also revealed that I had O negative blood group and then came the struggle to find safe blood as I could only receive O negative blood. Eventually I found a donor and what was initially meant to be one dose, turned into two. I got slightly better after a week or two and moved to my aunt's house in Gbagada as it was closer to the hospital. By mid September, I had lost most of my hair, was looking like a ghost and confused as to what exactly was going on.
After spending some time at my Aunt's, I eventually went back home to Lekki and on the day I returned, my parents took me to Eko Hotel for dinner with my brother. At dinner I was unusually agitated and this was heightened by the fact that there were some little kids playing near the pool, no lifeguard around and I kept having visions that they would fall in with no around to help. A bit extreme yes I know but soon you will understand why. I begged my parents for us to leave and when we got to the car, I almost fainted. Little did I know what was in store for me.
That night, my parents thought it would be best for me to sleep in their room which to the glory of God I did, because had I not, I doubt I would be here today. After falling asleep, the next thing I knew, I was in the back of my Dad's car, on our way to the hospital, with my Mum saying "Tutu can you hear me?" "Tutu if you can hear me blink please or raise your fingers."
Whilst sleeping, I had gone into shock and had a seizure which immediately woke my parents. On getting to the hospital, the doctor did what he could but couldn't quite comprehend the nature of my illness and in the morning, he called a specialist from the Lagos General Hospital who examined me and noticed a particular rash under my eyes and around my nose, also known as the butterfly rash. He stated that during Med school he had read about something called Lupus but that Nigeria didn't have the facilities to test for it and that my blood would have to be sent to South Africa to check if that was what I suffered from. We agreed to the test and a week later, it was confirmed.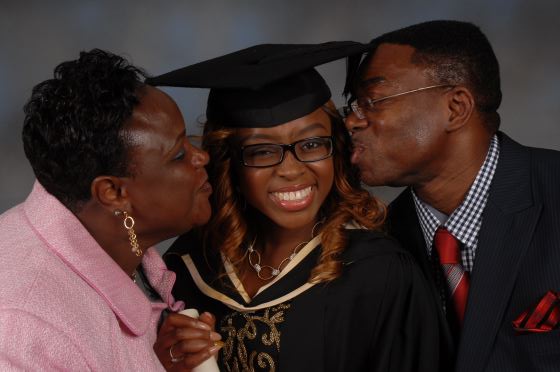 It Was Real
Google became our best friend and the two doctors tried to manage it as best they could, putting me on a cocktail of about 60 tablets a day but soon it became evident that it was getting worse as I developed hallucinations, swollen feet and stomach ulcers along with all my other symptoms. Finally, it was decided that I would return to England for treatment and on getting here with my mum, I went straight to Queen Elizabeth Hospital. A few hours after I got there, I suffered another seizure followed by another seizure and had to stay in Intensive Care for a week. I was then moved to Kings College Hospital where I stayed for almost a month receiving treatment including a number of biopsy's and lumbar punctures and got out right before Christmas. It wasn't an easy move back as we no longer had our house but to the grace of God, everything sorted itself out.
In September 2008, I managed to start my A Levels in Biology, Chemistry and Psychology as well as get a part time job and though at the end of it I didn't get the required grades needed for my course, I still miraculously got accepted into Queen Mary for it. The first year was very tough for me as I lived on campus and fell ill quite a lot so much so that it reflected in my grades and I also had to quit my job. The second year was a little more bearable thanks to the support of my loving family. Not only was I Vice President of the African Caribbean Society (ACS), I also volunteered at the Olympic stadium for the London 2012 Olympics.
Against All Odds, I Made IT!
To the glory of God, I was able to redeem myself through hard work, extremely early mornings and late study nights to finally become a Second Class Upper Division (2:1) SBSc (Hons) Biology with Psychology degree holder. It was a long tedious journey but I'm so grateful to God that He pulled me through and is continuously doing so. I'm still under the care of Kings College Hospital, with a now reduced cocktail of drugs and though living with Lupus is an everyday struggle, I know its one I can and will overcome. I hope one day to make Lupus awareness more prominent in Nigeria and Africa as its cause is still yet unknown and it surprisingly mainly affects young women, with a higher occurrence in Africans and Caribbeans than any other race.
Shout Out
I want to use this opportunity to thank everyone who has supported me throughout this phase of my life and to everyone out there, never let anything stop your shine, always keep at it and pray to God to guide your soul, nourish your mind/body and bless your ways. It's not by power nor by might, but by My Spirit says the Lord (Zec 4:6).
Live. Love. Laugh.
__________________________________________________________________________________
If you want to be part of this inspiring and amazing feature or if you know someone who is part of the Class of 2013 who should be featured here, please send an email to features(at)bellanaija(dot)com. We look forward to reading from you and sharing your academic excellence.