BN Weddings and Munaluchi Bride Magazine bring you get another gorgeous wedding!
Yetunde and Osahon make such a beautiful couple! For their wedding day, every element was finetuned elegantly to the couple's taste.
Enjoy!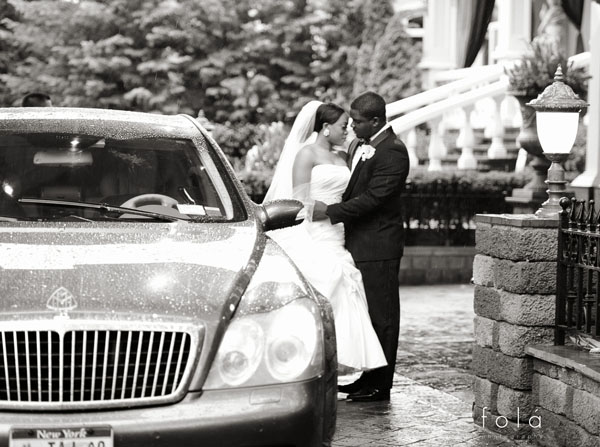 Bride: Yetunde Odugbesan
Groom: Osahon Omede
Wedding Date: April 22 2012
Location: New Jersey
The Proposal
From Yetunde, the Bride
The proposal took me by complete surprise. It was an ordinary yet gorgeous day – Sunday August 29th 2010. My soon to be husband then took me to Fire Island, a beautiful beach in Long Island, New York. We walked down a long path and to the lighthouse where he took me all the way to the top, where you can see the ocean. He began talking about life and getting a bit emotional, then he got on one knee!
Wedding Planning
My wedding planning…to be honest, it was excellent. We know exactly what we want and are able to make decisions without having to consult everyone on the planet. I know exactly what I want, what I want to wear, how I want to look, what venue and etc… I picked my wedding dress in one day. I am such a busy person that its important to go straight to the point, have an idea before you make your decision and be content with the decisions you make.
Culture
My husband is Benin from Edo State and I wore his traditional clothing during our traditional engagement. My husband and I are both Nigerian so of course our wedding was modern yet infused with Nigerian culture through cuisine, music and attire.
The most memorable time of my wedding which was a 3-day event was having my traditional engagement at historic Symphony Hall with over 1,000 guests in attendance, then on saturday re-capping and spending time with our bridal train and having our pre-wedding dinner/event and Sunday the wedding Osahon and I is the only marriage to be held in the first established church in history in Newark NJ – the historical Peddie Memorial Church with more that 600 invited only guest came to witness.
Over 600 invited guests celebrated at our private reception held at the most exclusive ballroom in the tri-state area which boasts to beautiful view of New York skyline, world class catering from world class chefs, millions dollars worth of decor with elegance and state of the art sculptures.
For more photos from Yetunde and Osahon's wedding, see the Munaluchi post: https://munaluchibridal.com/?p=34166
Vendors
Bride's Shoes: Christian Louboutin
Bride's Dress: From Spain
Bride's Makeup & Gele: Segun Gele International
Bride's Veil: Handmade with double face Swarovski crystals
Groom's Suit: Christian Dior
Groom's Shoes: Ferragamo
Ceremony Location: Peddie Memorial Church
Reception Venue: Westmount Country Club
Photography: Fola Lawal Photography & Ovation Magazine
Videography: Charles Oni Videography (Atlanta)
Florist: Westmount Country Club Florists
Cake: Palermo Bakery
______________________________________________________________________________________
We love weddings as much as you do – get in touch for inquiries, inspiration & more!