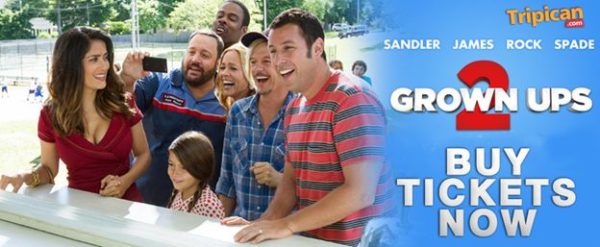 Tripican.com now sells tickets to movies at Genesis Deluxe Cinemas and Silverbird Cinemas. Enjoy discounted ticket prices, advance bookings and the convenience of avoiding long ticket queues at the movie theatre.
Tripican.com presents the following Movies available this week.
Genre: Comedy| Drama
Starring: Adam Sandler, Kevin James, Chris Rock
Synopsis: After moving his family back to his hometown to be with his friends and their kids, Lenny finds out that between old bullies, new bullies, schizo bus drivers, drunk cops on skis, and 400 costumed party crashers sometimes crazy follows you.
BUY TICKETS
Watch the trailer

2 Guns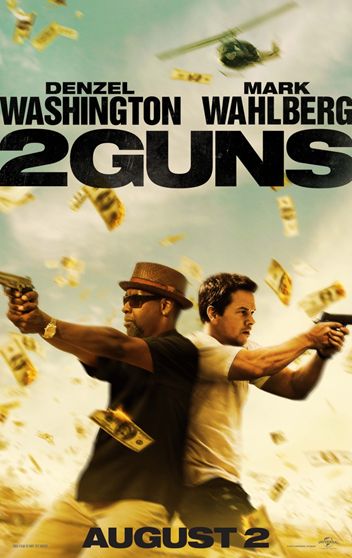 Genre: Action|Comedy|Crime
Starring: Denzel Washington, Mark Wahlberg, Paula Patton
Synopsis: A DEA agent and a Naval Intelligence officer find themselves on the run after a botched attempt to infiltrate a drug cartel. While fleeing, they learn the secret of their shaky alliance. Neither knew that the other was an undercover agent.
Watch the Trailer

We're the Millers


Genre: Comedy|Crime
Starring: Jason Sudeikis, Jennifer Aniston, Emma Roberts
Synopsis: David Burke is a small-time pot dealer whose clientele includes chefs and soccer moms, but no kids; after all, he has his scruples. So what could go wrong? Plenty. Preferring to keep a low profile for obvious reasons, he learns the hard way that no good deed goes unpunished when he tries to help out some local teens and winds up getting jumped by a trio of gutter punks. Stealing his stash and his cash, they leave him in major debt to his supplier.
Watch the Trailer

Red Hot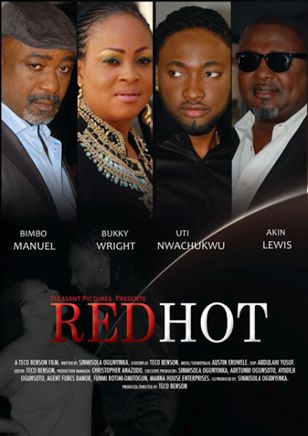 Genre: Drama| Action
Starring: Uti Nwachukwu, Bukky Wright, Bimbo Manuel, Akin Lewis
Symopsis: Red Hot is the story of Kofo, a beautiful Nigerian lady married to an extremely affluent husband. She seems to have all the good things in life at her disposal, but the absence of a child in the over ten year marriage, leaving her frustrated. With medical research and desperation she hatches a plan with her friend, Princess which brings Freddie into the picture. Just at the peak of this new found solution, crisis erupts leading from one disaster to the other.
Watch the Trailer

Murder at Prime Suites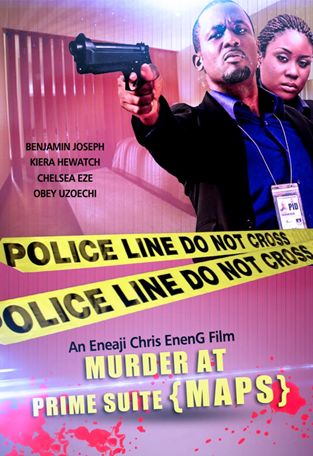 Genre: Crime| Action|Thriller
Starring: Joseph Benjamin, Kera Hewatch, Chelsea Eze, Obey Uzoechi
Synopsis: Murder at Prime Suites lays emphasis on betrayal, murder, lies, greed and lust. Special Agents of the Police Investigation Department (PID) – Special Agent Ted (Joseph Benjamin) and Agent Hauwa (Keira Hewatch) battle to unravel the mysteries behind the murder of a young lady, Florence Ngwu (Chelsea Eze), in an upscale hotel. What seemed like an open and close case soon turned into a battle of wits and backstabbing.
Watch the Soundtrack Video by Dumebi

Watch the Trailer

Percy Jackson: Sea of Monsters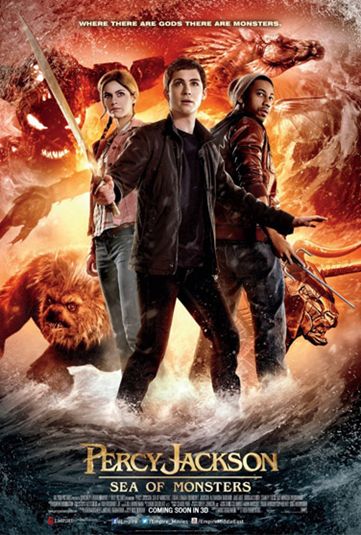 Genre: Adventure | Family| Fantasy
Starring: Logan Lerman, Alexander Daddario, Brandon T.Jackson
Synopsis: In order to restore their dying safe haven, the son of Poseidon and his friends embark on a quest to the Sea of Monsters to find the mythical Golden Fleece while trying to stop an ancient evil from rising.
BUY TICKETS
Watch the Trailer

Elysium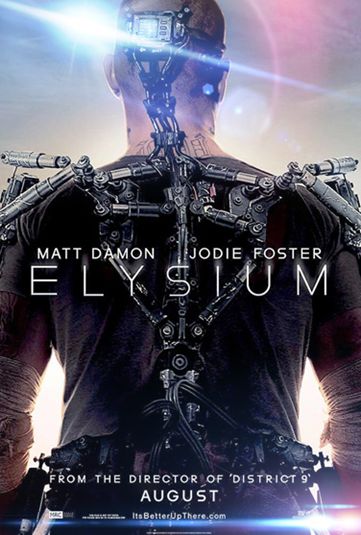 Genre: Action | Drama | Sci-Fi
Starring: Matt Damon, Jodie Foster, Sharlto Copley
Synopsis: Set in the year 2154, where the very wealthy live on a man-made space station while the rest of the population resides on a ruined Earth, a man takes on a mission that could bring equality to the polarized worlds.
Watch the Trailer

World War Z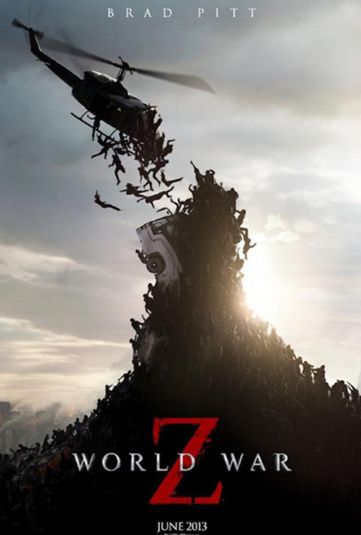 Genre: Action
Starring: Brad Pitts, Mireille Enos, Matthew Fox, James Badge Dale
Synopsis: United Nations employee Gerry Lane traverses the world in a race against time to stop the Zombie pandemic that is topping armies and governments, and threatening to destroy humanity itself.
Watch the Trailer

The Smurfs 2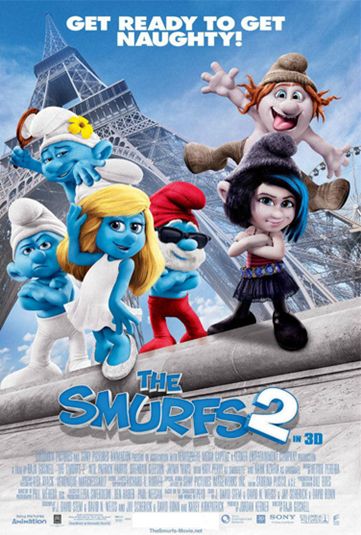 Genre: Animation
Starring: Hanz Azaria, Neil Patrick Harris, Jayma mays
Synopsis: The Smurfs team up with their human friends to rescue Smurfette, who has been kidnapped by Gargamel since she knows a secret spell that can turn the evil sorcerer's newest creation- creatures called the Naughties- into real Smurfs.
Watch the Trailer

Dead Man Down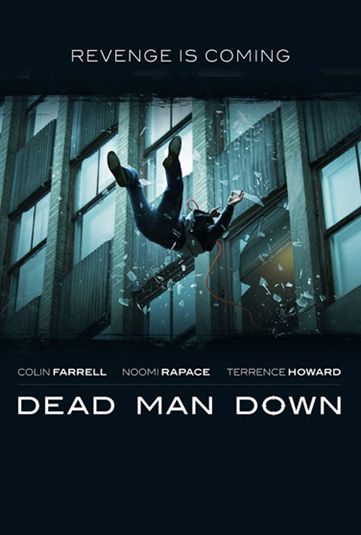 Genre: Action
Starring: Colin Farrell, Noomi Rapace, Terrence Howard
Synopsis: In New York City, a crime lord's right-hand man is seduced by a woman seeking retribution.
Watch the Trailer

The Wolverine


Genre: Drama
Starring: Famke Janssen, Hugh Jackman,Will Yun Lee
Synopsis: Wolverine makes a voyage to modern-day Japan, where he encounters an enemy from his past that will impact on his future.
Watch the Trailer

Pacific Rim


Genre: Drama
Starring: Idris Elba, Charlie Hunnam, Charlie Day
Synopsis: When an alien attack threatens the Earth's existence, giant robots piloted by humans are deployed to flight off the menace.
Watch the Trailer

House of Gold
Genre: Comedy
Starring: Yvonne Nelson, Ice Prince, Majid Michael, Omawunmi, Mercy Chinwo
Synopsis: Dab Ansah Williams, a high flying entrepreneur/business mogul, polygamist and socialite, is battling with cancer and has 6 weeks left to live according to medical practitioners. With the help of his long-time associate and legal representative, he embarks on a mission to call all his children back home – most of whom were born out of wedlock and various illicit affairs.
The re-union proves a little more than everyone bargained for as each child returns with an agenda, setting the stage for the most hilarious and bizarre 7 days of their lives. At the end, they realize that there is just too much for too many.
Turbo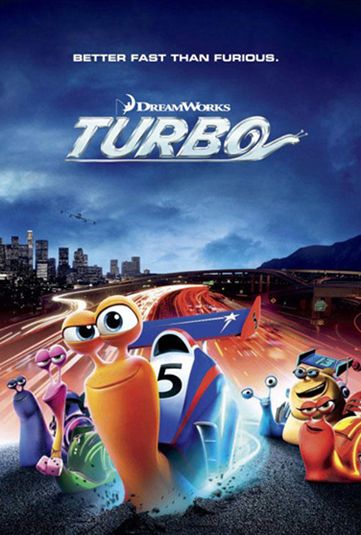 Genre: Animation
Starring: Ryan Reynolds, Paul Giamatti, Maya Rudolph
Synopsis: A freak accident might just help an everyday garden snail achieve his biggest dream: winning the Indy 500.
Watch the Trailer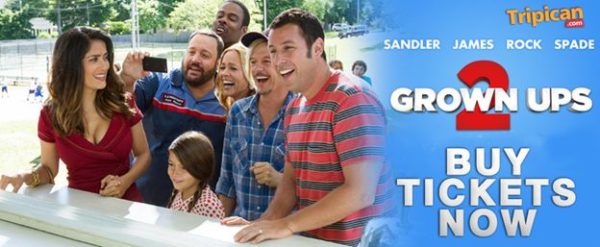 Buy Grown Ups 2 Tickets Now at : www.tripican.com/grownups2
Movie Ticket Pricing (Genesis Deluxe Cinemas):
                                                           Adults                                                                         Children/Students
Mondays:                                                          N950.00                                                                                 N950.00
Tuesdays (Before Noon):                          N450.00                                                                                 N450.00
Tuesdays (After Noon):                             N1,450.00                                                                             N700.00
Wednesdays:                                                  N550.00                                                                                  N550.00
Thursdays:                                                      N950.00                                                                                  N950.00
Fridays:                                                             N1,450.00                                                                              N700.00
Saturdays:                                                        N1,450.00                                                                              N950.00
Sundays:                                                           N1,450.00                                                                              N950.00
3D:                                                                        N2,450.00                                                                              N2,450.00
2D:                                                                       N1,950.00                                                                               N1,950.00
Movie Ticket Pricing (Silverbird Cinemas):
                                                               Adults                                                                Children/Students
Mondays:                                                         N1000.00                                                                          N500.00
Tuesdays:                                                        N1000.00                                                                           N1000.00
Wednesdays:                                                  N1000.00                                                                           N500.00
Thursdays:                                                      N1000.00                                                                           N500.00
Fridays:                                                            N1500.00                                                                            N1000.00
Saturdays:                                                       N1500.00                                                                            N1000.00
Sundays:                                                         N1500.00                                                                             N1000.00
3D:                                                                      N2000.00                                                                             N2000.00
For more information please visit www.tripican.com