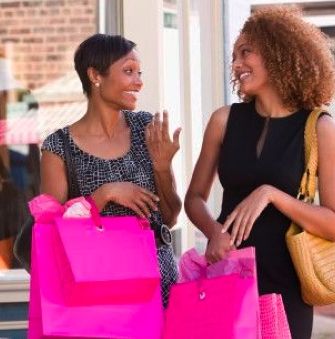 Ever since I started paying for things with my ATM card, life has seemed to be a breeze. They ask you for your card, you hand it over, punch in a few numbers and that gorgeous skirt is all yours. The feeling is empowering.
But something that doesn't make me feel so good is when I get the bank account status alert on my phone. At that point I'm looking at the receipts going "How the hell did I spend so much today?"
Well after one too many mini-brain aneurysms, I decided I was going to start shopping smart. What is the use of buying a great item and regretting it later?
So that's what we will be doing today, figuring out how to shop smart.
First of all I know that sometimes the little voice in your head overshadows logic and tell you having a sequined skirt in 5 colours is an investment into your future, but sometimes you need to shut that voice up and think smart. These tips are not set in stone, but they have helped me a whole lot to get the best value for my money.
Buy Cheap Chic Brands
To some girls the word "cheap" is like Kryptonite. Relax ladies and pop a pain reliever, it's not that bad.
You don't have to spend a whole lot to look great and rock the latest trends. With great fashion sites where you can shop online and get certain percentages off, it is sometimes better to buy brands that aren't too expensive so you can put the rest of your money saved into another project.
Sign Up for Flash Sales
Whenever you shop at a store and they ask you to leave your number so they can contact you, it's not so they can bug you with questions like "So when next are you coming to our store" (even though some stores do that). Most times it is so they can let you know when they have flash sales.
Flash sales are one of the many ways to give you the best value for your money without going all out with a full sale period. For example, I get a text message from Max & PUMA on discounts and offers every time they have them. And that was all from visiting the Max store once.
This way you can get great deals on clothes, shoes etc even before others do and save more money on the original cost.
Become a Loyal Customer
Believe it or not, this can go a long way to saving you some extra cash. When store owners know you visit their store frequently, they automatically give you priority. In some cases they might hold up certain pieces so you can buy them, reduce prices on your behalf and tell you about sales and offers even before they start.
This way you get the first pick on everything.
Try out a D-I-Y
I can't count how many times I have worn some of my personal Do It Yourself projects and have gotten reactions like "your necklace is really nice, where did you buy it?". It never hurt anyone to try reviving your old t-shirts or making a nice bracelet that is inexpensive and you would definitely love because you made it.
If you need a great D-I-Y site, you are already on one. Every Saturday, watch this space for our BN Do It Yourself on a wide variety of pieces.
Create an Exchange Friend Circle
Now, this is something a few friends and I started. We all got together and decided that instead of throwing away our old clothes, we would either give it to charity or engage in our Exchange Friend Circle. This is basically letting your circle of friends know what clothes you are tired of having and them bidding on it. They analyze a top for example, and come up with a price they think is suitable to purchase it. The price would be agreed on by everyone as the least thy can pay for it and they have tho choice to bid higher if they choose to.
You may not get the exact price you originally spent on it, but it is better than ending up throwing the top away; plus you get some money out of it.
Get a GREAT Tailor
I know in some places, this is like asking you to become President, but hear me out. Having a great tailor can be a great way to save clothes you have grown tired of. For example, if you have a denim jacket, you can get some gold studs and either sew them into the jacket's shoulders or wherever yourself, or get a good tailor to do it.
These are just a few tips to get you started to saving more and spending less on your style. Don't forget to share your style tips and whatever style money saving advice you may have gotten.
Photo Credit: Kinkycurlycoilyme