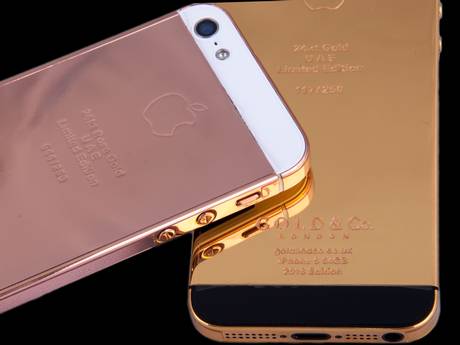 So True or So False? We will let you decide.
Yesterday, Bristol-born business man Amjad Ali revealed to The Independent UK that the Nigerian Government had ordered 53 gold iPhones to celebrate the country's 53rd Anniversary on October 1st.
Amjad Ali who is based in Dubai, is the founder of Gold and Co. His company supplies royal families and wealthy customers across Russia, China and the Middle East with gold plated devices.
The price tag – A whooping £50,000.
The total cost of the 53 iPhones is £ 2,650,000. That is 683,470,164.15 (Six hundred eight hundred and 3 Million, Four Hundred and Seventy Thousand, One hundred and Sixty four Naira, Fifteen Kobo)
Apple just released its new sleek iPhone 5, but Amjad had pre-ordered hundreds of new iPhones.
He told The Independent UK that "We will engrave them with the coat of arms, a shield and two horses".
This news lead to a media frenzy, with news organisations contacting the federal government for an official statement.
Today the story on the Independent UK has been changed to "a Nigerian individual" ordered the gold engraved iPhones.
Perhaps from the pressure surrounding the alleged order from the government, the company has been tweeting that it was from an individual.
According to Sahara Reporters, calls and text messages to Reuben Abati, the President's spokesperson were unanswered. We will keep you updated on the news.