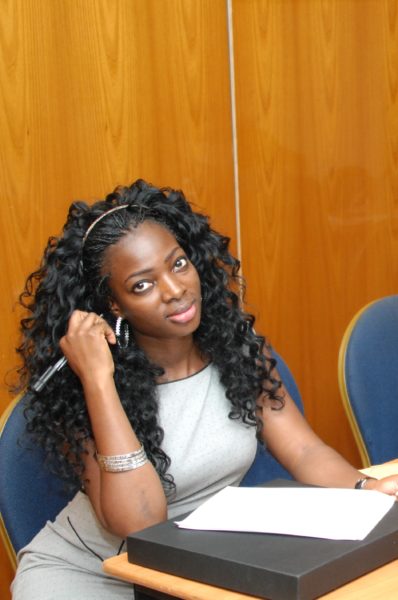 Move Back to Nigeria is a new series on BellaNaija. The aim is to encourage young and not-so-young professionals in the diaspora who are trying to make the decision of whether to move back to Nigeria. In collaboration with the brilliant team at MoveBackToNigeria.com, we hope to bring you a weekly interview with individuals who have successfully made the leap, considering the leap, as well as those who have tried it and realized it is not for them. The idea is to share their successes and their challenges as they made the decisions they did. A lot of Nigerians in the diaspora have questions about making a change at home in Nigeria. Many suggest really good ideas on how to make things better; others would like to contribute to making a difference back home but are just not sure where to begin.
Movebacktonigeria.com is the fastest growing online community of Nigerian professionals living, studying and working in diaspora.
This week, the spotlight is on Enarime Mueller, a regulatory affairs executive with BAT, Nigeria. Her story is quite instructive, as she left Nigeria for a short study stint abroad and like many people who have done the same, found it surprisingly challenging reintegrating into the system. Read on to find out what her experiences have been and how she successfully overcame them.
Let's begin with introductions: Can you tell us who you are?
My name is Enarime Mueller. I moved back in 2009 and I've changed jobs and career paths twice, as I worked briefly in a Big 4 Consulting firm in Financial Advisory before the move to the multinational where I am currently. I read voraciously and I have a passive aggressive love interest with national politics.
When and why did you leave Nigeria?
Unlike most young repatriates that have been featured, I didn't actually live in the UK for a long time before returning. Upon completion of my BSc in 2007, I decided to get the one year mandatory NYSC done and out of the way. Even though I had an offer to stay back where I served, the opportunity to go to the UK for my MSC presented itself in 2008 and you know how we like foreign certification in Nigeria, so I just seized it and proceeded to the UK for my MSC.
We certainly like our degrees! Could you describe your educational background?
My secondary education was in FGGC Benin City. I then studied Economics at Covenant University, Ota, Ogun State for my BSC and went for an MSC in Business and IT from Aston University in Birmingham UK. I moved back to Nigeria a month after completion of my degree.
That was quick, why did you decide to move back to Nigeria?
I always knew I was going to return to Nigeria immediately after my program so I decided to forego the discretionary two year post study work visa option at the end of my studies. I also did not have the money to give to HM Revenue & Customs and did not see the point hustling to sort it out. I felt my chances would be better in Nigeria as I had seen people who had been in the UK and still had not landed the kind of jobs we all wanted. The people that had good jobs were a dime a dozen. Also, I had people to support and I felt I would get a job faster in Nigeria and didn't see the point wasting time in the UK.
Right! So, how did your professional life and career begin?
Well, I did not have a job waiting for me before I moved back to Nigeria. When I returned in late 2009 and started looking for a job, it was a strictly personal hustle because I did not really have anyone to place me somewhere and I cannot classify myself as the entrepreneurial type, so 'doing business' was out of the question. Getting a job was one of the most trying experiences in my life, my dad thinks that it's because I seem to have had everything fall into place for me growing up (like getting into school on time, good grades etc.). I don't necessarily agree. I believe everything takes hard work and sacrifice, and I usually file such experiences in my 'paying my dues' folder. I was tested and tried, I cried, I begged, I was miserable. At the end of each crying session, I would clean my eyes and get on naijahotjobs, findajobinafrica, careersinafrica etc. I had them bookmarked on my phone. I was throwing my C.V anywhere and everywhere, brushing up on my test taking skills; I had the foreign and Nigerian versions of the GMAT textbooks. I had all my certificates saved on my phone (Bsc, Msc, NYSC, SSCE even my birth certificate) so I would apply for any role at the drop of a hat and forward it to anyone who asked. There was no question of "no light for internet" or "when I go to the cyber café later".
Although I had an allowance from my father, it wasn't necessarily sufficient to attend interviews and meet my other needs especially as most interviews were in Lagos and I lived in Abuja at some point so flying back and forth was too expensive. Not once, twice or even thrice, I would take the night bus services to Lagos, arrive in the early hours of the morning, sleep briefly in a friend's house and then proceed for my interview, appearing as bright eyed and bushy tailed as I could manage, and sometimes have to take the night bus back to Abuja. In hindsight, it was foolish and somewhat risky but then it seemed like my only option.
Long story short, it took 8 agonizing months to get a job. I guess the hustle paid off because at the point I decided to go with the offer from the Big 4 firm, I had 2 other offers from equally sound companies, which was all on merit as I did not know anybody. Eventually, I got my first role which was in consulting and was also a very demanding role. I stayed in that role for about a year and that year gave me a lot of exposure to varied industries and the opportunity to engage senior management in those industries. I also had to travel around Nigeria for assignments and meet seemingly impossible deadlines but that served to make me more resilient.
Those must have been very trying times indeed. Moving on, can you tell us about your current role in Nigeria?
I work in Corporate Affairs, with British American Tobacco (BAT) in Lagos. Being that I work in a highly controversial industry, I directly support the drive to maximise regulatory knowledge, opportunities and quality of information through the provision of credible fact-based advocacy on Tobacco Control and related issues. I also work on maintaining an area-wide (West Africa Area) view of the regulatory status, providing directional input to regulatory engagement and external communication, ensuring that BAT is established as a trusted partner of regulators and a leading authority on tobacco control issues across Nigeria.
That definitely sounds interesting and challenging and leads us to ask how you have found the move back? Highs and lows?
The highs for me include being in familiar albeit stressful territory, meeting my husband, quick access to my friends (without burning Lycamobile credit), Nkwobi, Cold Stone creamery ice cream and Glover Court Suya! The lows are that I miss my immediate family a lot as they reside in the UK and I miss out on their lives. The occasional frustration with the bottle necks and bureaucracy in Nigeria which we are all familiar with: a different day, a different devil. I also miss shopping online, sales, the malls and the relative ease of getting things done in a structured environment.
Do you have any particular work-related challenges? And how have you dealt with these challenges?
Working in a multinational whose culture is largely international, tolerant and even open to embracing people's differences certainly helps me feel better about my move back, so there is no particular major challenge that threatens me. I like that the Nigerian 'parapo' is not evident, assuming it exists and I feel like I'm in an environment where I can contribute, work hard and air my views without the fear of being witch-hunted. I also do not fear that because I do not belong to a particular ethnic group or race, I cannot rise in my career. In dealing with challenges, I try to step back from the situation and ascertain if I could have done things differently, seeking out assistance from a trusted senior colleague to determine how I could have done things and then work on improving the situation.
Sounds like a balanced and measured approach. On a different note, have you had to make any lifestyle changes since moving back?
Not particularly. I am more of a home body, as long as I have a good book and/or music, light at home (otherwise, I open the window for fresh air) and ice cream, then I'm good to go! However, I do go for the occasional clubbing or karaoke and I enjoy spending time with my family and friends.
You certainly seem to have hit the ground running. Finally, do you have any final tips or words of advice for people potentially considering a similar move?
Oh yes, I have quite a few! Life is tough in general and in Nigeria, life is tougher, especially if you are without the trappings of wealth. Be prepared to tough it out on your own. Don't be surprised when all the uncles and aunties who promised to find you a job stop picking your calls or replying your texts. Nothing is promised to you, no one owes you anything. Leave any sense of entitlement on the plane once you land at Murtala Mohammed International Airport or Nnamdi Azikiwe International Airport. Nigeria is a jungle, only the strong survive.
Respect yourself. The rules in this part of the world are different. If you are not in the position to be a rule maker, abide by the rules in the playbook. Don't engage the police and Lastma in unnecessary scuffles. The money you would most likely use to get yourself out of trouble can be channeled to other needs.
Finally, have a support system. It could be friends who are also job hunting, people to fall back on who can encourage you and keep rooting for you. At times I doubted whether I made the right decision to move back thinking perhaps I should have stayed behind but looking back now, I can undoubtedly say I made the right decision. I believe whatever side of the fence you're on, you'll have to work hard! Whatever you decide, all the best!
Many thanks for your time and best wishes moving forward.
___________________________________________________________________________
The  primary objective of MoveBackToNigeria.com is to connect Nigerian professionals with various opportunities in Nigeria, ranging from recruitment drives to information & support regarding relocation processes, financial & tax advice and much more. Move Back To Nigeria also features social interest topics such as what's on, where to live, how-to survival tips and so on. Consistently engaging with and featuring Nigerian professionals in weekly  interviews, Move Back To Nigeria regularly publishes social interest articles relevant to the general public. Everyone is welcome to their online discussions & fora and you are invited to air your views & suggestions on the topical and trending matters section. For more information and further inquiries, please contact [email protected].