Murad, the first modern doctor brand knows that blemishes can take over your life, ruining your self-confidence and making the most normal situation embarrassing and awkward. Plus red, angry skin can also be very sensitive or painful.
Get clear, stay clear with Murad products, they are scientifically proven to address all the factors that cause breakouts. Blemish complex makes skin healthy clearing the breakout you have now and helping to prevent new ones forming.
Murad is exclusively distributed and retailed by Montaigne Place, a Luxury Cosmetics, Fragrance and Well-being Company that has brought some of the world's exclusive and leading brands to Nigeria.
Discover this product range at Montaigne Place outlets nationwide, come for complimentary top-to-toe skincare consultations Murad and get complimentary samples, offer for free samples stands while stock lasts.
Murad's Acne range is guaranteed to transform your skin by healing and calming it, making it healthy and smooth. In fact 92% of users experienced a reduction in breakouts in just 3 days.
Spots are formed when dead skin cells get clogged up with excess oil, deep inside hair follicles. This enclosed "mini swamp" is a perfect breeding ground for bacteria which multiply and create inflammation.
Salicylic Acid is a key ingredient in the Murad Acne range. It's oil soluble which means it penetrates deep into pores to give them a thorough clean. It rinses away dead skin cells, sebum and bacteria, everything which causes spots, meaning skin is left squeaky clean.
Whatever your age, Murad's Acne range can transform your life! Murad products contain active ingredients which suit all skin colours, including white, Afro Caribbean and Asian skins.
Over 2 million happy customers have endorsed this product, saying it worked within 1 week.
If your skin concerns include the following: Breakouts, Excess Oil and Shine, Large or Clogged Pores then the Murad Acne range is made to tackle these concerns
Murad's 3-Steps
For skin so healthy it glows, no matter what your skin type or concern, the steps to ultimate skin health are simple 1-2-3.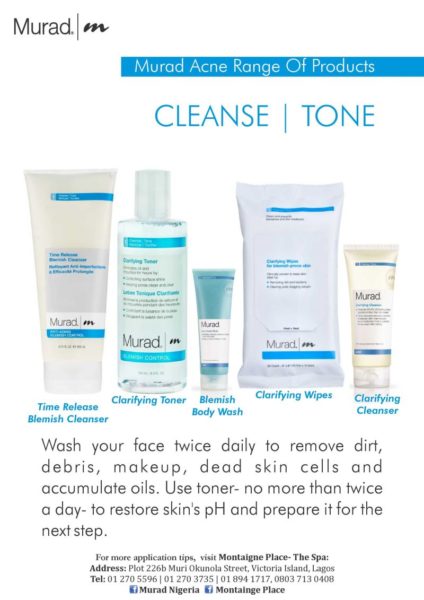 1. Cleanse | Tone
Wash your face twice daily to remove dirt, debris, makeup, dead skin cells and accumulate oils. Use toner- no more than twice a day- to restore skin's pH and prepare it for the next step.
2. Treat | Repair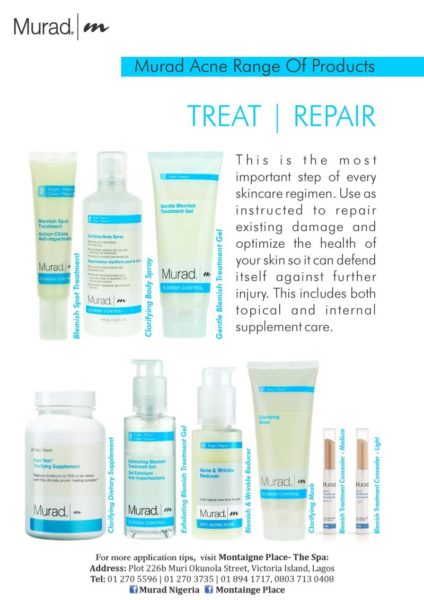 This is the most important step of every skincare regimen. Use as instructed to repair existing damage and optimize the health of your skin so it can defend itself against further injury. This includes both topical and internal supplement care
3. Hydrate | Protect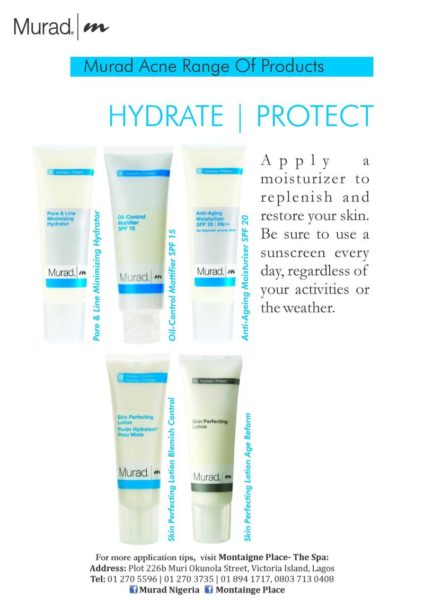 Apply a moisturizer to replenish and restore your skin. Be sure to use a sunscreen every day, regardless of your activities or the weather.
Professional Spa Treatments To Clear Blemishes
At Montaigne Place- The Spa, there are professional Murad spa treatments available that tackles and clears the appearance of blemishes at every level. They are the Murad Acne Complex Facial and the Murad Acne Complex Back Treatments.
Discover these treatments, come in today for a complimentary consultation.
Montaigne Place- The Spa
Address: Plot 226b Muri Okunola Street, Victoria Island, Lagos
Tel: 01 270 5596 | 01 270 3735 | 01 894 1717, 0803 713 0408
Facebook.com/Montaigne Place
Facebook.com/Murad Nigeria
Or Visit any of Montaigne Place outlets nationwide.
Montaigne Place
Address: Shop 16, Palms Shopping Centre, 1 Bis Way, Lekki Expressway, Victoria Island, Lagos.
Tel: 01 851 7774 | 0806 486 3969
Montaigne Place
Address: Shop 8, Air Side, Departure Level, New Murtala Mohammed, Local Airport, Lagos.
Tel: 01 279 9889
Montaigne Place
Address: Shop 10 Land Side, Departure Level, New Murtala Mohammed, Local Airport, Lagos.
Tel: 01 448 2230
Montaigne Place Shop
Address: Ikeja City Mall, Shop L033, Obafemi Awolowo Road, Alausa, Ikeja, Lagos.
Tel: 0819 045 0712
Montaigne Place
Address: Shop 8, Adebola Shopping Mall, 53 Isaac John Street, GRA Ikeja, Lagos.
Tel: 01 270 7913
Montaigne Place
Address: Shop B7, Adeniran Ogunsanya Shopping Mall, Adeniran Ogunsanya Street, Surulere, Lagos.
Tel: 0813 029 5258
Montaigne Place
Address: Silverbird Entertainment Centre, 1161 Memorial Drive, Cadastrial Zone, Central Business District, Abuja.
Tel: 0819 180 7807
Montaigne Place
Address: Grand Towers Abuja Mall, Plot 232 Cadastal Zone B14, Dutse, Abuja.
Tel: 07045334520
Montaigne Place
Address: Ground Floor, Worldway Plaza, 129 Aba Road, Port Harcourt, Rivers State.
Tel: 084 462 975
Montaigne Place
Address: Genesis Center, Shop 2b1, Tombia Street, Gra Phase 2, Port Harcourt.
Tel: 0819 045 0711
Montaigne Place
Address: Happy Bite Plaza, 1 Stadium Road, Opposite Air Force Base, Aba Road, Port Harcourt, Rivers State.
Tel: 0819 180 7805
Montaigne Place
Address: Shop G39 7 G40, Polo Park Mall, GRA, Enugu.
Tel: 0704 533 4519
For Press Contact please email Ono Bello | PR UNO at [email protected]
______________________________________________________________________________________
Advertorial – Sponsored Content