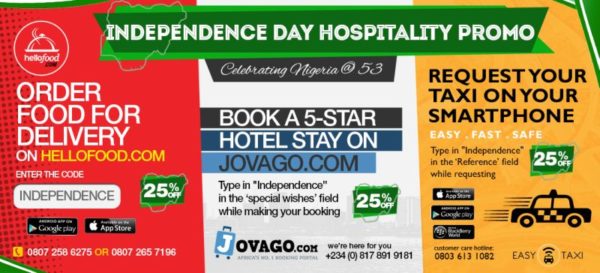 Say hello to the Independence Day Hospitality Day Promotion!
Organised by Easytaxi, Jovago and Hellofood, this promotion is dedicated to making your Independence holiday even bigger!
For this holiday you can;
• Visit friends and family with 25% off taxi bookings via the Easytaxi app.
• Book a room at your dream hotel on Jovago.com and get 25% off hotel bookings.
• Eat to your fill with 25% off first orders on Hellofood.com.ng
It's easy, log on to www.jovago.com or www.hellofood.com.ng and download the Easytaxi and Hellofood apps on the Google Play store, the App Store or Blackberry World, fill in "Independence" in reference/special wishes field and max out your independence day!
Your holiday just got more interesting so book that ride to that hotel and live life up.
The offer is valid from Tuesday 1st of October 2013. Terms and conditions apply.
_____________________________________________________________________________________
Sponsored Content