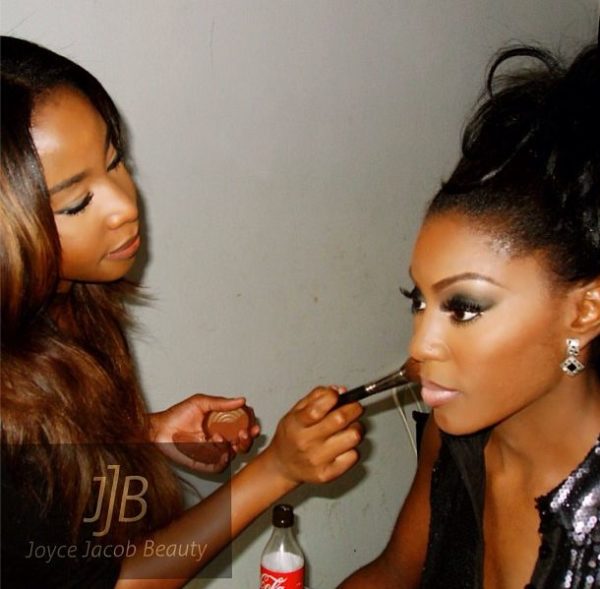 Nothing says celebrity transformation like a fabulous beauty make-over. And judging from her new title – Makeup Artist of the Year 2013 by Vanguard (see here) "- Joyce Jacob Beauty sure knows how to glam a girl up.
She has done makeup for Nigerian celebrities such as Tiwa Savage, Waje, Veronica Ebie-Odeka, Tania Omotayo, Toolz, Milen Magese, Ms Jaie, Zaina, Tonto Dikeh, Omawumi, Bridget Awosika, Chidynma, JJ Okocha (yes, even JJ) and a host of others. But how do we know her best work with all these names? Well that's what we are going to find out.
Today, we are taking a look at 5 fabulous make-overs by JJB and finding out which one is your favourite.
Meet the Contestants
Veronica Ebie-Odeka – Stylist & Owner of the Vanestyle showroom
For Veronica's make-over, the JJB team gave her a simple look – smokey eyes, a lightly contoured face and nude lips. The looks screams subtlety and delicate beauty.
Tania Omotayo – Stylist & Fashion Retail Store Owner
Tanias make-over, which was featured on the BN Beauty page a while ago, was created specially for the Summer beauty. JJB gave her a contoured face, dramatic eyes with winged eyeliner and gold-bronze eyeshadow plus a pink lip for that girly pout; perfect for the girly girl.
Fade Ogunro – OAP & Glam Report TV Presenter
For a night of glam, Fade got a glam look. The JJB team hooked the OAP up with  a gorgeous face which featured light contouring, bombshell eyes with dramatic lashes and a light pink lip.
Uju – Model
The Music Meets Runway Model, Uju, got star treatment for the MMR2013 shoot. With dark dramatic eyes and berry lips, the model was definitely ready for the cameras.
Misi Molu – Presenter & OAP
Bronzed up and ready to go. Misi got a pretty make-over that featured deep pink lips, feathered lashes and highlighted and bronzed face.
Phew, The life of a celebrity! So BN Beauty buffs, which look is your favourite. I'm leaning more towards Misi Molu's; You?
Photo Credit: @Joyce Jacob Instagram (Joycejacob_jjb)