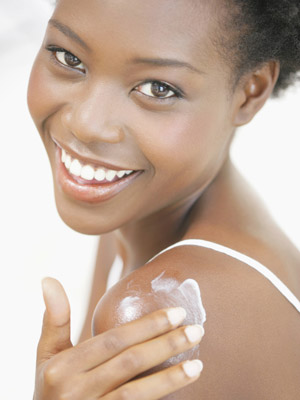 It's still the early days of a new month and as happy as we are that it's finally time for us to enjoy October we still have to remember that we have to remain extra careful of the elements; especially the sun. The sun has an intense effect on our skin. Now, a lot of dark skinned people have the belief that sunscreen is just for light skinned people or people of Caucasian decent but this isn't true. Black people need sunscreen just as much as other people do. Both your skins are made of the same things and therefore are prone to the same elements.
So the big question is how do you spend as much time as you want outside without your skin being damaged? The answer is Sunscreen.
Sunscreen is basically any cream or lotion that is rubbed on the skin to protect it from the harsh effects of the sun. Sounds rehearsed right? But it's true. The sun can cause a number of harm to come to your skin and body like Melanoma i.e: a tumour of melanin-forming cells that is associated with cancer; and fast ageing of the skin. I know you must have heard the saying "always wear sunscreen" a thousand and one times but something you may not know is how. You might also have been missing some of the most fundamental truths about sunscreen without knowing it. But do not fear… BN Beauty is here.
1. The first thing you want to note is that for the best result you should buy sunscreen that contains zinc oxide or titanium oxide. These are the key ingredients that protect your skin from UVB rays.
2. If you have sensitive skin, it is advisable for you to buy sunscreen products recommended for children. They have tender skin as do you and this would be better suited for your skin. Also ensure the lotion does not have any added fragrance; they usually do not mention what chemical has been used to make it and this might be harmful.
3. Sunscreen should be applied before any other type of lotion. The sunscreen needs adequate freedom and time to absorb into the skin and applying other lotions before it could hinder its effectiveness.
4. There are both spray-on and lotion sunscreens. The spray on sunscreen is better when it comes to easy application and doesn't leave a build up after it has been applied. However, using a spray on sunscreen might make it difficult to trace where you have sprayed and haven't and could be difficult to wash off. It is also not advisable for people with sensitive skin as it usually contains alcohol and this could irritate the skin.
5. The skin must be clean before application. The best time to apply sunscreen is right after a post-shower dry; your skin is still fresh and your pores open which allows for full absorption.
6. When buying sunscreen be sure to try it on a small patch of skin to check for irritation. After it has been tried and tested be sure not to ignore the back of your hand; it gets burnt easily.
7. You should apply a generous amount of sunscreen to your body; at least an ounce (a shot glass full) to the totality of your body.
8. Sunscreen should be applied at least 30 minutes before you step out into the sun. This is because the skin needs this amount of time to properly absorb the lotion and when heading for the pool or beach re-apply every 3 hours to keep your skin safe.
9. If you are only applying the lotion to your face, be sure to include your neck and chest. This is because years down the line you could end up with sun damaged neck or chest.
10. There are different grades of sunscreen Sun Protection Factors (SPF); SPF50, SPF30, SPF15 etc. The higher the number does not necessarily mean the better it will protect your skin. You should take into consideration the intensity of the sun. SPF 50 only blocks about 1.3% more UVB than SPF15. To be safe think of it this way; short periods of time spent outside = SPF15; longer periods= SPF50.
Like my mama always says God, good food, lots of water, exercise and sunscreen; that's the remedy for a great life. Got any sunscreen ideas or reviews? Don't forget to share them.
Photo Credit: Allure.com