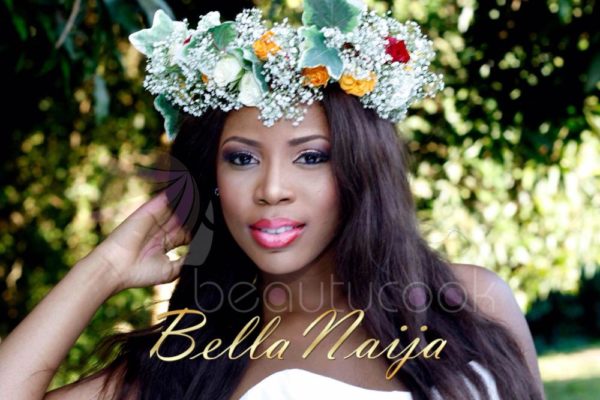 Get ready for fresh, floral and flirty bridal beauty inspiration from Omontese Akhetuamn of BeautyCook Studio. Omon did the makeup for the Nigerian bridal line we premiered today – Kolini Couture – in case you missed it, click here! The models were adorned with pretty floral crowns by Pretty Fabulous Flowers.
Omon is going to walk us through her inspiration and makeup she used. Enjoy!
***
Nicole of Kolini Couture absolutely trusted me do my thing from hair styling to the makeup, so I went all out. I was also excited about the bouquet crowns she had asked her florist – Pretty Fabulous Flowers – to make. We had a lot of bridal bouquets on set too, that explains why all the models had fresh flowers made into hair pieces.

I was pretty excited about the shoot and the location (Lekki Conservation Centre, Lagos) that i could not wait for the official photographer's interpretation of the looks (makeup), so I engaged  my tiny cannon DSLR 1000d camera and with the help of my reflector I got these images just the way I wanted them and instantly too. Please pardon my amateur photographer skills!
Lamide: The first model Lamide is your regular pretty girl with enviable features so we had nothing to hide, so I played up her face with the familiar sweet pink lips and matching eyes. I played down on contouring too. but could not resist a little highlighting on her nose. This look is perfect for church.
Her second look which gave her a Tahiti kind of outdoor wedding feel , i brightened her eyes with gold sparkles and my favorite coral ombre lips. Her hair was let down to bring out the fun side of the look.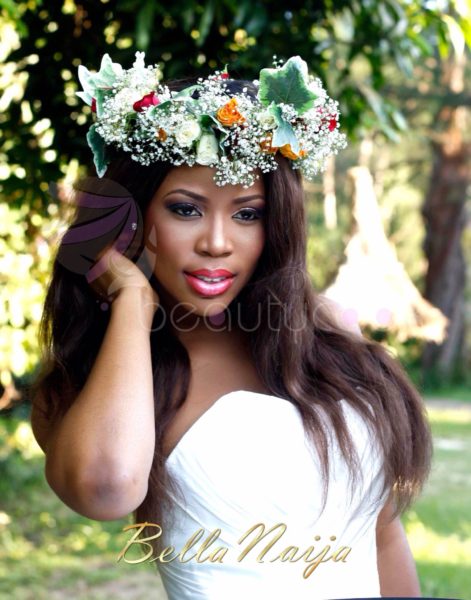 Frances: I thought she kind of looked like Tiwa Savage – I stand corrected. This look is a debut for me on a bride, but I did not want to do the regular black eyes, so I opted to use purple, I swept it all over her eyes with no mercy and a bronzy nude lip to match and play down the smoke in her eyes. She also had flowers made into a huge "Alice band", perfect for a second look dress.
Her second look was perfect for me, she had this Hollywood glam yet effortlessly pretty purple eyes with matte nude lips and the hair was swept off her neck for some show off.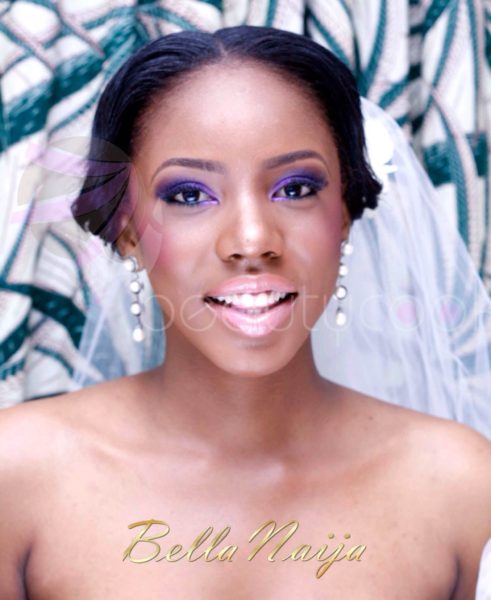 Susan: Susan just gave me the chills when she got on my chair, I immediately thought the pinup look with a little colour. Her eyes are deep set which was already comes contoured,so she could get away with little or no eyeshadow. Then the icing on this look is the hot red lip. Oh la la! This look is perfect for the bride who is not afraid to go bold,as the lips will pull a lot of attention. The hair was swept all the way to the front to compliment the pinup look fever.

The bun was a simple pull back with some fresh flower accents.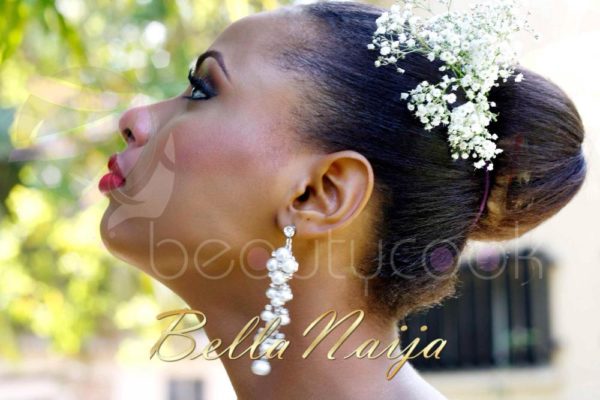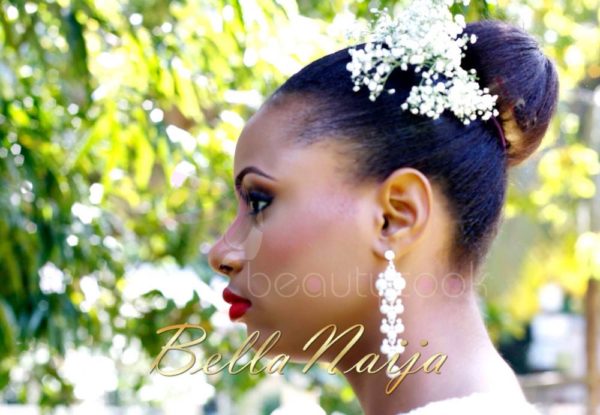 We absolutely loved BeautyCook's looks for the Kolini Couture models! Omon also wanted to share the makeup she did for a gorgeous bride Feyi, a few months ago. Gorgeous!
She says,
If you were born dark skinned like me and Feyi, simply make sure your skin is kept clean and that will automatically brighten you up. Her eyes are too small to carry a lot of eyeshadow so we decided on a bronzy eyeshadow and the purple ombre lips, her face was bronzed out to make her glow.
What a way to end our week at BN Weddings! Sooo much beauty to make you have a fantastic Friday.
Have a lovely weekend, xoxo
Vendors:
All Hair & Makeup by Omon of BeautyCook Studio – beautycook (at) gmail.com | 08055519211 | instagram.com/beautycookstudio
All Photography: Omon of BeautyCook Studio
Florals: Pretty Fabulous Flowers | email: info (at) pretty-fabulous.com or prettyfabdesigns (at) gmail.com | https://www.facebook.com/PrettyFabulousFloralDesign | 0818 642 4648
Floral Accessories: Kolini Couture | phone number:+234 8035660338 | email: nicole "at" stwo-ng.com |Facebook: www.facebook.com/kolinicouture | Instagram: @kolinicouture
Models: Susan for BETH, Frances, and Lamide for OBI
______________________________________________________________________________________
We love weddings as much as you do – get in touch for inquiries, inspiration & more!