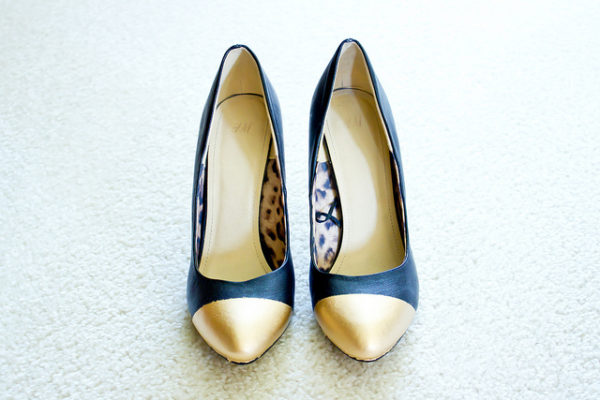 Shoes, shoes, shoes! Sorry, I just really love shoes. And today's BN Do It Yourself tutorial is for people like me who love shoes (which is almost everybody).
Like we say here at BN DIY, "why buy it when you can make it?". So for our do it yourself journey today we are going to be making gold capped toe shoes. They're really cute shoes that add a bit of dazzle to your shoes outfit and are super easy to make. This tutorial can be done on any type of shoe and only needs a few materials.
What you Need
– Scissors
– Gold spray paint (you can get this at the hardware section of big supermarkets)
– A clear gloss finishing spray
– Painters tape or duct tape
– Old newspapers
– Your preferred shoe
– Measuring tape
How to
Step 1
Place the old newspapers on the surface you are going to work on.
Step 2
Measure the length you want to spray paint with the measuring tape, take some duct tape and cover every other part of the shoe tightly. If this is not done properly, the paint could get in areas you don't want.
Step 3
Spray the exposed part of the shoes a couple of inches away from the shoe making sure to spray it evenly. After this let it sit for about 10 minutes.
Step 4
Talk the clear gloss finishing spray and spray over the gold paint. After that let it sit for about and hour.
Step 5
After the hour is up, take off all the duct tape used in protecting the shoe and voila, you have your gold capped shoes.
Lets step into the fabulous world of beauty and DIY blogger LegatoGirlGlam to see how this gold will be getting capped.

I hope you love your new shoes. Don't forget tot comment on this tutorial and what ways you achieve your gold capped toe shoe. Have a great Saturday.
Photo & Video Credits: Chevronsandeclairs.com | Youtube.com/Legatogirlglam