Following the success of Forbes Africa, the Pan-African publication has launched 2 more sub-sects of its Magazine – Forbes Africa Life & Forbes Africa Woman.
The magazines which were launched yesterday, the 1st of October 2013, looks to navigate the world of business for women, with features on the latest trends in the corporate sector and how its architecture speaks to women.
The first issue of Forbes Woman features South African Dr. Precious Moili-Motsepe – a businesswoman, chairman Africa Fashion International and wife to Oil Magnate Patrice Motsepe. The feature tracks her life as a business oriented woman, philanthropist and fashion entrepreneur who is working to push African fashion forward.
For the first edition of  Forbes Africa Life, they chose none other than "The Beauty that Tumbled from War" – Alek Wek. The South Sudanese supermodel/Activist/Businesswoman takes Forbes Africa Life into her life as a supermodel and all that goes into her job in New York.
The magazines were published by ABN Publishing in Johannesberg, South Africa. At the launch, Rakesh Wahi – Founder & VC of ABN said, "There are so many stories of success on the African continent that we will never be able to do justice to all the women making a difference in the corporate world, which is the principal reason why I took the decision to have a separate magazine for women.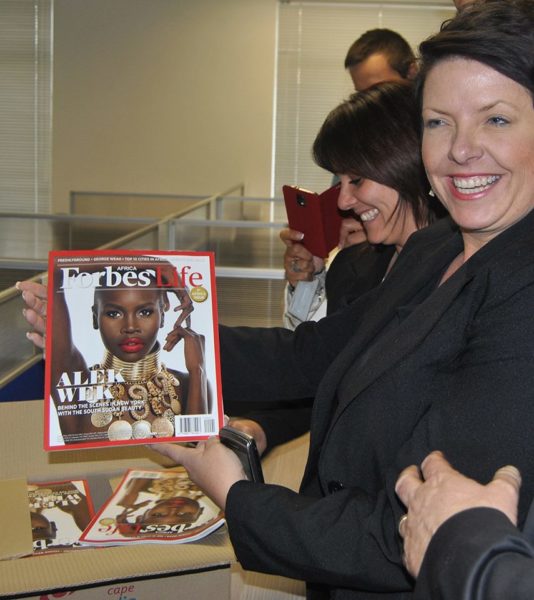 We are looking forward to making this the most sought after business magazine for women on the continent."
The magazine will profile the trailblazers, game changers and pioneers among the women involved in business, the economy of Africa and the world. In line with this, the magazine will also feature the wealthy, powerful and influential women in business whose impact is felt long after they have come and gone.
"We are excited about this new magazine which will provide a platform for amazing women in Africa doing extraordinary work, be it in the economy, business, politics, art and culture. Forbes Woman Africa is a niche product sorely needed in the African market," said Karima Brown, Editor of Forbes Woman Africa.
Watch the Behind The Scenes footage of the Cover shoot

We cant wait to see what's inside the publications and look forward to seeing more.
Photo Credit: Facebook.com/Forbesafrica