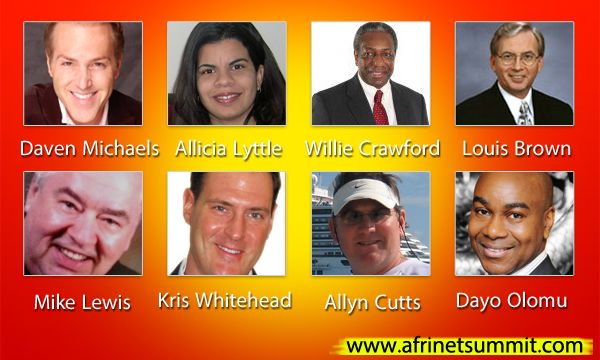 I can't count how many blogs we have online. But do you know you don't have to be a genius before you can start making money on the internet? And you don't even have to own a blog! All you need is a Laptop, mobile phone and access to internet.
Come this November, leading Internet gurus from all over the world will converge in Lagos and Abuja to teach and educate people on ways to make money legitimately online and the know-how of digital marketing and PR at the Africa Internet Business Summit 2013.
The speakers and facilitators for the summit include Willie Crawford, Daven Michael,Lou Brown, Alicia Lyttle, Tim R. Johnson, Allyn Cutts, Raam Anand and Dr. Ope Banwo of Afrinet Solutions who is also the moderator of the event.
Some of the corporate and individual objectives of the summit include exposing you to the immense possibilities and strategies of promoting businesses on the internet, open up Nigerians to products, training and mentor-ship from internet marketing gurus from all over the world and much more.
The event will be attended by thousands of internet marketers, bloggers, public relations experts, publicists, brand managers, sales mangers and staff, IT professionals, software vendors, corporate executives; youths, government officials; and other members of the public.
Date: Saturday 2nd – Saturday 9th November 2013
Venue: Lagos: Golden Gate Restaurant, 25b, Glover Road, Ikoyi, lagos | Abuja: Sheraton, Zone 4, Abuja
For more information log on to www.africainternetbusinesssummit.com | Call +234 705 884 70 12.
______________________________________________________________________________________
Sponsored Content