Salut BN Cuisine!
I first of all want to thank ALL the contributors who have held it down these past couple of weeks. Lohi thank you for your magic you performed. Nkem God bless you for allowing me to put you on the spot like that but those crepes had me hurting my diet! Dunni thanks for just being awesome! That Pizza tensioned me all over!
Today, we are going to be looking at something I post about quite often but with a Nigerian twist today. Like the title reads Asun Arrabiatta.
Lately, I have been tasked to showcase Nigerian food in a more presentable light and with people like my contributors and my Prada Eba and Lamborghini Okro proving it can be done. I never back down on the opportunity to show a fine plate and have Nigerian flavours bursting in your mouth. I recently showcased at the Taste Off! Lagos Edition at Freedom Park last Sunday we had Oha with Shrimp and Snails, Asun with Masa Cakes, Prada Pounded Yam with Lamborghini Okro (Deluxe Seafood Okro), Guinea Fowl Ravioli with Curry Cream and Zucchini and Apple Crumble with Kunu Aya Custard and Zobo Coulis. These all were Nigerian flavours but the organisers and I wanted to show that I can be presented nicely and everyone loved it! In fact What recipes from the above do you want me to post about?
The next day I had my friend Bayo Rotilu over. He had been seriously MIA for work purposes outside Lagos so there was no one to shoot my food. So it was was a good deal. I was cooking, we would catch up and he would shoot my food. Correct!
Last week, Dunni mentioned that Italians are like Nigerians and I completely agree.  They are very culture and family conscious and their food packs flavour sometimes, and it's not just pasta and olive oil. There's the Arabiatta sauce made with tiny bird eye chillies which could be not too far from Ata Din Din. Yes, I know Ata Din Din is another Level of Fire but at least they hold a candle to it.
Armed with my leftover goat meat with chilli (Asun) I decided to have a go at my pasta maker and use the leftover of my pasta flour and crank out some linguine. Pasta flour is 00 (Double Zero). It's really fine flour.It comes in semolina meal flour for pasta as well (which by the way is my preference) it's usually available at La Pointe Supermarket here in Lagos but with the advent of freight forwarders you could order online from Amazon or even Sainsburys and have it delivered to you here in Lagos. Or just beg whoever is coming back from obodo to bring one pack for you.
The Pasta
Serves 3-4

You'll need
500g 00 flour or unbleached white flour
4 eggs
2 tablespoons Olive Oil
4 tablespoons of water
Asun Sauce
1 kilo Goat Lap chopped into small cubes and steamed till slighty tender
Knorr Cubes to taste
1 small garlic clove crushed
2 large onions roughly chopped
10 Scotch bonnet chillies (ata rodo) (add more if you're a dare devil)
1 can plum tomatoes
1 teaspoon dried thyme
salt to taste
1 teaspoon white pepper
1 tsp Italian seasoning or Oregano
Some double cream to finish and basil leaves.
5 tablespoons Vegetable or Sunflower Oil for frying
How To
The Pasta
You'll need a pasta maker or a good ol' rolling pin for this. Start by pouring the flour on a flat surface and make a well in the centre and place the other ingredients in the well. Mix by hand till its like crumbs and bring all together to form a ball and knead it till smooth. To knead, just roll and use the heel of your palm to smoothen as you go along. Dust with a little flour if it's sticky. When it's a fine ball wrap in cling film and place int he fridge for 10-15 minutes to firm up slightly. If you're using a pasta maker, make sure you've clamped it down tight and start with the widest number and flour the sheets as you go along to the smaller numbers depending on how thin you want it. It is important that you have a long surface area where you can drag out your pasta as long as possible using the back of your hands to carry the pasta along. Make sure your hands are lightly floured too. Then use the noodle cutter side of the machine to get either spaghetti or linguine. Linguine is really just a wider spaghetti.
With a hanger or a wooden spoon hang the pasta so it dries out a little or you could cook it straight away if you wanted but drying it out makes a big difference to the texture when you cook it.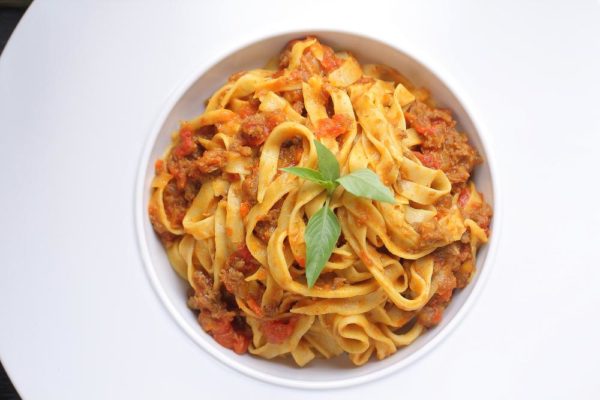 The Sauce
Heat up the oil in a hot wok or whatever pot you have add the garlic, pepper and half the onions. Stir fry for a minute and add the steamed goat meat cubes keeping some of the cooking liquid. Stir fry the goat, pepper and onions for another minute and allow to cook for another 5 minutes on a medium high heat. Add a cup of the goat meat stock and the plum tomatoes and seasonings allow to simmer for another 10-15 minutes. Tatse for seasoning and tenderness. When done turn off the heat and cook the pasta.
In a pot of boiling salted water, place your pasta and cook for about 2 minutes since this is fresh pasta. In another pan or pot, place the saucy asun meat and add a splash of double cream and cook for 1 minute. Add the pasta and stir around till it's coated nicely in the sauce. Finish off with basil leaves or whatever fresh herbs you have.
You can make this same dish into a ravioli by just holding back on the amount of liquid you use to make the asun sauce and instead of cutting the pasta to noodles, just leave them as sheets. Place a spoon of the Asun along the middle of one sheet leaving gaps in between then brush around the Asun with water or just use your fingers to dab a little water so when you cover with the second sheet, it sticks to it. Use a cookie cutter or a ravioli cutter cuter whatever shapes or sizes you want. You can improvise in your kitchen by using a the cover of a small flask or something.
Cook just like the pasta but place in the water with a slotted spoon and take out doing the same. I made some basil oil by blending basil salt and olive oil together for the garnish.
Enjoy with a good white like a Chardonnay or Riesling. Invite a friend for lunch his weekend and be a blessing.
Let me know what dish you want to see next week from my Taste Off! Menu.
Ciao!
P:S Feel free to catch me on the radio on the Kenwood Cooking Time on Cool FM 96.9 on Wednesdays at 12.30pm and Fridays at 5.15pm. You can listen online by going to www.coolfm.us. Mille Grazie!
Photo Credit: Adebayo Rotilu for Tweleve 05 Foodography
___________________________________________________________________________________________________________
Chef Fregz loves to cook! He is a graduate of Le Cordon Bleu Paris Culinary Arts School in France and hosts monthly "Chef Fregz Specials" where he whips up a yummy menu with a different theme each time then everyone enjoys a taste. He also caters special events and private dinners. To find out more visit www.cheffregz.com.Chef Fregz provides premium private catering services. For bookings and orders email info@cheffregz.com @Chef_Fregz on Instagram and Twitter. You can check out the Chef Fregz Page on Facebook as well.