Presenting the November 2013 issue for International Paris-based fashion magazine FashIzBlack with a fabulous covergirl. Can you guess who? We'll give you a hint; she used top be a member of Destiny's Child, her long sexy legs can give Usain Bolt a run for his money and her last single Dirty Laundry caused more than a stir.
Yes! It's Ms. Kelly Rowland.
Giving us some major pouting, the Grammy Award winning American singer posed for the fashion magazine's cover and a fashion editorial wearing fabulous pieces. From Alexander McQueen & Valentino through to Giuseppe Zanotti, Kelly rocked them all.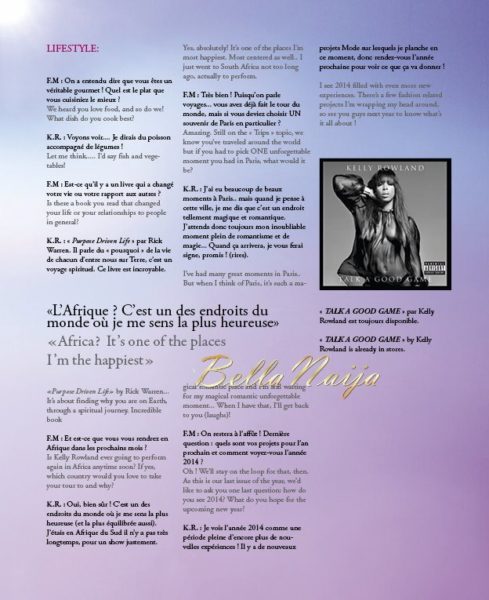 For her feature FashIzBlack interviewed Miss Kelly on music, fashion, beauty, well-being and lifestyle. Read an excerpt from the interview below.
On Music
"Talk a good game", your 4th album came out a few months ago. As someone who has been into various types of music (pop, dance…), how do you perceive the state of R&B today, as a musical genre? And as a whole, how do you feel about female artists in the industry? What changed (or didn't) since you started back in the 90s with Destiny's Child?
I believe R&B is consistently changing and really making its way back to mainstream radio… I feel it's important for female artists to find their uniqueness in the industry and stand out. What has changed? The Internet! Social media and the way music or information is spread is just amazing.
Who are the top 3 upcoming artists you'd like the world to know about?
Oh, I'd definitely say Adrian Marcel, Sevyn Streeter and Luke James !
On Fashion
Do you have any upcoming project related to fashion (like releasing a clothing line for example)?
I can't say much for now, but I'm working on some collaborations!
Who is the designer you'd like to model for during fashion week and why?
Balmain! Olivier Rousteing is one of my favorite designers and I absolutely love his work, especially the way he pays attention to details while designing.
On Beauty & Well-Being
What else (aside boxing) could be a good way to work on one's self-confidence?
I try to surround myself with genuine and positive people… People that breed positivity and aren't afraid to lift each other up. I think who you surround yourself with really effects you and your personal confidence.
Do you feel there are stereotypes in terms of Beauty in the show business, particularly for black women?
Of course, there are; I chose not to pay it any attention. If we, as women, build up each other, we change those stereotypes. We can have an impact on these things; but it first changes with us..
On Lifestyle
Is Kelly Rowland ever going to perform again in Africa anytime soon? If yes, which country would you love to take your tour to, and why?
Yes, absolutely! It's one of the places I'm happiest. Most centered, as well… I just went to South Africa not too long ago actually, to perform.
Amazing. Still on the "Trips" topic, we know you've traveled around the world, but if you had to pick ONE unforgettable moment you had in Paris what would it be?
I've had many great moments in Paris… But when I think of Paris it's such a magical romantic place, and I'm still waiting for my magical romantic unforgettable moment… When I have that, I'll get back to you (laughs)
Kelly's fashion editorial is absolutely stunning. The fabulous fashion editorial is available in their next issue, on newsstands in France now (in two weeks in the USA, UK & all their stockists around the globe).
Check it out.
Want more? Watch the BTS (Behind The Scenes) video of her FashIzBlack cover shoot below.

Photo Credits:
Photographey: Jana Cruder
Creative Direction: Laura Eboa Songue
Styling: Row.B at Opus Beauty
Make-Up: Sheika Daley
Hair: Kendra Garvey